This post has been due for over a month now. My daughter turned 1 last month and I wanted to share the pictures with you. But September was dedicated to 'A-Z dishes from Andhra' and with the other things that were going on in  couldn't post this earlier. It is better late than never, so here are with some pictures of my little one's first birthday.
Since it was a late Summer birthday I wanted a backyard party. We were lucky to have a perfect day weatherwise. I wanted to have a Minnie Mouse theme -- just because I wanted too 🙂 Our friend N did all the decorations. Only thing we made (actually it was my idea, but the whole project was done by my husband) was the time-line garland with the pictures of the birthday girl from every month (in the first pic).
It was a buffet style lunch and I made almost all of the dishes ahead of time. We had toss salad (mixed baby greens with canned corn, cherry tomatoes & cucumbers) with 2 dressings, Quinoa salad with roasted veggies (almost like this one but with Quinoa), Wraps (2 types of filling): veggie & spinach-chickpea. My friend N made her famous veggie Spring rolls -- these are always a hit at every party. Will try to post her recipe soon.
Then I made Cauliflower-potato curry, jeera rice, raita and store-bought naan. We also had some fresh fruit salad.
I made cupcakes 2 types -- Chocolate-Vanilla marble & Pistachio-Rosewater. This one with the candle on it is the chocolate-vanilla cupcake. I couldn't take pictures of the inside since they were all gone in no time.
Coming to the recipe of the day, I made these Rosewater-Pistachio cupcakes for the adults. Recipe is from Vegan Cupcakes take over the world. They were a hit too, rose syrup I added to the frosting gave them a pretty pink look.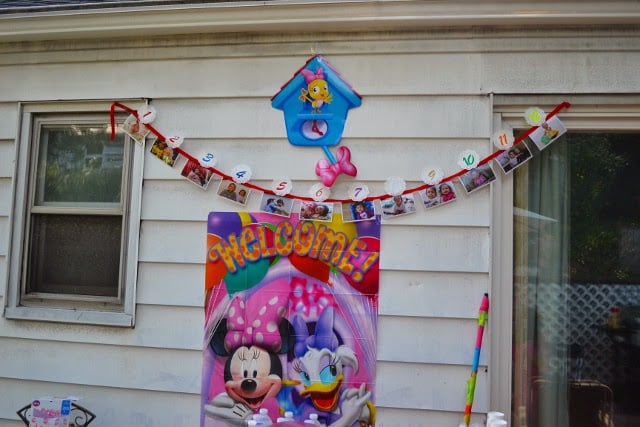 Ingredients
For the Pistachio Cupcakes:
1

cup

All purpose Flour

plus 2tbsp

2

tbsps

Cornstarch

½

tsp

Baking Powder

½

tsp

Baking Soda

¼

tsp

Salt

pinch

Cardamom

Ground - generous

½

cup

Vanilla Soy Yogurt

(I used sour cream, even regular yogurt would work)

⅔

cup

Soy milk Rice Milk

or

⅓

cup

Canola Oil

¾

cup

Sugar

- plus 2tbsp

1 - 2

tbsps

Rosewater

1

tsp

Vanilla extract

(optional)

⅓

cup

Pistachios

- finely chopped (lightly toasted, if desired)
Rosewater Glaze:
1¼ - 1½

cups

Sugar

Confectioners - sifted

1

tbsp

Butter Margarine

/

½

tsp

Rosewater

1

tsp

Rose syrup

2 - 3

tsps

Soy milk Milk

/ (optional)
Instructions
Preheat oven to 350°F. Line muffin pan with 12 cupcake liners.

In a large mixing bowl, whisk together yogurt, soy milk, oil, sugar, vanilla extract (if using) and rosewater.

Sift the flour, cornstarch, baking soda, baking powder, cardamom and salt. Mix until smooth, few small lumps are fine.

Fold in chopped pistachios.

Fill liners ¾s of the way. Bake for 20-22 minutes or until a toothpick inserted in the center comes out clean.

Transfer to a cooling rack and let cool completely before frosting.

With a fork, cream together half of the confectioners sugar and butter/ margarine till mixture resembles fine crumbs.

Add in soymilk/ milk, rose water and rose syrup and beat in the remaining confectioner's sugar. Mixture should have the consistency of a thick batter with a satiny sheen. Adjust consistency by adding soymilk or confectioner's sugar.
Notes
This is my this week's entry to Valli's 'Cooking from the Cookbook Challenge'.
Update December 2013: Sending these cupcakes over to Valli's Cake Mela.