Blogging Marathon# 30: Week 1/ Day 3
Theme: Cooking with Curd
Dish: Rajma Mutter (Kidney Beans & Green Peas with Yogurt & Cream)
As I was looking through 660 Curries for dishes to make with yogurt/ curd, I found a recipe that used Lotus root and I wanted to make because I've never cooked lotus root before. I remember seeing it in my local Korean store and went there this morning, but I was totally disappointed seeing dried out and almost rotten lotus roots.
Came home and went back to 660 Curries. I love beans and I found Rajma and Mutter curry with yogurt and cream. I was skeptical on how the combination of yogurt and cream would take like, but I trusted Raghavan Iyer enough to give the dish a try. I'm glad I did, it turned out to be a spicy and creamy dish that is unlike I've ever tasted. The textural difference between the nutty bite of kidney beans and the soft squishy green peas was very appealing especially with the creamy-tart yogurt base.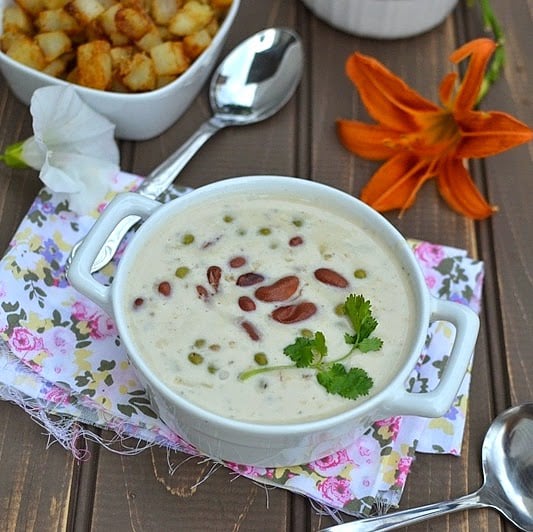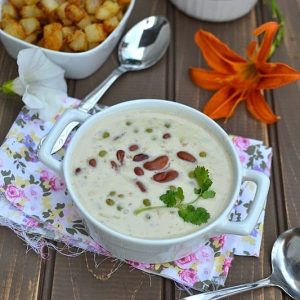 Ingredients
2

cups

Red Kidney Beans

- cooked (I used rinsed and drained canned kidney beans)

2

cups

Green peas

(I used frozen green peas)

½

cup

Yogurt

½

cup

Heavy Cream

2

tsp

Coriander seeds

1

tsp

Cumin seeds

½

tsp

Peppercorns

½

tsp

Fenugreek seeds

20 - 25

Curry leaves

(I didn't have any fresh curry leaves, so I skipped it)

2

Ginger

" , roughly chopped

2

chilies

Green

2

tsps

Rice flour

(can also use either cornstarch or besan/ chickpea flour)

to taste

Salt
Instructions
Combine coriander seeds, cumin seeds, peppercorns, fenugreek seeds, curry leaves, green chilies and ginger in a mortar. Pound with the pestle until a coarse paste forms.

Heat 2tbsp ghee or oil in a medium sauce pan; add the pounded mixture and stir-fry to cook the spices without burning them, about 30 seconds. Add the kidney beans and green peas, mix well with the spices.

Pour 1 cup of water and sprinkle the salt. Bring the mixture to a boil. Lower the heat and boil, uncovered, stirring occasionally, about 5 minutes.

Combine the yogurt and cream in a small bowl and whisk them together. The fat in cream stabilizes yogurt and prevents it from curdling. Pour this mixture into the saucepan and continue to boil the curry, uncovered, stirring occasionally, until the kidney beans and green peas are tender, about 8-10 minutes.

Whisk rice flour (cornstarch or besan) in 2tbsp of cold water, making sure that there are no lumps. Pour this into the curry and mix well, curry with thicken instantly, cook for 2 minutes and serve.
Notes
I served with some steamed rice and potato fry for a yummy lunch.
Lets check out what my fellow marathoners have cooked today for BM# 30.