I'm back to blogging from my winter hibernation and thanks to Valli and Blogging Marathon; I'm definitely going to stick around for the next 7 days. My theme for this edition of BM is "Bread Baking". I had bought a year's supply of yeast and flour just a few days before Valli announced BM# 15 and I was thrilled to see Bread baking as one of the themes. I'm not exaggerating when I say we were on carb and sugar overload for the past 2-3 weeks. I still have 2-3 loaves in my freezer for later use. 
For the 1st day, I made this simple focaccia bread. Recipe is from America's Test Kitchen – I watched them make it on the show and it sounded pretty simple and straight forward. There is no kneading required and this bread is perfect for beginner bakers. All you need is a quiet afternoon, a timer and a book or TV to keep you occupied between the folding (you'll know what I'm talking about in a minute).
Recipe courtesy America's Test Kitchen.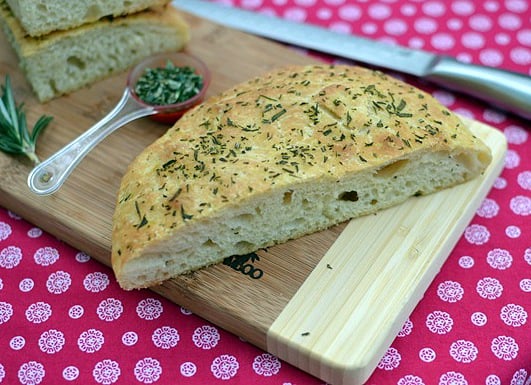 Ingredients
For the Biga (or Starter): 
½

cup

All-purpose flour

¼

tsp

Yeast

Instant or Rapid-Rise

⅓

cup

water

Warm (@ 100-110°F)
For the Dough:
2½

cups

All-purpose Flour

and more for shaping

1¼

cups

Water

Warm (@ 100-110°F)

1

tsp

Yeast

Instant or Rapid-Rise

2

tsps

Salt

plus more for sprinkling on the focaccia

4

tbsps

Extra-virgin olive oil

2

tbsps

Rosemary

Fresh
Instructions
For the Biga: Combine all the ingredients under Biga in a large bowl and mix until well combined, about 1 minute. Cover the bowl tightly with a plastic wrap and set aside at room temperature for at least 8 hours and up to 24 hours. Use this immediately or refrigerate for up to 3 days (stand at room temperature for 30 minutes before proceeding).

For the Dough: Stir flour, water and yeast into the biga and mix well with a wooden spoon until no dry flour remains, about 1 minute. Cover with plastic wrap and let rise for 15 minutes.

Sprinkle 2tsp salt on the dough and stir until well incorporated. Cover and let rise for 30 minutes.

Spray a plastic or rubber spatula with cooking spray; fold the partially risen dough over itself by gently lifting the edge and folding it towards the middle. Turn the bowl 90°and fold again.

Repeat the folding and turning 6 more times (for a total of 8 folds and turns). Cover and let rise for 30 minutes.

Repeat folding, turning and rising 2 more times for a total of 3 30-minute rises.

Towards the end of the third rise, place a baking stone or an overturned baking sheet on the upper middle rack of the oven and pre-heat to 500°F.

Gently transfer the dough onto a lightly floured surface. Sprinkle some flour on the dough and divide in half. Shape each piece of dough into a 5" round by gently tucking under the edges. Don't panic if the dough is extremely sticky, just flour your hands and the counter generously and resist the urge to add more flour to the dough itself.

Coat 2 9" round pans with 2tbsp olive oil each. Sprinkle ½tsp salt in each pan. Gently slide the dough balls, seam side up into the pans. Gently move the dough around the pans to coat all sides with oil, and then flip them over. Cover with plastic wrap and let rest for 5 minutes.

Using fingertips, press the dough out to the edges of the pan. Using a fork, poke the surface for 25 to 30 times, popping any large bubbles. Sprinkle evenly with rosemary; cover and let rest for 5-10 minutes.

Place the pans on the baking stone and reduce the oven temperature to 450°F. Bake until tops are golden brown, for 25-28 minutes, switching placement of the pans halfway through baking. Transfer pans on a wire rack and cool for 5 minutes.

Remove the bread from the pans and cool completely on the wire rack.
Notes
Enjoy as is or split and use as sandwich bread.
It was really awesome to see the holes in the bread – almost like store-bought bread, but much fresher and with no artificial ingredients or preservatives. A definite must-try for anyone who's new to baking or anyone with an afternoon to kill.
Let's check out what my fellow marathoners have cooked up for Day 1 of BM# 15.
Sending this over to Susan's YeastSpotting.