Sheermal is an rich aromatic flatbread flavored with saffron and ground cardamom.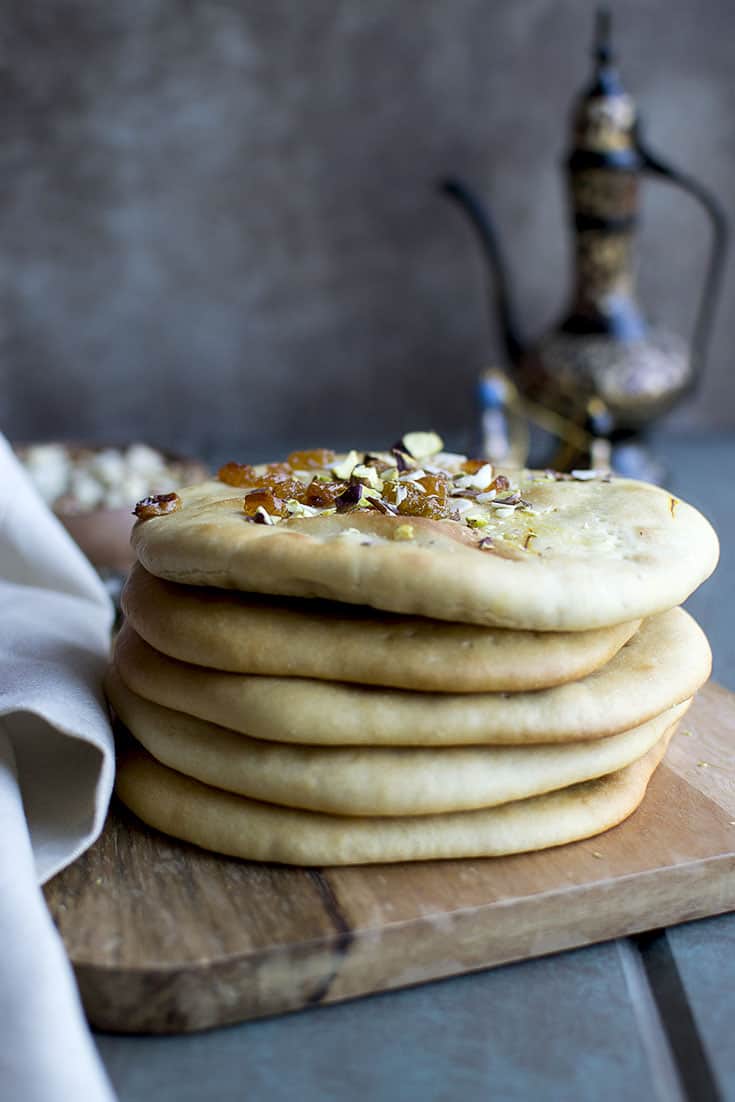 For the second day of blogging marathon under 'Sweet Flatbreads' theme, I made some rich and aromatic flatbread called Sheermal. These are traditional flatbreads  of Persion origin -- frequently made in Iran. They brought them to India and this bread is made popular in Kashmiri & Hyderabadi cuisines.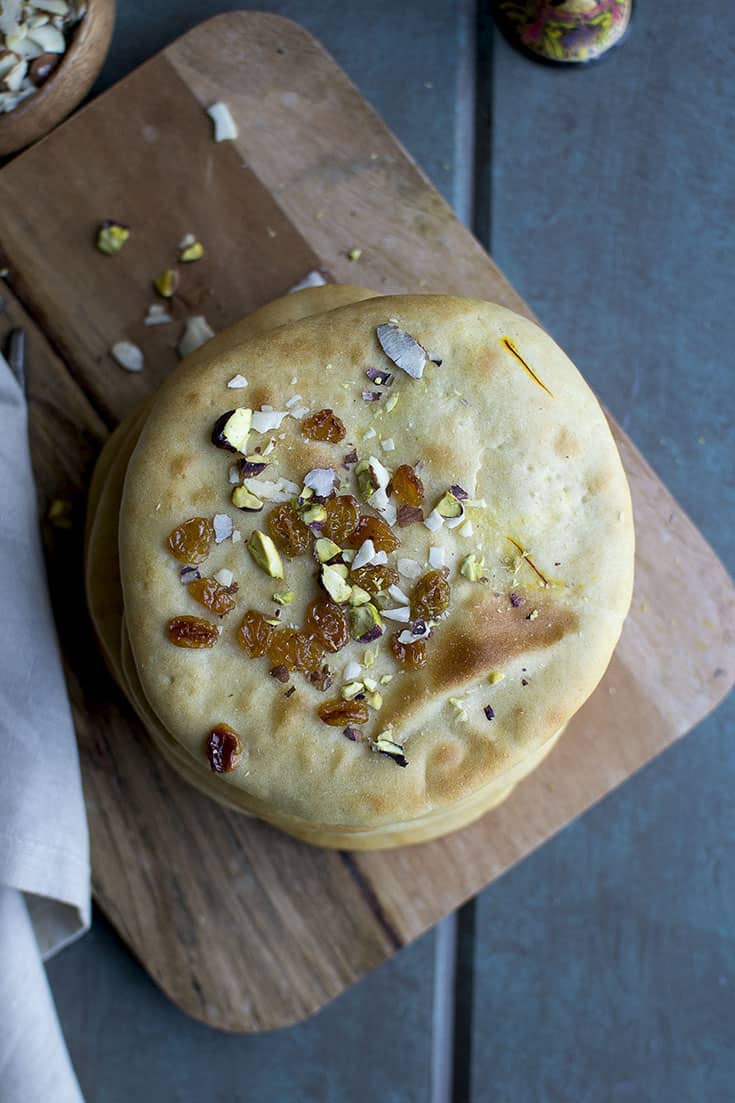 As I mentioned sheermal is a rich bread made with enriched dough that has eggs, butter and milk. I made the recipe vegan by substituting egg with egg replacer powder, milk with almond milk and butter with butter flavored coconut oil. The bread turned out soft, fluffy and absolutely yummy. You wouldn't be able to tell that this is a vegan recipe.
I posted a Sheermal recipe years ago and always wanted to redo the post with better pictures. So finally this week's theme gave me a chance to make this sweet flatbread again. The first time I made it my daughter was not born and I mention that in the post saying 'he ate Sheermal with Nutella'. This time around, both of them enjoyed Sheermal with Nutella 🙂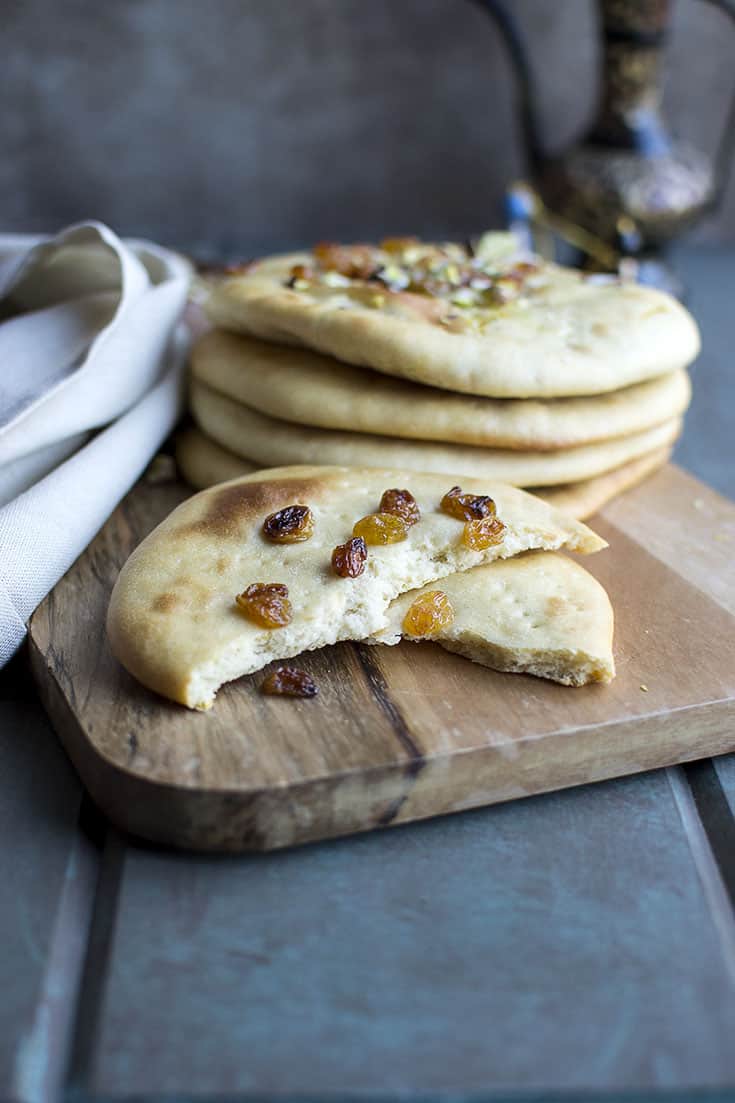 My favorite part of this flatbread is the beautiful flavor saffron imparts along with the flavorful cardamom. AND the plumped up raisins on top with the chopped nuts makes it extra special. Serve these warm from the oven with some tea and ENJOY!!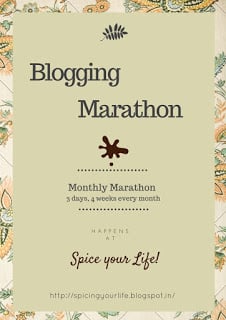 Lets check out what my fellow marathoners have cooked today for BM# 84.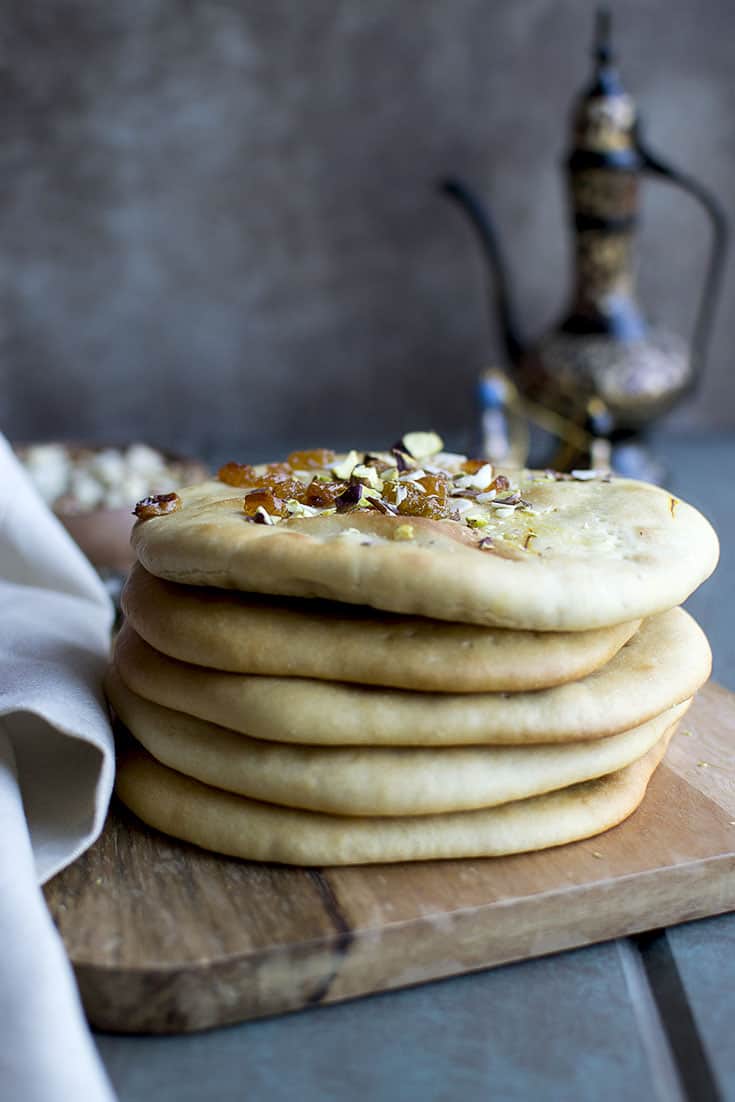 Sheermal
Sheermal is an rich aromatic flatbread flavored with saffron and ground cardamom. It tastes excellent just as is but with a smear of jam or Nutella, it is amazing.
Print
Pin
Rate
Ingredients
For the Dough:
⅓

cup

Lukewarm Almond Milk

⅛

tsp

saffron

2

tbsp

Vegan Butter, melted

I used butter flavored coconut oil from Barleon's

1½

cups

all purpose flour

½

cup

Wholewheat Pastry Flour

2

tsp

Instant Yeast

2

tbsp

sugar

½

tsp

salt

¼

tsp

Ground Cardamom
For the Topping:
2

tbsp

Warm Almond Milk

4~5

Saffron strands

3

tbsp

Golden Raisins

2

tbsp

Chopped Nuts
Instructions
Add saffron and vegan butter to the warm milk and set aside.

In a mixing bowl, combine flour, yeast, sugar, salt and ground cardamom. Add the warm milk, mix and knead to form a soft, pliable dough. Cover and set aside until the dough doubles on volume, about 1 hour.

Preheat the oven to 450°F. Line a baking sheet with parchment paper.

For the topping, Combine saffron with warm almond milk and set aside.

Divide the dough into 6 equal pieces. Roll the dough into a 5~6" round disc about ½" thick. Prick the top of the dough with a fork, then brush with almond milk and sprinkle raisins and nuts on top -- press lightly.

Transfer the dough onto the prepared baking sheet. Make 2 more and place them on the baking sheet.

Bake for 4~6 minutes or until the bread is golden, cooked through and starting to get brown spots on top.

Keep the baked sheermal warm by keeping them covered in a kitchen towel. Repeat with the remaining dough balls. Serve them warm and Enjoy!!