When I saw Rajani's Smörgåstårta, I changed my original plan of making Swedish Cinnamon rolls and made this beautiful sandwich cake instead. It is exactly what it sounds like, but nothing like it looks -- funny isn't it. It is a savory cake made with all of the sandwich fixings and they frosted like a cake.
Smörgåstårta is normally made with white or light rye bread with creamy filling in between. The fillings and toppings vary depending on personal preferences, but egg and mayonnaise based are most common. Fillings are mostly seafood or meat based. I googled for vegetarian filling ideas and finally came up with my own. It is served chilled and sliced like a dessert cake.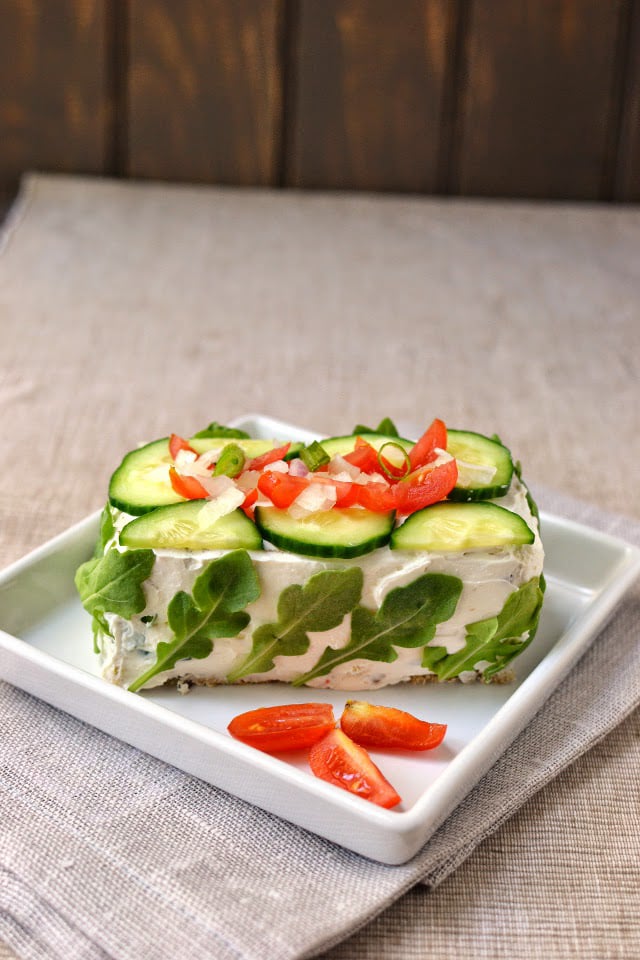 Ingredients
3

Bread

- slices (I used whole grain bread)
For filling 1:
2

tbsps

Baba ghanoush

- (blend flesh of roasted eggplant with tahini, lemon juice, garlic clove, salt and pepper)

4 - 5

Cucumber

- thin slices
For filling 2:
2

tbsps

Cream cheese

- softened (I used store bough veggie cream cheese)

Lettuce leaves

- few (I used arugula)
For the 'frosting' & topping:
2

tbsps

Cream cheese

- softened

1

tbsp

Sour cream

to taste

Salt white pepper

(I didn't have , so skipped adding it) and

Cucumber

- thinly sliced

Grape tomatoes

- chopped

Onions

- finely chopped

Green onions

- finely chopped
Instructions
Cut the crusts off the bread slices.

For the first layer: spread baba ghanoush on one side of the bread and top it with cucumber slices.

For the second layer: spread one side with baba ghanoush and Place the it on the cucumbers and press lightly. Now spread the other side with cream cheese and top it with lettuce leaves.

For the third and final layer: spread one side with cream cheese and place it on the lettuce leaves, press lightly.

For the frosting: Combine cream cheese and sour cream in a small bowl. Season with salt and pepper. Spread it with a offset spatula or a butter knife. Arrange the toppings as nicely and neatly as you can fancy. Refrigerate until ready to serve.
Notes
Check out the entire Swedish meal here.