I made this cake first time more than 3 years ago when I first got the sourdough starter. I took it to work and everyone loved it there. But I haven't had a chance to make it again until now. I saw the recipe in the King Arthur Catalog and it reminded me of the moist and delicious cake that I made years ago.
Sourdough starter makes this cake very moist and there are no tell-tale signs of sourness or the addition of sourdough starter anywhere. I halved the original recipe and made 1 8" round cake. Then frosted the cake with a very simple cream cheese frosting.
The reason for celebration is that I crossed 1000 postscouple of posts back and this is a sweet treat to myself. I have to thank the BM group and especially Valli, without them the posts would have been random and I would never have reached this milestone.
Recipe adapted from here: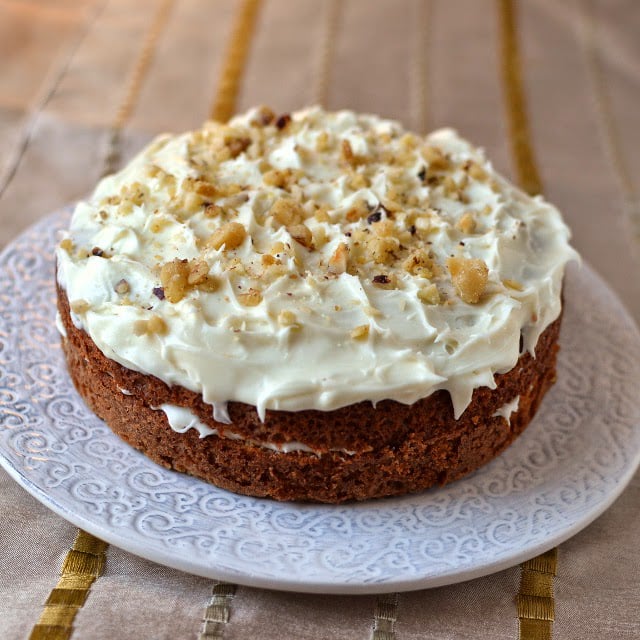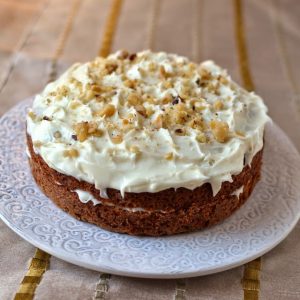 Ingredients
½

cup

Sourdough

Starter

1

cup

Sugar

¾

cup

Vegetable Oil

2

Eggs

Large

½

cup

Pineapple

Crushed , drained

1

cup

Carrot

Grated

¼

cup

Walnuts

, chopped

¼

cup

Coconut

Shredded

1

tsp

Vanilla extract

1

cup

All purpose flour

¼

cup

Wholewheat Pastry flour

(or use 1¼cup APF)

1

tsp

Cinnamon

Ground

¼

tsp

Salt

½

tsp

Baking Soda
For the Cream Cheese Frosting:
2

tbsps

Unsalted Butter

- softened

4

oz

Cream cheese

. (half of a 8oz. block)

1½

cups

Sugar

Confectioners

½

tsp

Vanilla extract

Milk

- as needed

Nuts

Chopped - as needed, for garnish
Instructions
Make the Cake: Preheat the oven to 350. Lightly grease a 8" round pan that is at least 2" deep.

In a mixing bowl, combine oil and sugar. Stir in sourdough starter. Mix in eggs, one at a time, mixing well after each addition. Fold in pineapple, carrots, walnuts, coconut and vanilla extract.

In a separate bowl, combine flour, ground cinnamon, salt and baking soda. Add the dry ingredients to wet ingredients, stirring until the ingredients are just combined.

Spoon the batter into the prepared pan. Bake for 30~35 minutes or until a cake tester inserted into the center of the cake comes out clean.

Remove cake from the oven and cool completely on a wire rack before frosting.

Make the Cream Cheese Frosting: Beat butter, cream cheese and vanilla extract until light and fluffy. Add the confectioner's sugar gradually until well combined. Add milk, if needed, to get to spreadable consistency.

Frost the cake and sprinkle the chopped nuts.
Notes