I bought matki (moth beans) to make Sia's hot & spicy Kohlapuri Misal, but I ended up making this mildly flavored pulao from Tarla Dalal's site. I love Tarla Dalal and I used to watch her cooking show on Sony TV in India (this was long long time ago). I remember liking the co-host Sudhanshu too.. handsome guy.. ahem.. back to what I was saying about Tarla Dalal, her cooking looks very homemade, nothing fancy and this recipe is simplicity at its best. Just a couple of cloves, grated ginger and ground coriander mildly flavor the rice. Can be served with a paneer curry or even raitha.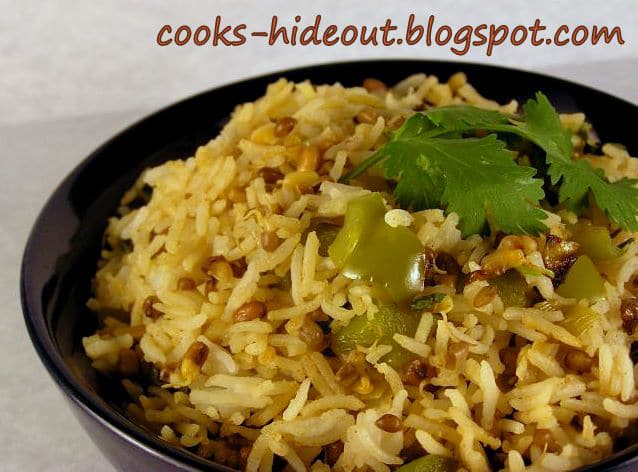 Ingredients
1

cup

Moth Beans

– sprouted

1

cup

Basmati rice

4 - 6

Spring onions

– chopped

1

pepper

Green – medium, chopped

1

Ginger

"

1

Green chili

2

Cloves

1

tsp

Coriander

Ground

1

tsp

chili powder

Red

to taste

Salt
Instructions
Cook basmati and let cool.

Parboil matki sprouts; I pressure cooked them for 2 whistles and they were perfectly cooked, not mushy at all.

Heat 1tbsp oil in a sauté pan; add cloves and hing and sauté for a minute. Add ginger, chili, spring onions, green pepper and cook till the veggies are tender.

Add coriander powder, red chili pd and matki.Sauté for 4-5 minutes until all the flavors have mingled.

If using parboiled moth beans, then add ½ cup of water and cook till the beans are tender.

Once the beans are tender, add rice and salt; mix well and serve.
Notes
This is my entry to April '09 edition of Weekend Wokking-Sprouts started by Wandering Chopsticks and being hosted by Kits Chow.