Swedish Almond Coffeecake is a scrumptious pastry made with lightly sweet yeasted bread and filled with luscious almond filling. This is a eggfree recipe.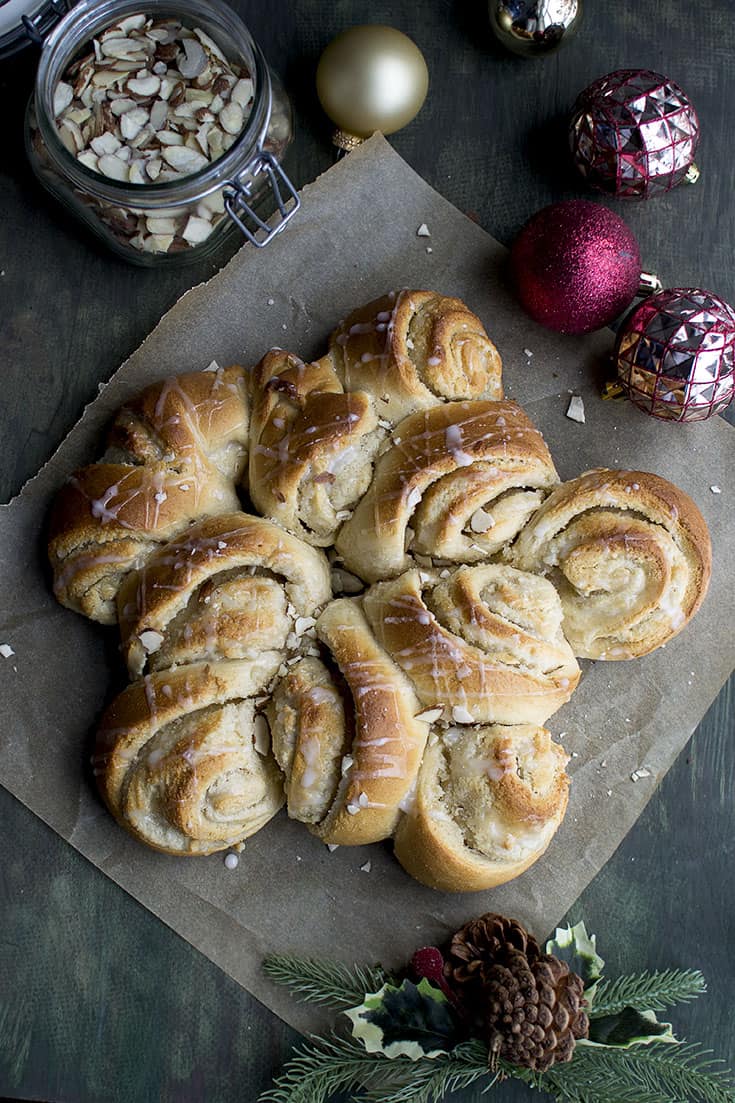 I am starting a brand new week of blogging today. This week I am combining Blogging marathon and Bake-a-thon events. I didn't realize what I was getting into when I signed up for both of them. Last week was literally a circus trying to cook, click and post (AND there was Bread Bakers too).
Today I have an absolutely delicious Swedish Almond Coffeecake recipe that is very scrumptious and addictive.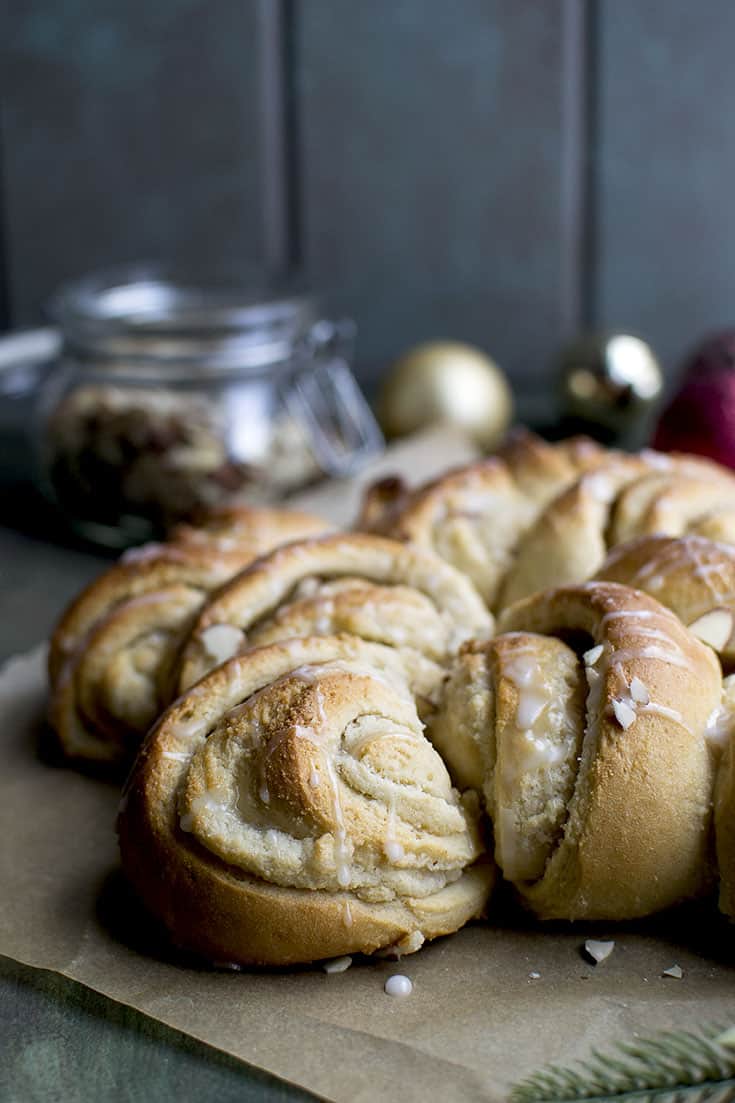 Cook by Capital:
My theme for this week's blogging marathon is 'Cook by Capital'. Theme sounds simple enough, but the challenge that Valli gave us made it slightly challenging. So first we pick a capital - so I picked Stockholm which is in Sweden.
For the next 2 days I have pick 2 more capitals that start with the letter S and cook from the respective countries. You will have to wait and see what other countries I picked for the next couple of days.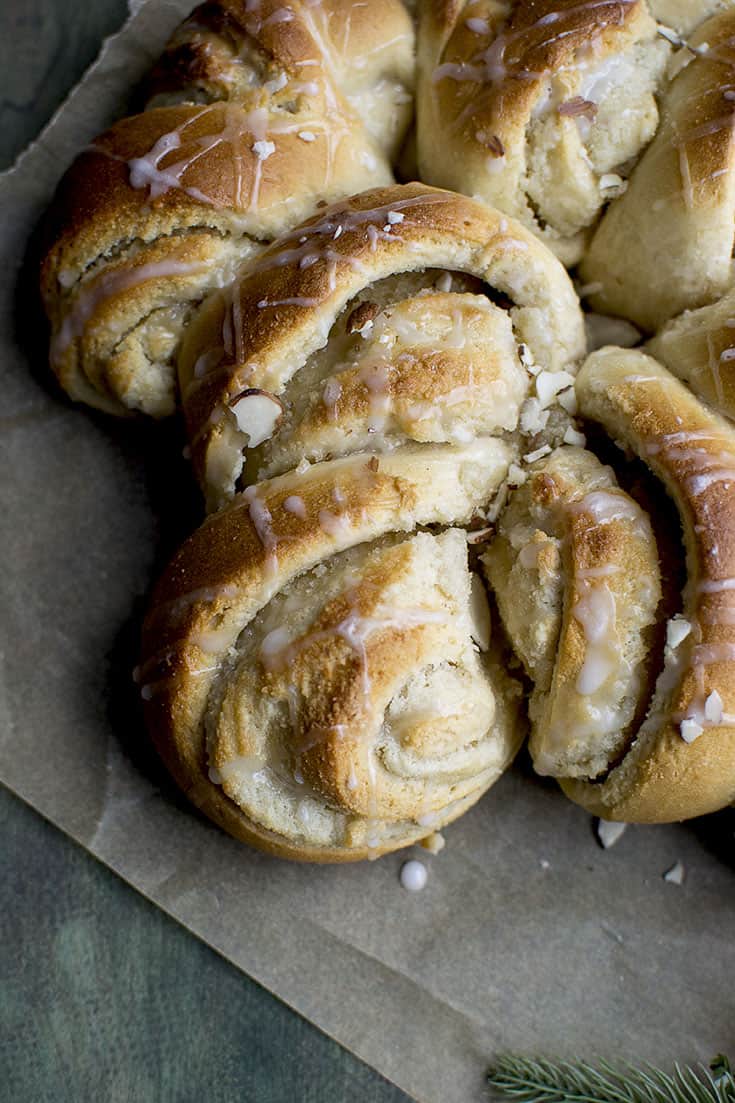 Swedish Baked Goodies:
I love baked treats from Sweden and I have quite a few that I want to bake. Swedish cinnamon rolls are on the top of that list - hopefully I will get to bake them soon enough. I also want to try my hand at making Princess cake which is a very elaborate Swedish pastry.
Swedish Almond Coffeecake:
But for today I ended making this Swedish Almond Coffeecake - recipe courtesy from my favorite King Arthur flour site. Swedish almond coffee bread/ cake is a Christmas tradition in Sweden.
It is traditionally it is either braided or made in a wreath form. Cardamom flavored sweet yeast dough is filled with creamy almond filling and then shaped and baked to make this scrumptious Coffeecake.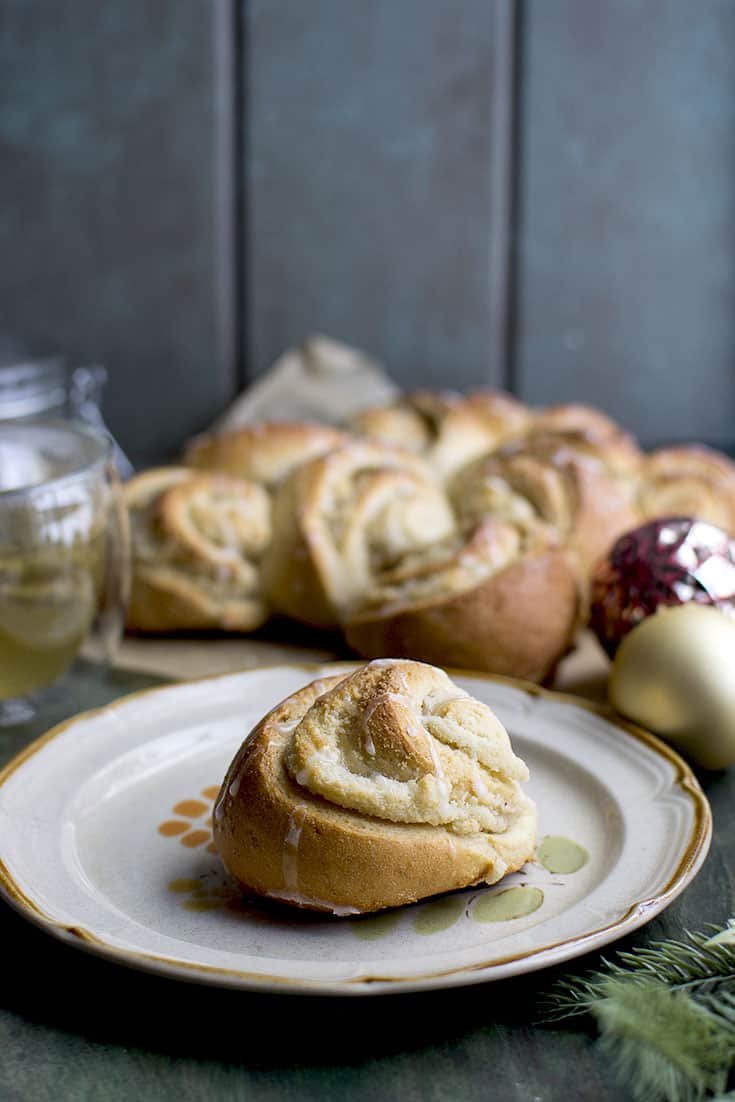 This version of the coffee cake has an interesting shape and is quite a show stopper. Shape of my bread didn't turn out as impressive as the original version, but it tasted absolutely amazing.
The almond filling tasted like badam halwa and I loved it. It tasted great warm and the leftovers also were good warmed lightly in microwave.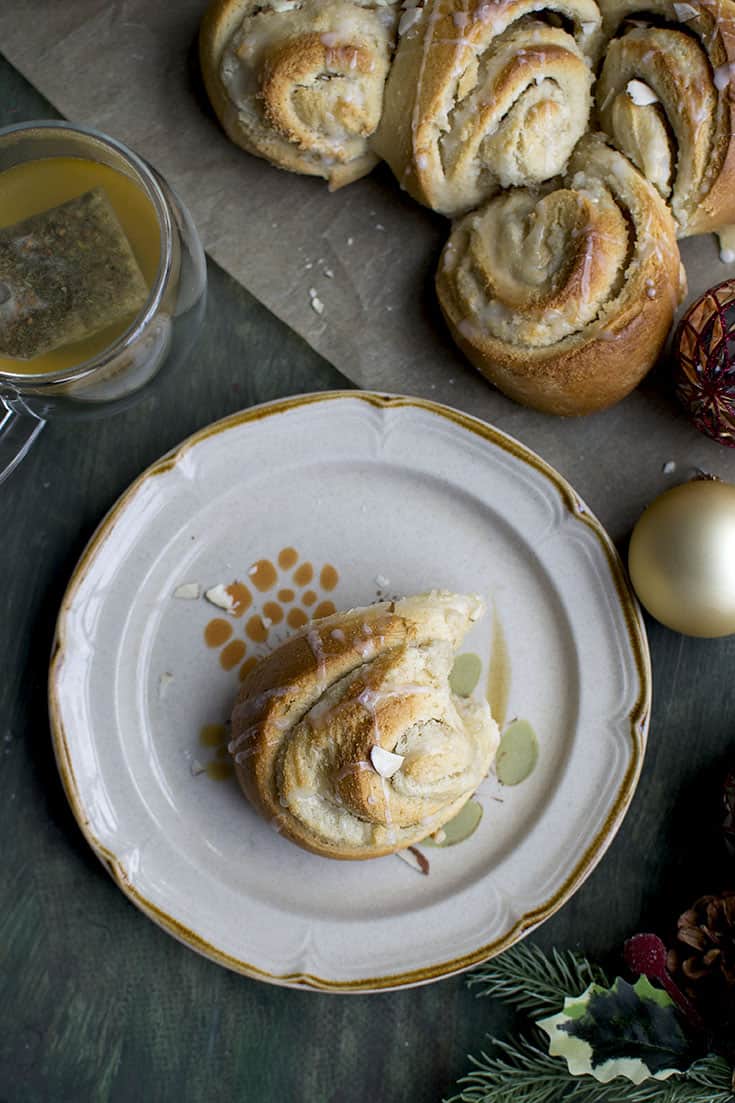 Here's another delicious Swedish bake traditionally made for the holidays - Swedish Cardamom Bread.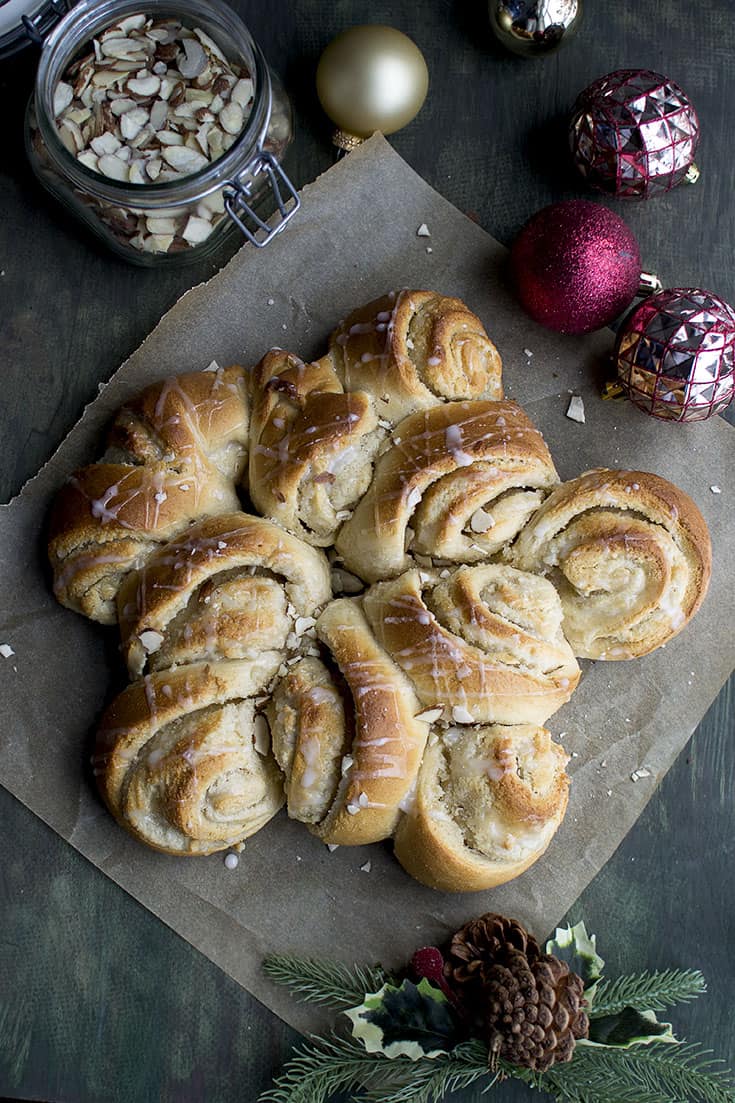 Swedish Almond Coffeecake Recipe
Swedish Almond Coffeecake is a scrumptious pastry made with lightly sweet yeasted bread and filled with luscious almond filling. This is a eggfree recipe.
Print
Pin
Rate
Ingredients
For the Dough:
2

tbsp

Unsalted Butter

¼

cup

Sugar

½

tsp

Salt

¾

cup

Unsweetened Almond Milk

2

tsp

Instant Yeast or Active Dry Yeast

1

tbsp

Egg Replacer whisked with 3tbsp water

1

tsp

Vanilla extract

1

tsp

Ground Cardamom

2

cups

All purpose flour

1

cup

Wholewheat flour
For the Almond Filling:
1½

tsp

Egg replacer whisked in 1½ tablespoons Water

⅓

cup

Sugar

⅛

tsp

Salt

1½

cups

Almond flour or ground almonds

4

tsp

All purpose flour

2

tbsp

Melted Unsalted butter

⅛

tsp

Almond extract

2~2½

tsp

Milk
For the Egg(free) Wash:
2

tbsp

Almond Milk

2

tsp

Agave Nectar
Glaze:
½

cup

Confectioner's Sugar

1

tbsp

Milk

⅛

tsp

Almond extract

As needed

Toasted Almond slices, for garnish
Instructions
Make the Dough:
In a large mixing bowl, combine butter, sugar and salt. Bring milk to a simmer and add to the mixing bowl. Stir and allow to cool for a few minutes.

When the mixture has cooled, stir in yeast, egg replacer mixture and vanilla. Add the flour and ground cardamom and mix until a soft dough forms. Knead for about 6 minutes in a mixer or 8 minutes by hand. Cover and let rise until doubled, about 45 minutes~1 hour.
Make the Filling:
In a mixing bowl, combine egg replacer mixture, sugar and salt. Whisk well and add the almond flour and flour.

Add the melted butter, almond extract and 2 tsp milk. The filling should be thick and spreadable like peanut butter. Add more milk to achieve the desired consistency.
Assemble:
Roll out the dough on a lightly greased surface into a 20"~24" wide and 10" long rectangle. Spread the filling over the dough in a thin layer, leaving a 1" of both long edges uncovered. Roll up the dough from one long edge to the other, pinching it together to seal it.

Transfer the dough onto a parchment paper lined baking sheet, seam side down, and form into a circle, tucking one end inside the other. Pinch this seam together. It should be a circle of about 4" diameter.

Slice the dough from the outside edge ¾ of the way through, leaving the center intact. Repeat in 1½" increments all the way around the dough.

Turn the slices on their sides, pulling every other one to the inside of the circle. Cover with greased plastic wrap and let rise until puffy, about 45 minutes.

Preheat the oven to 350°F.

In a small bowl, whisk together almond milk and agave. When the dough has risen, brush it generously with the egg (free) wash and bake for 24~26 minutes or until golden brown and the center reads 190°F when measured with a digital thermometer. Remove from the oven and let cool on a rack.
Make the Glaze:
Combine confectioner's sugar, milk and almond extract in a small bowl. Drizzle over the slightly warm coffeecake. Sprinkle with toasted almonds and enjoy.

Leftover coffeecake, stays fresh, well-wrapped for 3 days at room temperature or freeze up to 3 months.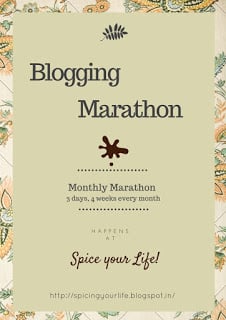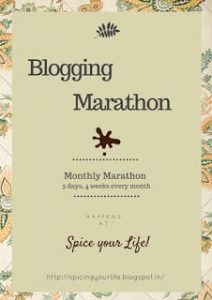 Lets check out what my fellow marathoners have cooked today for BM# 95.

Check out the other bloggers doing this Bake-a-thon.