I had these stuffed grape leaves at my Turkish friend's house for the first time. Her mom had brought grape leaves from Turkey and made these for us. I have never tasted anything like these before and really liked them. So when I was planning my Turkish menu, I wanted to give these a try too.
I am lucky to have Turkish grocery stores very close to my house. So after a quick trip to the store, I was equipped with a big can of grape leaves. The stuffing/ filling is like tomato rice and is very flavorful and tasty by itself. Once the grape leaves are stuffed, they need to be boiled for about 30 minutes and you have a very tasty appetizer ready. These are traditionally served with yogurt sauce, but I skipped it and ate them as is.
Recipe adapted from here.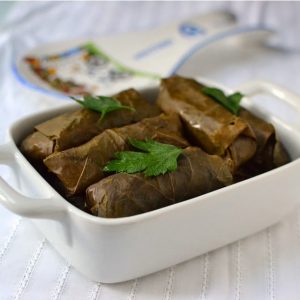 Ingredients
For the Stuffing/ Filling:
1

cup

Basmati Rice

(or other long grain rice) - rinsed and drained

1

Onion

- small, finely chopped

1

Tomato

- medium, chopped

1

tbsp

Tomato paste

1

Jalapeno Green Chili

/ - chopped

2

tbsp

Dill

Fresh

2

tsp

Mint

Dried

2

tbsp

Parsley

½

cup

red pepper

Roasted - drained and chopped

to taste

Salt Pepper

&
Instructions
Prep the Grape Leaves: Carefully remove the grape leaves from the can and rinse them well. Allow to drain completely. If using fresh leaves, briefly blanch them in boiling water.

Prepare the Stuffing/ Filling: Heat 1tbsp oil in a large skillet. Add onions and cook till they turn translucent. Add tomato and cook till it turns mushy.

Next add tomato paste and the herbs. Mix well and cook for 2~3 minutes.

Add the drained basmati rice. Mix well and cook for 2 minutes.

Add 2 cups water and bring the mixture to a boil on high heat. Reduce to flame to low, cover the pan and simmer for 15~20 minutes or until all the water is absorbed and rice is just tender.

Let the rice cool a little before stuffing the grape leaves.

To assemble: In a medium size sauce pan, put torn grape leaves in the bottom like a bed -- this is to make sure that the stuffed grape leaves don't burn while cooking.

Place 1 grape leaf on a clean surface and put about 1tbsp rice in the middle. Fold the sides over the rice and then fold the leave to enclose the rice.

Place the stuffed grape leaves, seam side down, in the sauce pan. Repeat with the rest of the leaves and arrange them in circles in the sauce pan.

Add ½~1 cup water to the pan and place a plate right on top of the grape leaves to prevent them from floating while cooking. Now cover the pan and cook on medium-low flame for 25~30 minutes or until the grape leaves are tender and the rice is completely cooked through and soft.

Serve at room temperature.
Notes
Check out the entire Turkish meal here.