Blogging Marathon# 31: Week 2/ Day 1
Theme: Meatless Dishes
Dish: Vegan Andhra 'Kodi' Kura
Today we start Week 2 of BM# 31 and my theme for this week is 'Meatless Dishes'. I'm a life long vegetarian, but I've a fascination towards non-veg dishes. I worked at a deli during my Masters and I use to loves the smell of meats cooking away in the kitchen, but luckily the smell was not strong enough to make me eat it 🙂 
I'm not sure how many of you agree with me but in my opinion it is difficult to cook meat than vegetables and whoever does it well means they are really good at cooking. Here's my explanation: different meats have to be cooked differently and knowing the right technique is really important (knowledge entirely based on watching waaaaaaay too many cooking reality shows.. thank you). What I'm trying to say is cooking meat needs greater understanding of the ingredients. Veggies on the other hand need little thinking and even if you mess it up, oh well, it's still edible -- think of mushy peas or green beans--you can still eat them. right?? 
So for this week's BM, I'm taking 3 meat based dishes and making them meatless. I wanted to imitate as much of the original dishes in flavor as I can. For day 1, I made Kodi (chicken) kura without the kodi (chicken). I used Gardein chick'n scallopini or vegan chicken made with textured soy protein that looks almost like the real thing (to me at least). If anyone wants to know it is available in the freezer section of Whole Foods. 
I marinated the 'chicken' in lime juice and spices for about 15-20 minutes and then proceeded with the curry. This made the pieces really moist and yumm!! My husband, who's been a vegetarian for almost 5 years now, thought it tasted almost like kodi kura he remembers eating way back when.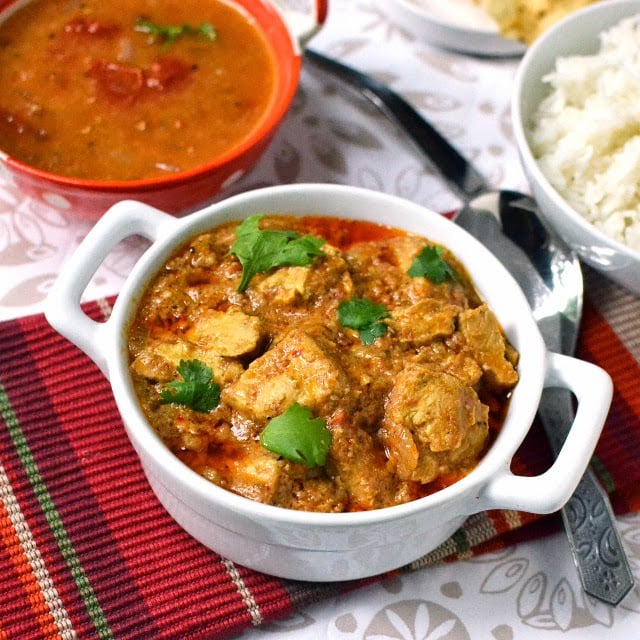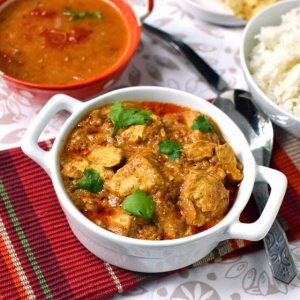 Ingredients
2

cups

Chicken

Vegan - cubed (I used Gardein Chick'n Scallopini)

1

Onion

- large, chopped

1

tsp

Ginger garlic

+ paste

½

cup

Tomato

puree

½

cup

Coconut Milk

(I used 3tbsp Coconut Cream)

3

tbsps

Cilantro

leaves - finely chopped for garnish

to taste

Salt
For Marinade:
1

tsp

Ginger+Garlic

paste

2

tbsp

Lemon juice

½

tsp

chili powder

Red

½

tsp

Coriander

Ground

¼

tsp

Turmeric

½

tsp

Salt
For the Masala Powder:
2

tbsp

Peanuts

1

tbsp

Coriander seeds

2

tsp

Cumin seeds

2

chilies

Dry red

2

Cloves
Instructions
Marinate the Chicken: Combine all the ingredients listed under Marinade and add the cubed 'chicken'. Mix well, cover and set aside for at least 15 minutes.

Make Masala Powder: Dry roast the ingredients under Masala powder until aromatic and peanuts turn lightly brown. Cool a little and grind to a powder.

Make Curry: Heat 2tbsp oil in a saute pan, add onions and cook until lightly browned around the edges. Add ginger+garlic paste and cook for another minute.

Next add the tomato puree and the ground powder. Cover and cook until oil starts to separate, about 4-5 minutes.

Add the marinated 'chicken' along with the leftover marinade. Cover and cook until 'chicken' is cooked through and tender, about 8-10 minutes.

Add coconut milk and salt. Bring the mixture to a slow simmer and simmer for 3-5 minutes.

Garnish with chopped cilantro and serve with steamed rice.
Notes
Lets check out what my fellow marathoners have cooked today for BM# 31.