Bibimbap fried rice is a spicy and delicious Korean dish that has all the flavors of the traditional Bibimbap but is much easier to make.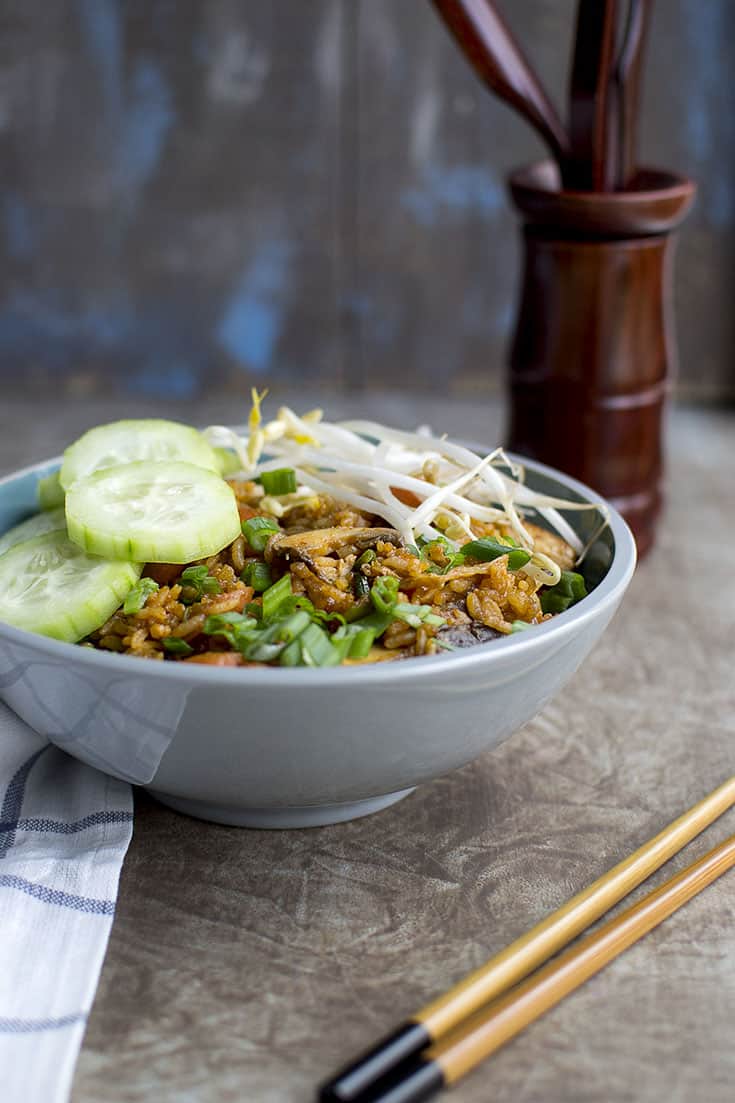 My theme for this week's Blogging Marathon is probably one of the most simplest and the most toughest at the same time. Valli asked us to make either a rice or gravy main dish to delight the family.
It sounds pretty simple but finding recipes that I haven't blogged became the tough part. I made a list of dishes I wanted to try and that list grew pretty long. Then I found this Bibimbap fried rice recipe in this month's Food Network Magazine.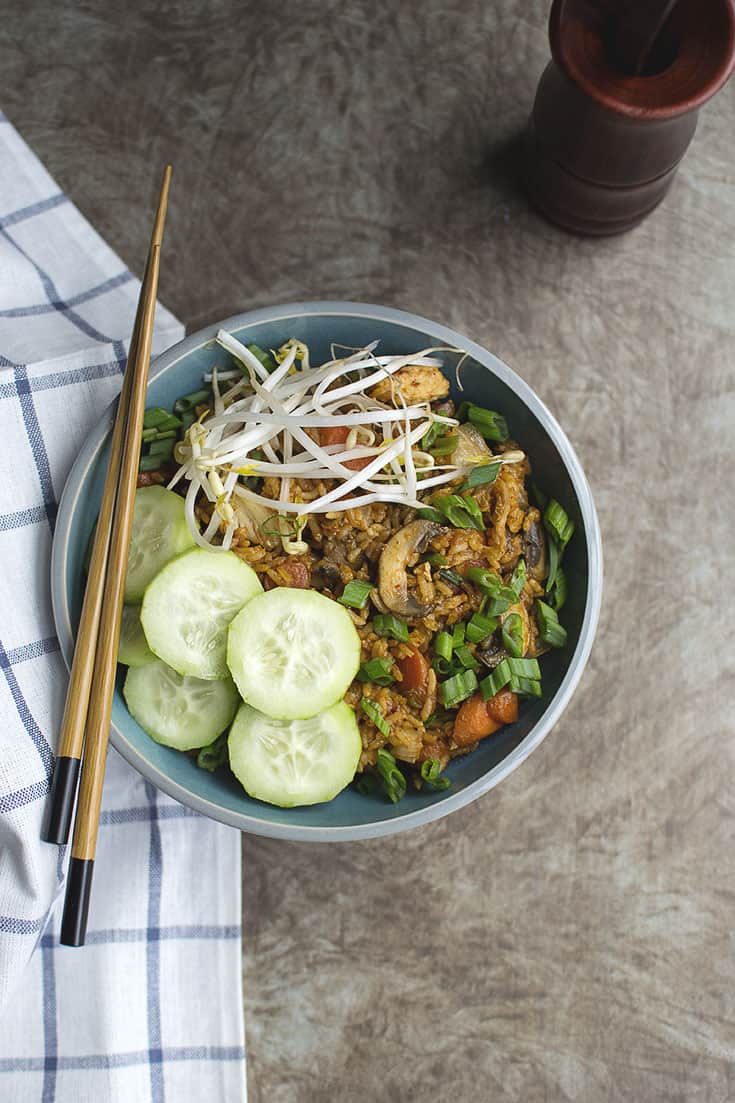 Being a South Indian, rice is a staple and we could probably eat it just about every day without complaints. I think of ways to make a one pot meals with rice when I'm pressed for time or too lazy to cook. I think many of my South Indian friends would agree that most of my menu planning revolves around rice.
So for the next three days I have 3 interesting and delicious rice dishes that are easy to make. First up is this bibimbap fried rice. Traditional bibimbap is like a rice bowl with toppings and each topping needs to be cooked separately. In this fried rice, all the elements of a traditional bibimbap are stir fried together to make it easier to serve and eat.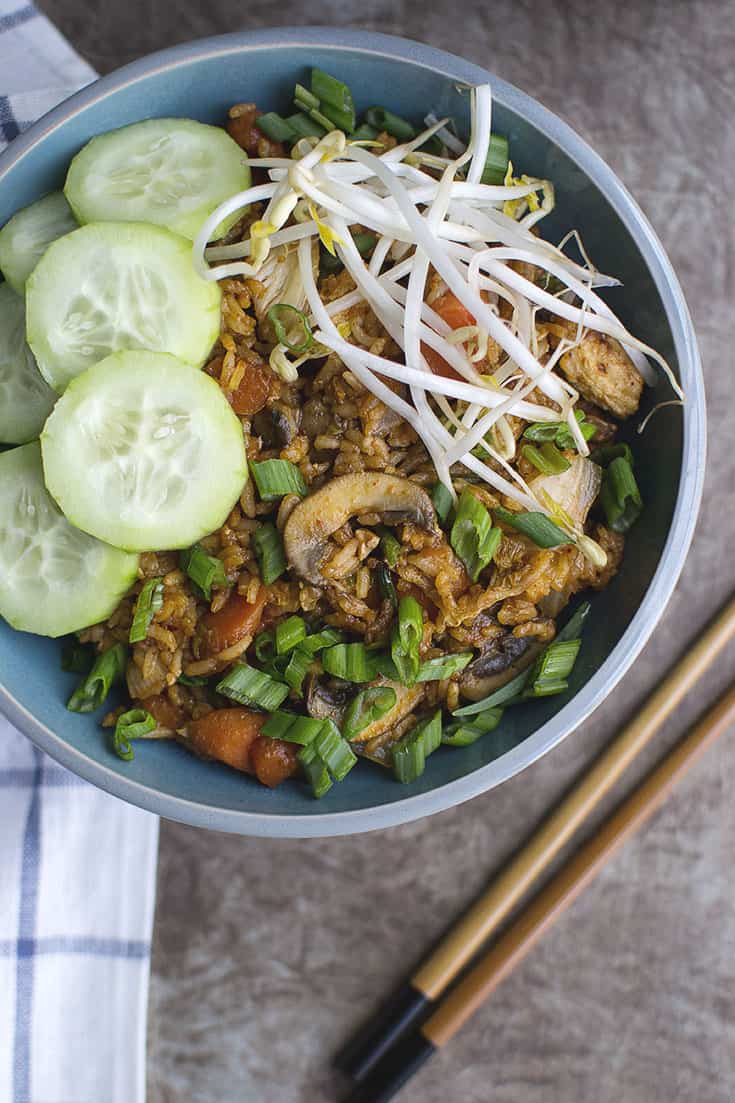 The main component of this dish is Korean red pepper paste called Gojuchang. It is usually available in well stocked Asian stores. I get it at GMart in Greensboro. It is not very spicy, I feel it is slightly sweet and spicy that the same time. But it gives the dish the characteristic color and taste.
Another interesting ingredient in this dish is Kimchi. You can make your own kimchi or you can use store bought one. When buying make sure to read the ingredients and avoid the ones that have anchovies listed.
All in all this is a delicious Korean fried rice that hits all the flavors — sweet, salty and spicy. I added tofu to bump up the protein in the dish, but feel free to substitute it with other vegetarian protein sources. Tempeh, chickpeas or edamame would be great. Fried egg wouldn't be out of place, but the dish won't be vegan anymore.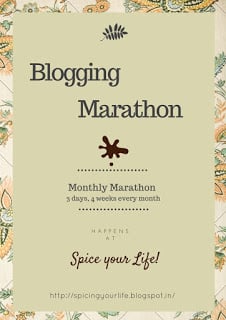 Lets check out what my fellow marathoners have cooked today for BM# 85. Also sending this to Valli's Cooking from Cookbook Challenge -- February -- Week 4.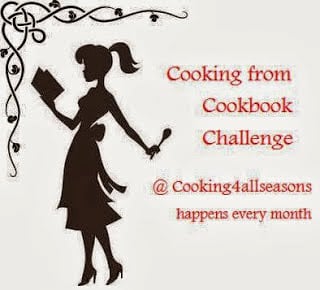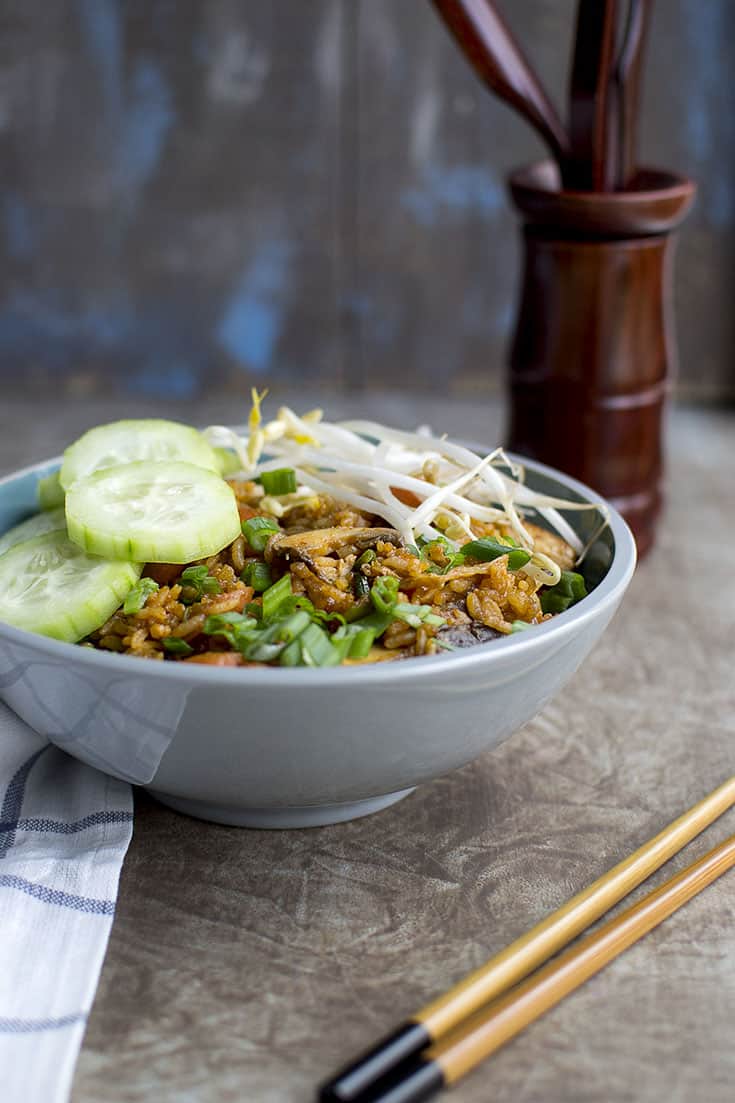 Vegan Bibimbap Fried Rice
Bibimbap fried rice is a spicy and delicious Korean dish that has all the flavors of the traditional Bibimbap but is much easier to make.
Print
Pin
Rate
Ingredients
For Fried Rice:
3

tbsp

Oil

2

cups

Mushrooms (Baby Bella or Shittake)

1

Medium Carrot, peeled and sliced

2~3

Garlic cloves, finely minced

3

cups

Rice (brown or white), at room temperature

1

cup

Kimchi (store bought or homemade), chopped

1

tsp

Low sodium Soy sauce

2

tbsp

Gojuchang (Korean Red pepper paste)

4

Scallions, chopped

1

tbsp

sesame oil

Pinch of

sugar

To taste

Salt Pepper

8 oz.

Extra firm Tofu, cubed (substitute with tempeh, chickpeas or other vegan protein source)
For Topping:
2

cups

Mung bean sprouts

1

Medium Cucumber, peeled and sliced
Instructions
Heat 1tbsp oil in a large wok, stir fry tofu until golden brown. Remove from the pan and set aside.

In the same pan, heat the remaining oil; stir fry mushrooms, carrots and garlic for 3~4 minutes or until the veggies are just tender.

Stir in kimchi, cooked rice, cooked tofu, gojuchang, sesame oil and 1tbsp water. Mix and add soy sauce, sugar, salt and pepper. Toss to heat everything through.

Serve topped with scallions and sliced cucumbers.