VeganMofo Day 17: Today is my husband's birthday and since he's a big chocoholic I wanted to make a vegan chocolate cake for him. Tres Leche cake is one of my favorite cakes and I decided to make a chocolate version. I adapted the Tres Leche Cake recipe from "Viva Vegan" cookbook by Terry Hope Romero to include chocolate.
The original recipe uses coconut extract in the cake, I used orange extract instead as I like those flavors together. Also the original recipe had a coconut cream frosting, but I made a simple vegan cream cheese frosting.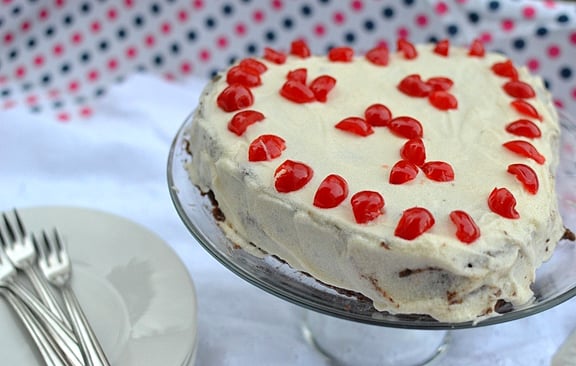 Ingredients
For the Cake:
1

cup

Soy milk

1

tbsp

Apple Cider Vinegar

¾

cup

Sugar

⅓

cup

Vegetable Oil

Canola/

2

tsp

Vanilla extract

½

tsp

Orange

Extract - (or use Coconut extract)

1

cup

All purpose flour

¼

cup

Cocoa

Unsweetened powder

1

tsp

Baking Powder

¼

tsp

Baking Soda

¼

tsp

Salt
For the Soaking Liquid:
1

cup

Coconut milk

⅔

cup

Almond milk

⅓

cup

Sugar

Granulated

⅓

cup

Brown Sugar

1

tsp

Cinnamon

Ground
For the Frosting:
3

tbsps

cream cheese

Vegan

1

tsp

Vanilla extract

1

cup

Sugar

Powdered
Instructions
Preheat oven to 350°F. Grease a 8" square baking pan. I used a heart shaped baking pan.

In a medium bowl, mix in the apple cider vinegar with the soy milk and set aside for a minute to curdle. Add the oil, sugar, vanilla extract and orange extract and mix well until the sugar dissolves.

Sift the flour, baking powder, cocoa powder, baking soda and salt into the wet ingredients and mix until well combined.

Pour into the prepared baking pan and bake for 30-32 minutes or until a toothpick inserted in the center of the cake comes out clean. Set aside to cool for a minute, then use a toothpick to poke holes every ½".

While the cake is baking make the soaking syrup: Bring all the ingredients to a boil and let boil for a minute; lower the heat and simmer for 30minutes or until the mixture thickens and coats the back of the spoon. Cool for 10minutes.

Pour the syrup on the cake evenly. Make sure that the cake is still warm so it absorbs most of the syrup. Cover the cake with plastic wrap and refrigerate for at least 4 hours or overnight.

Make the Frosting: Beat the cream cheese and butter until light and fluffy using a hand mixer. Slowly add the powdered sugar and vanilla extract, beat until fluffy.

Spread the frosting on the cake and refrigerate until ready to cut and serve. I decorated the cake with some chopped maraschino cherries.
Notes