Blogging Marathon# 67: Week 3/ Day 1
Theme: Go Nuts
Dish: Vegan Coconut Condensed Milk
After a brief hiatus, I'm back to blogging with my buddies for this month's marathon. It has been quite a busy summer both for the blog and for me. If you haven't noticed yet, I moved over to a new blogging platform, Cucumbertown. Past couple of months were spent in reformatting the old recipes and getting ready for the new look. Kid's summer vacation, family visit and a vacation were also reasons for my no-show.
So here I am with a new BM theme, 'Go Nuts'. I thought it to be appropriate for what I was going through in the past couple of months 🙂 Valli gave us a
Wikipedia link
for reference and honestly I didn't know that there were so many classifications for nuts.
First up is 'Coconut', which is technically a drupe which is a fleshy fruit surrounding a stone, or pit, containing a seed. In a coconut, the fleshy part of the seed is edible. I made a vegan condensed milk using coconut creamer, but full fat coconut milk or coconut cream can also be used instead.
It takes good 40~45 minutes of stirring to thicken coconut cream/ milk and sugar to condensed milk consistency. This can be stored in an airtight container for up to 2 weeks and can be used just as you would regular condensed milk -- to make milkshakes, desserts, cakes, ice creams etc.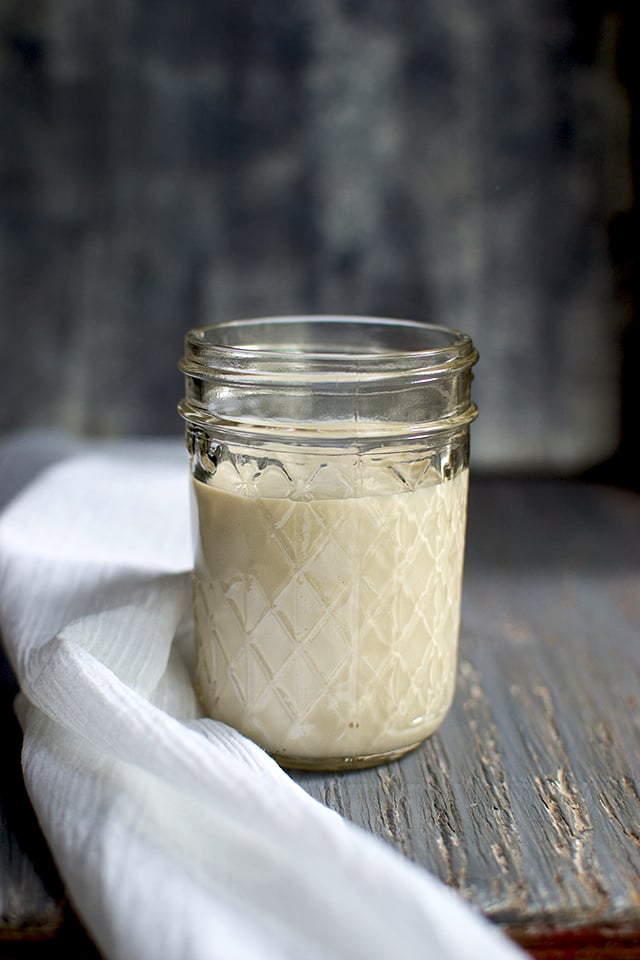 Vegan Condensed Milk
Recipe to make Vegan condensed milk at home using coconut cream or milk. With about 45 minutes of work, you have your very own vegan condensed milk to be used in any of your favorite vegan treats.
Print
Pin
Rate
Ingredients
2

cups

Coconut

Creamer (I used Trader Joes brand. But full fat coconut milk or any other non-dairy milks or creamers would also work)

¾ ~ 1

cup

Sugar

(I used organic sugar)

cardamom

As needed Ground or vanlla (optional)
Instructions
In a thick bottomed saucepan (preferably non-stick for easy clean up), combine creamer and sugar. Cook on a medium low flame, stirring occasionally.

Sugar will dissolve and the mixture will start to bubble and thicken. Keep stirring to avoid sticking to the bottom.

When it is ready, it will coat the back of the spoon and you will be able to draw a line with your finger. Stir in flavoring of choice at this point.

Take off the heat and let cool. It will thicken even further as it cools. Store in an airtight container in the fridge for up to 2 weeks. Use as you would regular condensed milk.
Notes
Note:
The condensed milk might start to crystallize as it cools, but it will work just fine in recipes.
Lets check out what my fellow marathoners have cooked today for BM# 67.