I usually make Chinese food at least once a week; be it Indo-Chinese, American Chinese or even Pavani Chinese (this is where I get extremely creative and add soy sauce and sesame oil in almost everything to make it Chinese). But I wanted to make something authentic Chinese for A.W.E.D-Chinese event (brain child of DK @ Culinary Buzaar)
So I searched online for General Tso's Chicken (Seitan) recipe and found them here and here. I adapted both the recipes to make my own General Pav's Seitan. I have to say it didn't taste bad at all and it also had the same glazed look that General Tso's dish does. I'm going to make it again.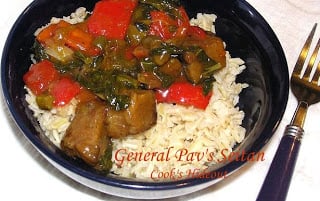 Ingredients
2

Peppers

(I used one green, one red pepper)

2

Carrots

– medium, thinly sliced

1

bunch

Chinese Broccoli

– chopped

1

bunch

Green Onions

– chopped

½

Ginger

"

2

cloves

Garlic

– crushed

2

tbsps

All-purpose flour

½

tsp

Cayenne Pepper

(or to taste)

½

tsp

Garlic

powder (or to taste)

½

tsp

Red Pepper

flakes

to taste

Salt Pepper

&
For the Sauce:
2

tbsps

Sherry

(or Rice Wine)

1½

tbsps

Rice Wine vinegar

1½

tbsps

Honey

(or sugar)

2

tbsps

Corn Starch

3

tbsps

Soy Sauce
Instructions
Whisk AP flour, garlic powder, cayenne pepper and salt in a bowl. Drop seitan and toss around to coat with the flour.

Heat 1 tbsp peanut oil in a pan and sauté seitan on medium-high heat till lightly browned on all sides. Remove and keep aside.

Rinse and wipe the same pan clean; add 1 tbsp peanut oil, sauté on medium-high heat green onions, carrots and peppers along with ginger, garlic and red pepper flakes till tender and browned around the edges, about 8-10 minutes. Keep stirring occasionally to avoid burning.

Now add Chinese broccoli, cover and let the leaves wilt.

In the mean time mix all the ingredients for the sauce to make smooth slurry. Add some water to help mixing.

Slowly stir in the sauce and sautéed seitan into the veggies and cook on medium flame until the sauce thickens, about 5 minutes. Season with salt and pepper and serve over brown rice or noodles.
Notes