For Day 2 of BM# 17, I made this easy to make Biryani using ready to cook biryani mix. All you need (as it says on the mix) is rice, vegetables and yogurt.I added just a little bit of extra salt and that was the only additional ingredient I added to the dish. 
Making a biryani from scratch is not my cup of tea. My MIL makes a mean biryani that is to die for and she makes it in a very traditional way; par-boiling rice, marinating vegetables, layering and steaming. I, on the other hand, prefer mixing all the ingredient in the pressure cooker and boom, there you have my biryani.
This mix is quite convenient on days when you have company at home and are running short of time. The taste is pretty close to the real thing (if you have ever tasted the real thing, that is.. I can't say I ate a real dum ka biryani anywhere else but the one made by my MIL) and gets done in less than half the time needed for the real thing.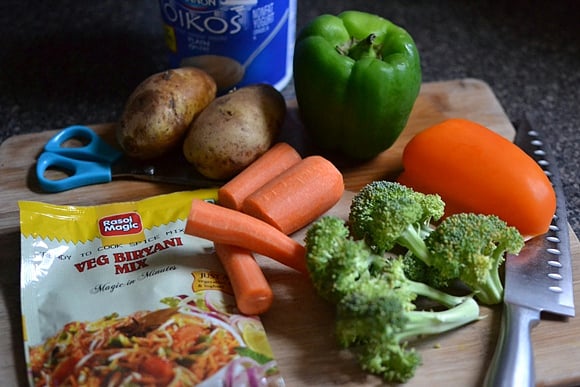 Ingredients
2

cups

Basmati Rice

2

Onion

- medium, thinly sliced

½

cup

Yogurt
Instructions
Wash, rinse and soak rice in cold water for at least 30minutes. Cook the rice, but make sure that the grains are separate and rice is not mushy. Set aside in a wide platter to cool.

Mix biryani mix with yogurt and set aside.

In a medium saute pan, add 2tbsp oil and saute the onions on medium flame until golden brown. Add the rest of the ingredients and cook covered until veggies are tender.

Next add the yogurt mixture along with  ½cup  of water into the veggies and mix well. Let the mixture come to a simmer and cook for 2-3 minutes.

Gently mix rice into the veggie mixture. Cover and cook for 2 more minutes for the flavors to mingle.

Serve hot garnished with some chopped cilantro along with raita or your favorite gravy curry. I served mine with caramelized onion raita and chole in coconut milk.
Notes
Lets check out what my fellow marathoners have cooked up for Day 2 of BM# 17.