Vegetarian Parsi Vegetable Dhansak - a hearty dish with lentils and vegetables. Spicy and delicious with aromatic spice blend. Serve with roti or rice.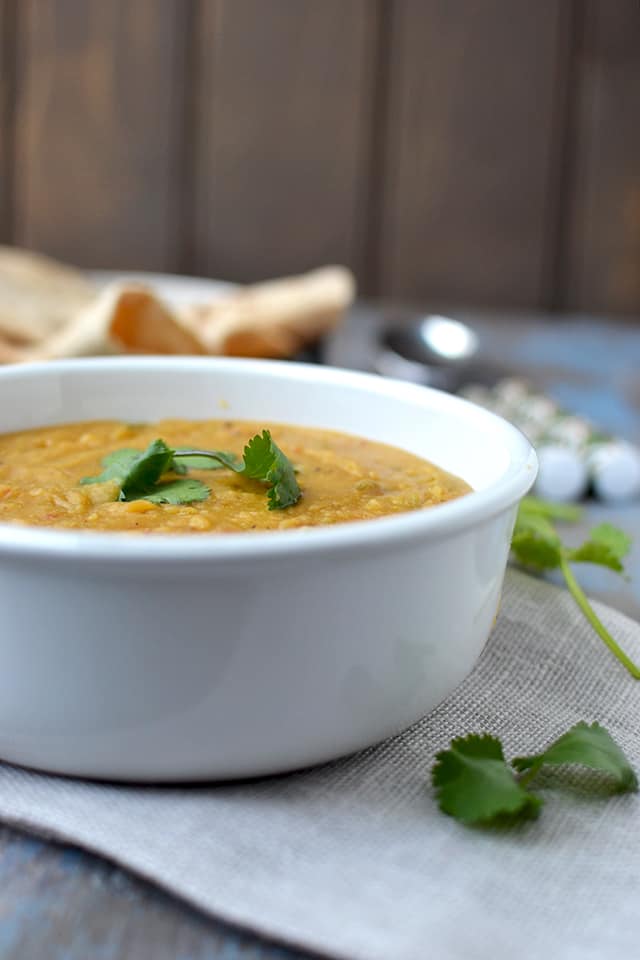 In my quest to try new cuisines, I have a delicious savory 'Parsi Dish' today. Parsis, meaning Persians, are the followers of the ancient Persian religion known as Zoroastrianism. They emigrated to India from Persia to avoid religious persecution by the Muslims.
Parsi Cuisine:
Parsi cuisine is a delicious fusion of Persian and Indian cooking. Vegetables, meats, eggs and dairy products are the foundation of Parsi diet. Spices are used generously in the dishes.
While looking for Parsi dishes, I came across this lovely post by Peri. She is a Parsi blogger and her blog has tons of delicious Parsi (and non-Parsi) recipes. In that explains, she explains the different between Indian and Parsi food and how parsi cuisine is unique. Do check it out more details.
Parsi Vegetable Dhansak:
Dhansak is a popular Parsi dish - it is a dish that beautifully combines Gujarati & Persian flavors. Traditionally it is made with mutton (goat meat), lentils and vegetables. Since I was making it vegetarian, I skipped the meat altogether.
Vegetarian Dhansak Recipe:
Recipe is adapted from Tarla Dalal's site. The aromatic spice blend adds a lot of flavor and spiciness to the dish. Dhansak masala can be freshly made or can be store bought. The spice paste is quite easy to make with basic pantry ingredients.
Ginger
Garlic
Dry red chilies
Fresh Green chilies
Spices (cardamom, peppercorn, coriander seeds, cumin seeds)
Lentils & Vegetables:
A mix of lentils are used to make this dish. There are recipes with 2~5 different lentils on the internet. I used 3 different types of lentils - toor, masoor and moong.
Dish is also packed with choke full of veggies. I used potato, bottle gourd and pumpkin. But the good thing is the recipe is very versatile. Other veggies like eggplant, zucchini, kale, any hard squash, sweet potatoes, spinach etc can also be used.
Lentils and vegetables are cooked until very tender and then ground to a smooth soup like consistency. The spice paste is mixed in and dal/ soup is simmered until all the flavors have mingled.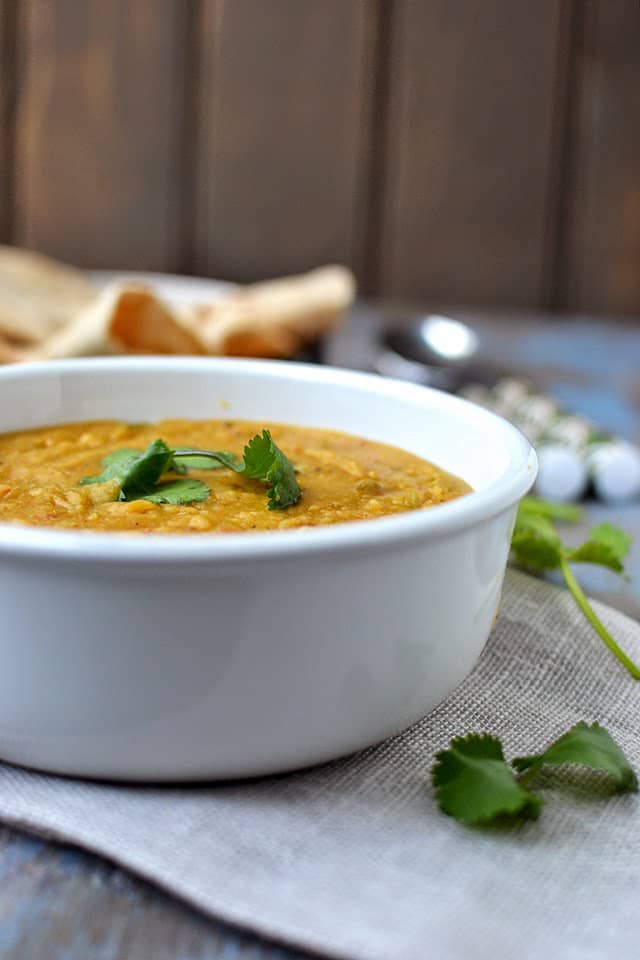 Vegetable Dhansak
Vegetarian Parsi Vegetable Dhansak - a hearty dish with lentils and vegetables. Spicy and delicious with aromatic spice blend. Serve with roti or rice.
Print
Pin
Rate
Ingredients
For Dhansak Masala:
2

Green Chilies

2~3

Dry Red Chilies (add more if you like it spicy)

3~4

Garlic cloves

½"

Ginger piece

2

Cloves

2

Black peppercorns

1

Cardamom pod

2

tsp

Coriander seeds

1

tsp

Cumin seeds

1

tbsp

Cilantro, chopped
For Dhansak:
½

cup

Toor Dal

2

tbsp

Masoor Dal

2

tbsp

Moong dal

1

Medium

Potato, peeled and chopped

½

cup

Bottle gourd/ Lauki/ Sorakaya, peeled and chopped

½

cup

Pumpkin, peeled and chopped

2

Medium

Tomatoes, chopped

3

tbsp

Fresh Methi leaves (or use 2tsp Kasoori Methi)

4~5

Spring Onions, chopped

1

tbsp

Tamarind pulp

To taste

Salt
Instructions
Make the Dhansak Masala: Grind all the ingredients into a smooth paste just little water. Set aside.

To make Dhansak: Combine dals, potato, bottle gourd, pumpkin, tomatoes and methi leaves in a pressure cooker. Add 4 cups of water and pressure cook until everything is well cooked, about 3~5 whistles.

Blend the mixture until very smooth with an immersion blender. Alternately the mixture can be strained through a sieve to remove any lumps and make it smooth.

Heat 2tbsp ghee in a pan. Add the chopped spring onions and cook till wilted. Add the dhansak masala and cook for 3~4 minutes or until it doesn't smell raw anymore

Add the lentil & veggie mixture. Cook for 5~6 minutes and add the tamarind pulp.

If the mixture looks too thick, add water to thin it out. Simmer for 5~6 minutes or until the tamarind is cooked through.
Notes
Other veggies like eggplant, zucchini, hard squash (butternut squash, acorn or delicata squash), spinach, kale etc. can be used in the recipe.
Lentils and vegetables can be cooked in an instant pot - Manual setting for for 8~10 minutes until cooked and mushy.
Adjust the spices to your taste preference. Add less chilies to make it less spicy.
How to serve Parsi Vegetable Dhansak?
Traditionally it is served with Parsi brown rice and a kachumber salad (cucumber salad). I didn't make the rice, so served it with roti. But the dish goes well with either plain rice or roti. Serve Parsi Falooda for a delicious sweet ending.