Starting this month, I will be co-hosting Food of the World event that was started by Diane who blogs @ Simple Living & Eating. Every 2nd Tuesday of the month a new country will be chosen and you can link up your creations as well.
This month we are taking a trip to South America, Peru. My globe trotting husband has recently visited Peru on business and just like his other trips he didn't get a chance to visit any of the historic or touristic places. He brought us fridge magnets and a Peru key chain as souvenirs 🙂
I actually made a sweet quinoa porridge for today, but I was not happy with the way it turned out, so didn't take pics and then procrastinated until the last minute to make today's dish. I found this vegetarian version of Arroz Tapado on Peru Delights blog and loved how colorful and fresh the dish looked.
Traditional Arroz Tapado is made with ground meat. It is a beautiful layered dish that has the meat layered with rice. The addition of black olives, raisins, boiled eggs seemed a little odd to me, but they all work together so well in the dish. The salty bite of olive followed by the sweet plump raisin and creamy egg just makes this dish taste amazing. I used soy granules instead of meat to make it vegetarian. Skip the egg and you have yourself a delicious vegan meal.
Recipe adapted from here: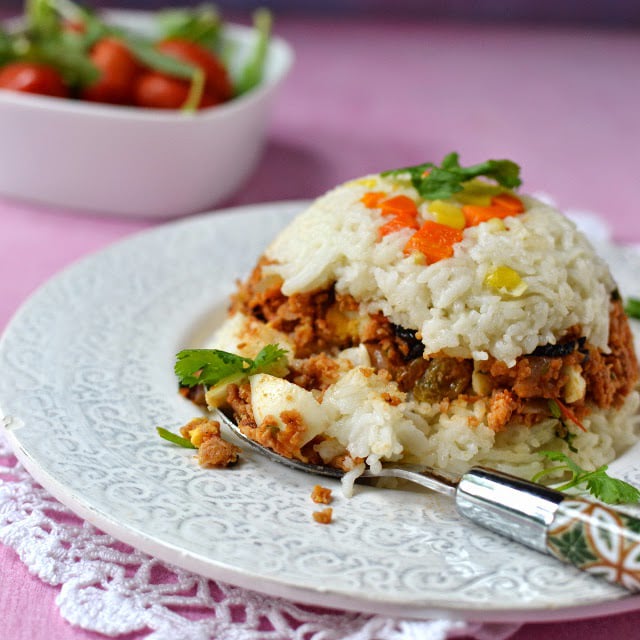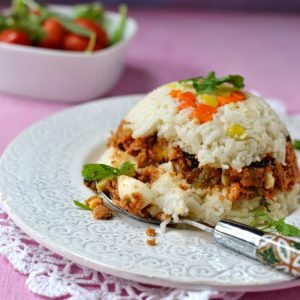 Ingredients
For the Rice:
1

cup

Rice

Long grain - (I used Basmati rice)

1

Carrot

- small, finely diced

¼

cup

Corn
For the Soy granules:
1

cup

Soy

granules - (or use mushrooms)

1

Onion

- small, chopped

2

cloves

Garlic

- , finely minced

¼

cup

Tomato

Puree - (or use 1 heaping tablespoon of tomato paste)

8 ~ 10

Black Olives

- chopped

3

tbsp

Raisins

2

Eggs

- hard boiled, peeled and chopped

3

tbsp

Cilantro Parsley

/ - , finely chopped

to taste

Salt Pepper

&
Instructions
Cook rice along with carrot and corn and a pinch of salt until tender. Set aside.

If using dry soy granules or TVP, soak them in hot water for 10~15 minutes. Drain and squeeze out the excess water and keep ready. Skip this step if using frozen soy granules.

Heat 1tbsp oil in a pan, add onion and garlic. Cook till onion turns translucent. Add soy granules and cook for 7~8 minutes, stirring occasionally until lightly browned.

Add the tomato paste/ puree and cook for another 5~6 minutes.

Season with salt and pepper. Add the chopped eggs, olives, cilantro/ parsley and raisins. Mix well and turn off the heat.

To Assemble: Lightly grease a small bowl. Place a layer of rice and pack it in with the back of a spoon. Place some of the soy mixture and top it with some more rice.

Place a plate on top of the bowl and carefully flip it and remove it to reveal the layered Arroz Tapado. Enjoy!!
Notes
Please visit our cohosts blogs and follow their sites!
Diane: http://www.simplelivingeating.com
Adelina: http://www.homemaidsimple.com
Shey: http://justnotthecakes.blogspot.com
Lisa: http://cookingwithcurls.com
Mireille: http://www.eastwestrealm.com
Usha: http://www.myspicykitchen.net
Pavani: http://www.cookshideout.com
Submit your Peruvian recipes using the linky tool below:
Subscribe to our mailing list
An InLinkz Link-up