Blogging Marathon# 31: Week 1/ Day 2
Theme: Mexican Cuisine
Dish: Vegetarian Low-fat Chimichanga
For Day 2 of BM# 31 under 'Mexican Cuisine' theme, I made this low(er) fat vegetarian Chimichanga. 'Chimichanga' is essentially deep fried burrito that is stuffed with either meat and/or beans. Since deep frying is not something I do regularly I decided to pan fry them. I already have a recipe for baked chimichangas that I posted way back in the olden days 🙂
Filling for the chimichangas, like any other Mexican dish, is very versatile and can range from meats to beans to veggies. I have made these with different beans (black or red kidney or pinto) and sometimes even mix some TVP (soy granules). But the best I've found is using Trader Joe's Soyrizo and beans cooked with some onions, red pepper and some cheese -- yummy!!
Today's chimichangas are super simple with just red kidney beans and cheese. My son loves them too.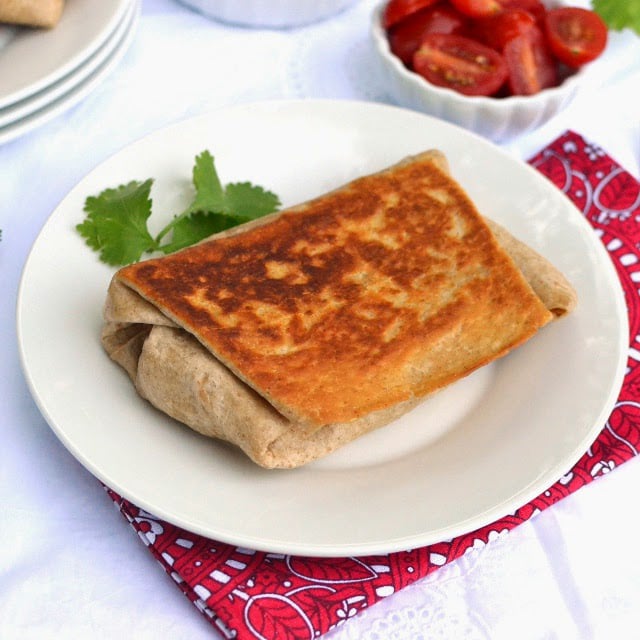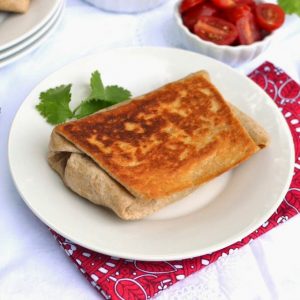 Ingredients
4

Tortillas

(I use taco size whole grain tortillas)

1 16

oz . cans

Red Kidney beans

of - (2 cups cooked)

1

Onion

- small, finely chopped

1

Jalapeno

- small, finely chopped (remove the ribs and seeds if you cannot handle spicy food)

1

clove

Garlic

- , finely minced

1

tsp

Cumin

Ground

1

tsp

Chili powder

- (reduce or omit completely if you don't like spicy food)

1

cup

Cheese

- , grated (I used grated cheddar, but monterey jack or pepper jack will work great too)

to taste

Salt
Instructions
Make the Filling: Heat 2tsp oil in a saute pan, add onions, garlic, jalapeno and cook for 4-5 minutes or until the onions turn translucent.

Next add drained and rinsed beans along with ground cumin, chili powder and salt. Using the back of the spoon, mash the beans a little to make the filling creamy and thick. Cook for 5 minutes and set aside to cool a little.

In the meantime, fold the tortillas in damp paper towel and microwave for 30 seconds to make them a little pliable.

Place some of the bean filling in the lower half of the tortilla and top it with cheese. Fold the bottom of the tortilla onto the filling, then fold both the sides over and roll to the top. Repeat with the remaining tortillas.

Heat 2-3 tbsp oil in a saute pan or griddle, place the chimichangas in the oil seam side down and cook on medium flame until golden brown, about 3-4 minutes. Flip over and cook for another 2 minutes or until golden brown.

Serve hot with your favorite accompaniments (sour cream for me 🙂
Notes
I served mine with a dollop of sour cream, grape tomatoes, corn salsa (store bought) and some chopped cantaloupe for a filling and delicious meal.
Lets check out what my fellow marathoners have cooked up for BM# 31.