Blogging Marathon# 37: Week 1/ Day2
Theme: National Dishes from around the World 
Dish: El Salvador -- Pupusa
Years ago when I first started watching Food network, Rachael Ray used to make dishes from different countries/ cuisines and called them 'Passport meals' to those countries. Which means you don't need a passport to visit those countries physically, all you need is a well stocked pantry and you can easily transport to that country by enjoying the local dishes right at home. That is how my interest in trying different cuisines started.
So today I made a Passport meal to El Salvador by making their national dish, Pupusa. This is another dish that has been on my to-make list for a while now. I used the recipe from Viva Vegan by Terry Hope Romero.
Pupusas are stuffed, grilled tortillas from El Salvador. The fun of pupusas is in the combination of hot grilled masa harina, tasty fillings, tangy tomato sauce, and cool Salvadorian style coleslaw known as curdito. So this dish has quite a few components and can be time consuming to make. But luckily the curdito and the tomato sauce can be made up to 2 days in advance.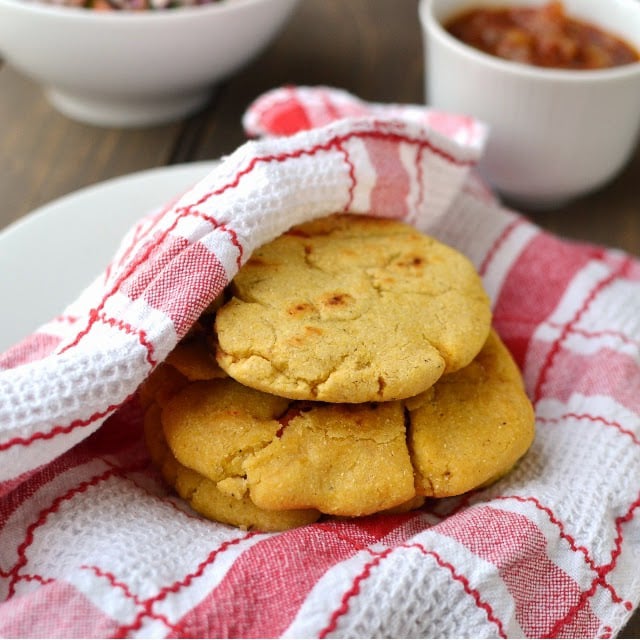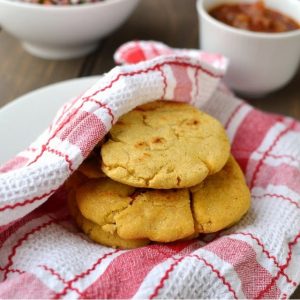 Ingredients
For Pupusa:
2

cups

harina

Masa

1¾

cups

water

Warm

¼

tsp

Salt
For the Filling:
1

Red onion

- medium, finely chopped

2

cloves

Garlic

- finely minced

½

cup

Corn

kernels (either fresh or frozen)

1

Red pepper

- medium, finely diced

1

cup

Red Kidney beans

- cooked (black or other colored beans can also be used here)

2

tsp

Lime juice

to taste

Salt Pepper

&
Simple Latin Sauce:
1

Onion

- small, finely chopped

2

cloves

Garlic

- , finely minced

1

tsp

Oregano

Dried

½

tsp

Cumin

Ground

¼

cup

Vegetable broth white wine water

, or

1 15

oz

Tomato sauce tomatoes tomatoes

, crushed or diced - . cans

2

tsps

Lime juice

to taste

Salt Pepper

&
For Salvadorian Marinated Slaw - Curdito:
8

cups

Cabbage

Green - , finely shredded

2

cups

Red cabbage

- , finely shredded

1

Jalapeno

- finely chopped

1

Carrot

- medium, peeled and shredded

¼

cup

Cilantro Parsley

& - , finely chopped

2

tsps

Oregano

Dry

1

tbsp

salt

Coarse

¼

cup

White Vinegar

- or more to taste
Instructions
Make the filling: Heat 2tbsp oil in a saute pan; add onions, red pepper and garlic and cook until onions are translucent. Add corn, beans, salt and pepper; cook for 3~4 minutes. Finally add lime juice and mix well. Set aside until ready to use.

For the Pupusas: In a large bowl, combine masa harina, warm water and salt. The dough should be moist and firm, like our roti dough. Divide the dough into 8 equal portions and roll into balls. Cover with a damp kitchen towel to keep moist while shaping the pupusas.

To make a pupusa, pat the dough ball to form a small bowl, press some of the filling in the middle and then fold over the sides of the bowl on top of the filling and firmly press down.

Now for the tricky part of shaping the pupusa, moisten your hands a little. Gently and firmly pat the pupusas down and out. Masa tends to crack and the filling tends to poke out at this stage. But just patch up the cracks with extra dough and use water to smooth it out. As long as the pupusas hold their shape, don't worry about the actual shape or the filling peeking out.

Cover the shaped pupusas with a damp towel.

To cook the pupusas, lightly oil and heat a heavy bottom pan over medium heat. Brush the pupusas with oil for a crisper crust. Grill a few pupusas at a time, 4~6 minutes per side, flip and repeat on the other side. Occasionally press down the center and edges gently with the spatula. Cooked pupusas should be firm and golden, a few dark spots on the surface is fine. If serving all of the pupusas, wrap them in an aluminum foil whiling preparing the rest.

Serve piping hot pupusas with a side of warm simple Latin tomato sauce and a generous heap of Salvadorian Marinated Slaw.

Latin Sauce: In a medium size sauce pan; heat 2tsp olive oil and add onions and garlic. Once the onions start to turn golden and translucent, stir in oregano and cumin; fry for 30 seconds. Add the broth to deglaze the sauce and simmer for 1 minute.

Add the tomato sauce and simmer for 10 minutes.

Season with salt, pepper and lime juice and remove from heat.

For Salvadorian Marinated Slaw - Curdito: Combine the shredded cabbage and the remaining ingredients in a large bowl and toss well to coat everything with the salt and vinegar.

Stuff the curdito in a large plastic resealable bag. Press out all of the air and tightly seal the bag.

Place the bag in the fridge and place something heavy on top and chill for at least 1 hour or overnight; the longer the cabbage chills, the more tender and juicy it will become.

To serve, lift up a handful of the slaw and gently shake off of any excess juices.
Notes
Some ideas for Pupusa fillings:
Equal parts of Refried beans and finely chopped Vegan sausages.
Shredded Seitan and Refried Beans.
Steamed or baked Winter squash (pumpkin, calabaza, butternut etc) seasoned with salt, pepper and lime juice along with equal parts of Refried beans.
Lets check out what my fellow marathoners have cooked today for BM# 37.