Okra aka Ladies Finger is one of my favorite vegetables. My daughter recently started liking it and keeps asking me to make okra curry. So nowadays I make sure to buy okra everytime I'm at the grocery store. Today I made a simple Aloo Bhindi ki Subzi (Potato Okra Curry) from 660 Curries by Raghavan Iyer.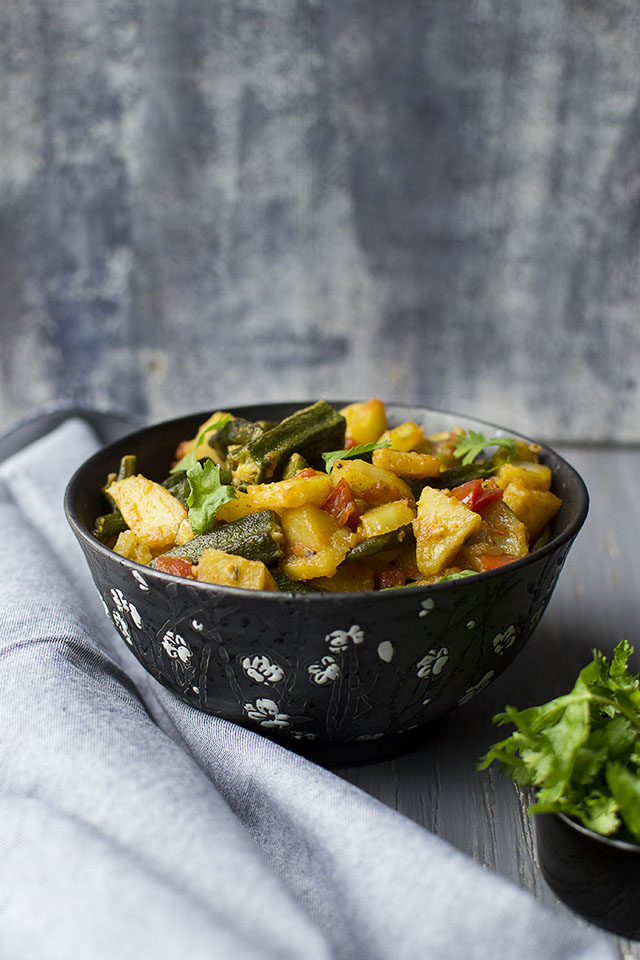 I usually make a very simple sauteed okra curry with just chili powder and salt. But this time I wanted to try something else and this Aloo bhindi ki subzi caught my attention in 660 Curries. I rarely combine okra with other vegetables except for onion and tomato, so this curry with potato sounded very interesting.
Taming the slime in okra is a bit of a challenge but a few simple tricks will help with that. Drying the okra completely before chopping is a good start. Refrain from stirring the okra too much while cooking also helps a bit.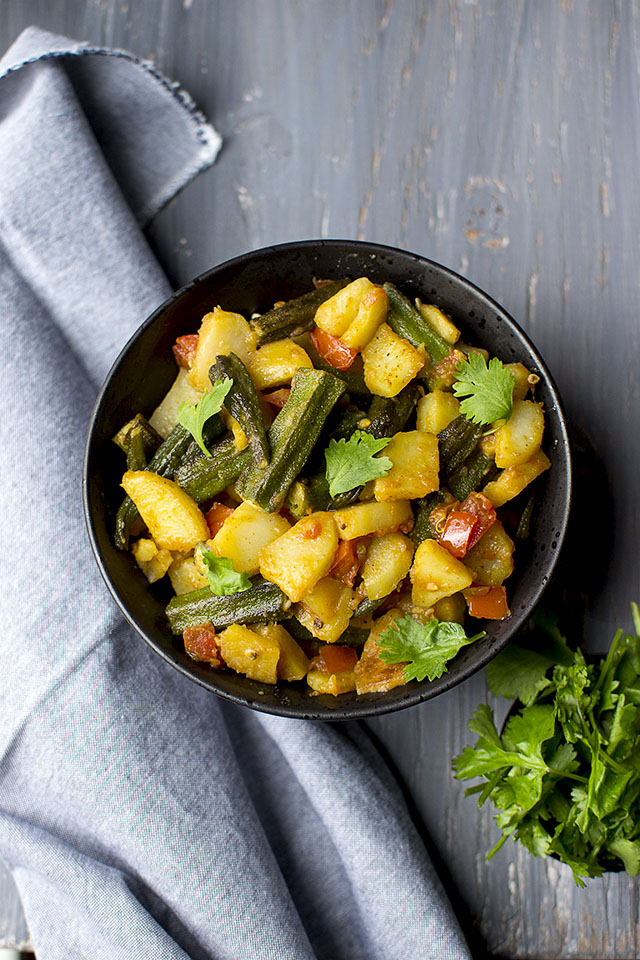 In the original recipe, okra is left whole but the ones I had where too long so I chopped them in half. Okra is sauteed until soft and lightly browned ahead of time and then added to the potatoes later. This ensures that the curry doesn't get slimy.
This is a very simple and easy to make curry but tastes absolutely delicious. If you follow the recipe as written, it turns out perfect and even okra-haters might give it a try. It is great to serve with rice or even roti.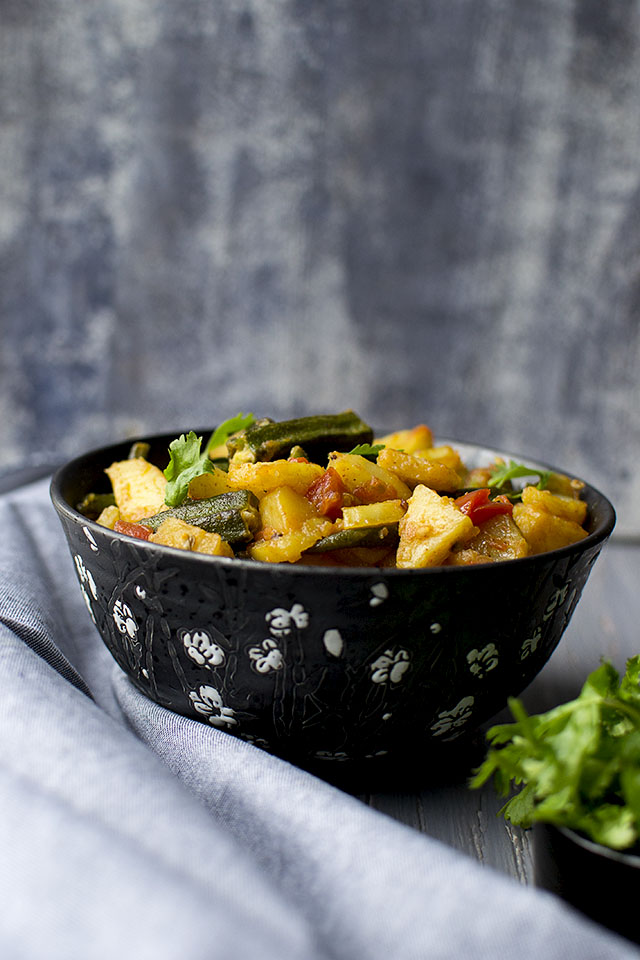 This goes for the January Week 3, Cooking from Cookbook Challenge Group.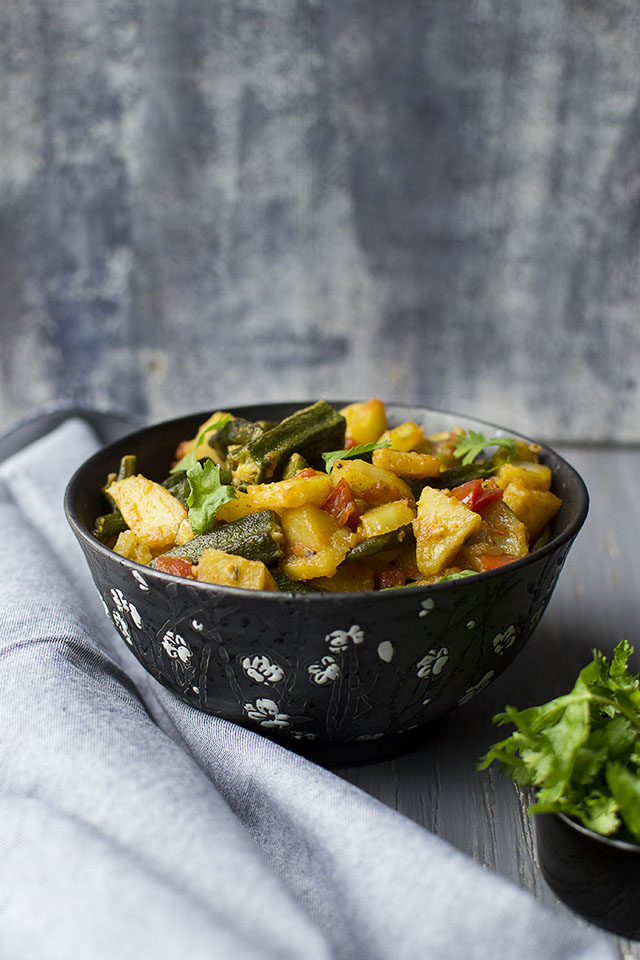 Aloo Bhindi ki Subzi
Aloo Bhindi ki Subzi (Potato Okra Curry) is a very easy to make recipe and is very tasty. It is great to serve with roti or rice.
Print
Pin
Rate
Ingredients
2

Medium Russet Potatoes, peeled, quartered and thinly sliced

15~18

Okra, tops trimmed and halved if long

1

Medium Tomato, chopped

½

tsp

Red Chili powder (Cayenne pepper) (adjust as per taste)

¼

tsp

Asafoetida (hing)

¼

tsp

turmeric

To Taste

salt
Instructions
Heat 1tbsp Oil in a large nonstick pan over medium-high heat. Add the okra and saute, stirring occasionally, until they are soft and slightly browned all over, about 10 minutes. Remove the okra onto a plate and set aside.

Heat 2tbsp oil in the same pan. Add the potatoes and saute, stirring occasionally, until they are crisp and brown, about 5~10 minutes.

Add the sauteed okra, turmeric, red chili powder, salt and asafoetida. Mix well and cook for about 1 minute.

Add the tomato and ½cup of water. Stir well and bring to a boil. Reduce the heat to low, cover and simmer till the potatoes are cooked through, this will take about another 10 minutes. Serve hot with rice or roti.