For this month's Indian Cooking Challenge (ICC), Valli wanted us to make an Indian bread, Amritsari Aloo Kulcha. After the April mega marathon where explored the dishes from all the Indian states, I've decided not to skip any ICC editions because it is a good opportunity to learn regional dishes from different parts of India. Also Valli always makes it a point to challenge us to try dishes that are unique and tries to get authentic recipes of the same.
This month's challenge fit right into our meal plan. While my in-laws were here we ate rotis at least 3~4 times a week, so these stuffed parathas fit right in. If it's just us, I make rotis may be once a week, since my husband travels almost weekly. 
These parathas are very much like aloo paratha (potato stuffed bread), but the bread is kulcha dough made using baking soda and yogurt. Parathas turned out thick, soft and delicious.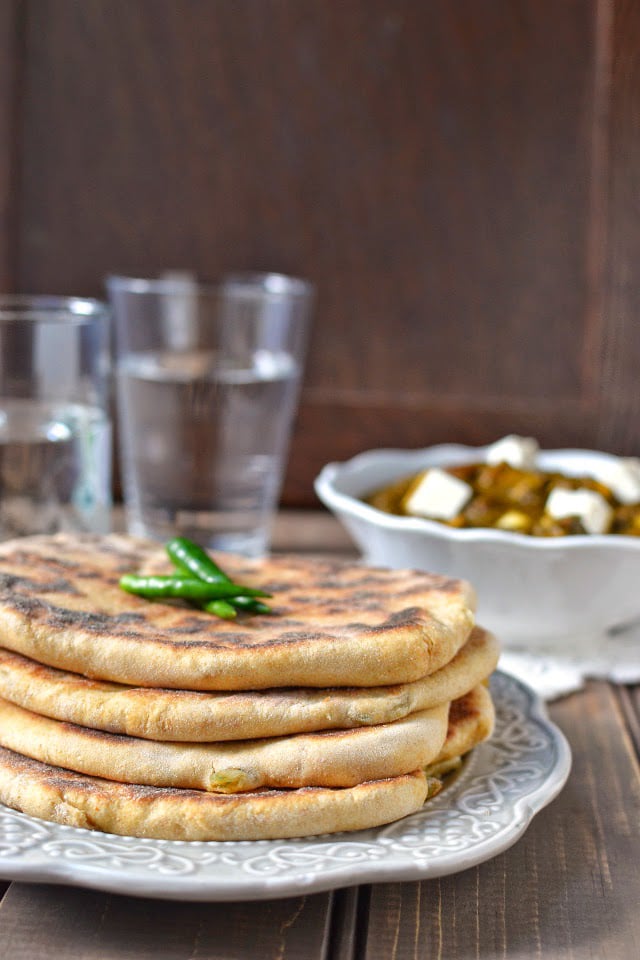 Ingredients
For the Dough:
1

cup

All purpose flour

1

cup

Wholewheat flour

½

tsp

Baking soda

to taste

Salt

¼

cup

Yogurt

¼

cup

Milk

Warm
For the Filling:
2

Potato

- medium, boiled and mashed

1

Chilies

Green - finely chopped

1

Onion

- small, finely chopped

½

tsp

chili powder

Red

½

tsp

Cumin

Ground

¼

tsp

Masala

Chat

1

tbsp

Cilantro

- finely chopped
Instructions
Prepare the Bread dough: Combine all the ingredients for the dough. Add enough warm water and knead the dough into a smooth & soft dough. Cover and set aside to rise for 1~2 hours.

Make the Filling: Combine all the ingredients for the filling in a mixing bowl. Divide it into 8~10 equal portions.

Make the Parathas: Divide the dough into 8~10 equal portions. Roll out the dough into a 3" round circle. Place the filling in the center and pull the dough to cover the filling from all sides. Press the dough down and then roll it out into a 6" thick paratha.

Cook the paratha on a hot tawa/ griddle until dark spots form on both sides. Brush with melted butter, if desired, and enjoy them hot.
Notes
I served this yummy filling Amritsari parathas with some Palak Paneer (recipe coming up soon).
Linking this to  'Fabulous Feast Friday # 19' being hosted this week by Usha and me.