This Ayurvedic meal is a collection of easy and delicious vegetarian dishes. All of the recipes are simple and follow Ayurveda principles.
This veg thali has every day dishes like rice, dal, curries, salad and a sweet dish. Recipes for all of the dishes are in this post.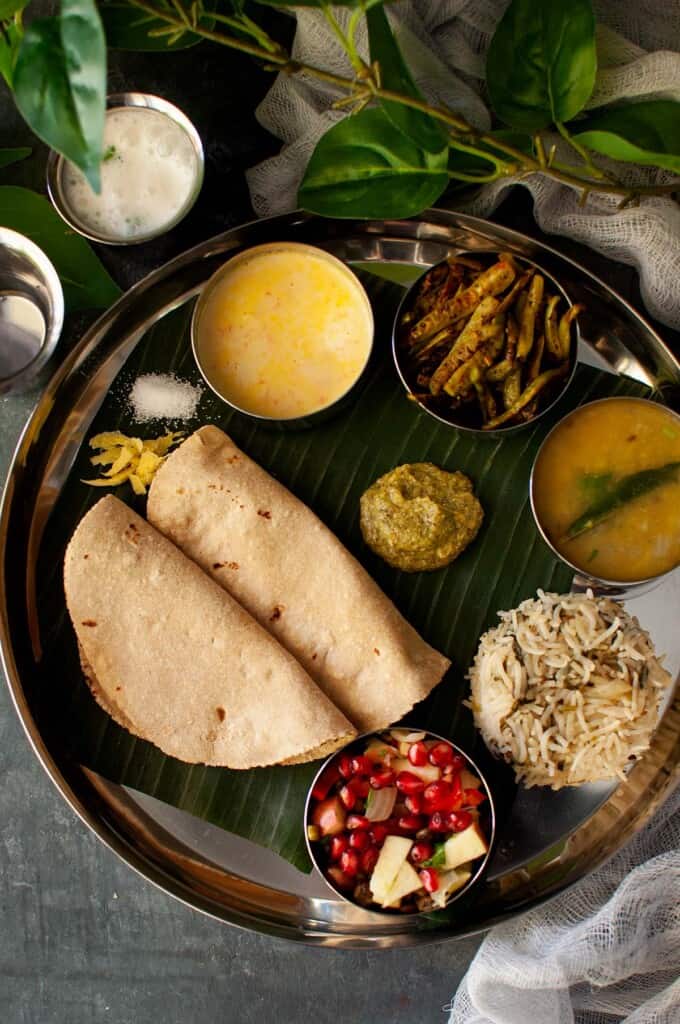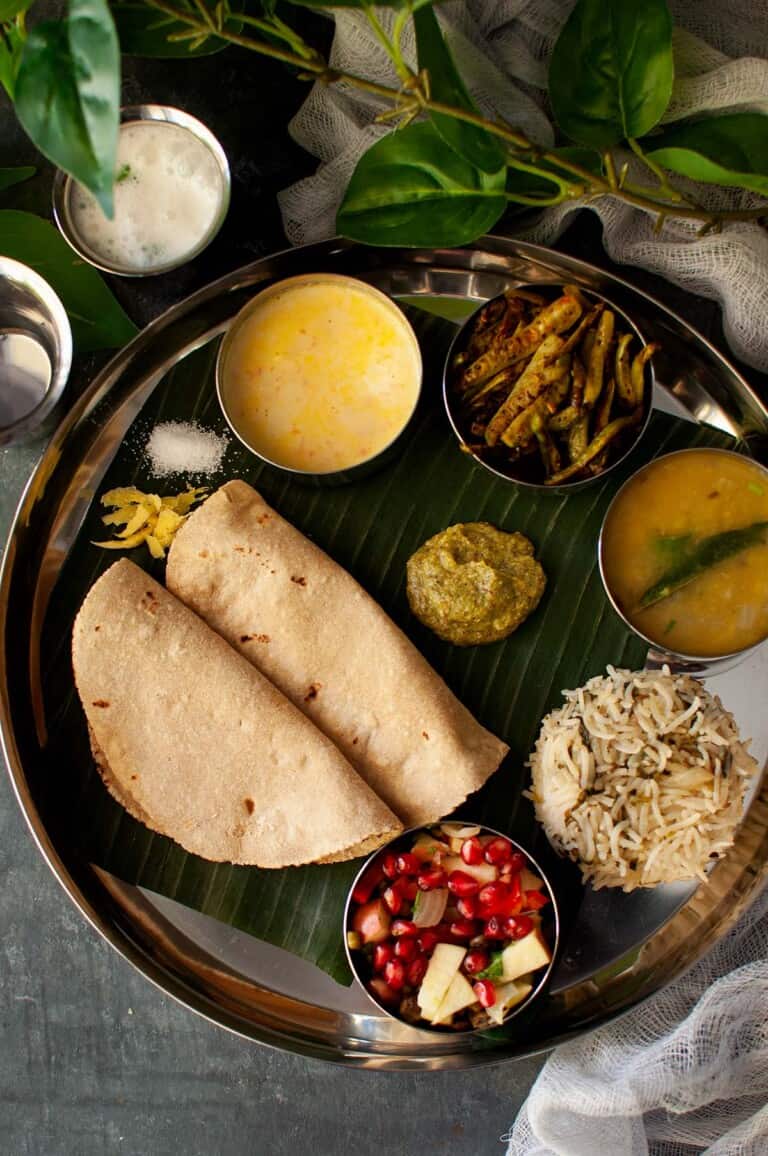 About Ayurveda
Ayurveda is a medicinal science that of course treats illness, but more importantly teaches a way of life that improves good health, longevity and vitality. Thus it is called the Science of Life; 'Ayu' means life and 'Veda' means science.
It teaches us to live a wholesome life that will keep the body healthy and the mind strong. Ayurveda is based on understanding the individual and his constitution, innate strengths and weaknesses. It teaches how to enhance the strengths and correct the weakness through proper diet and life style.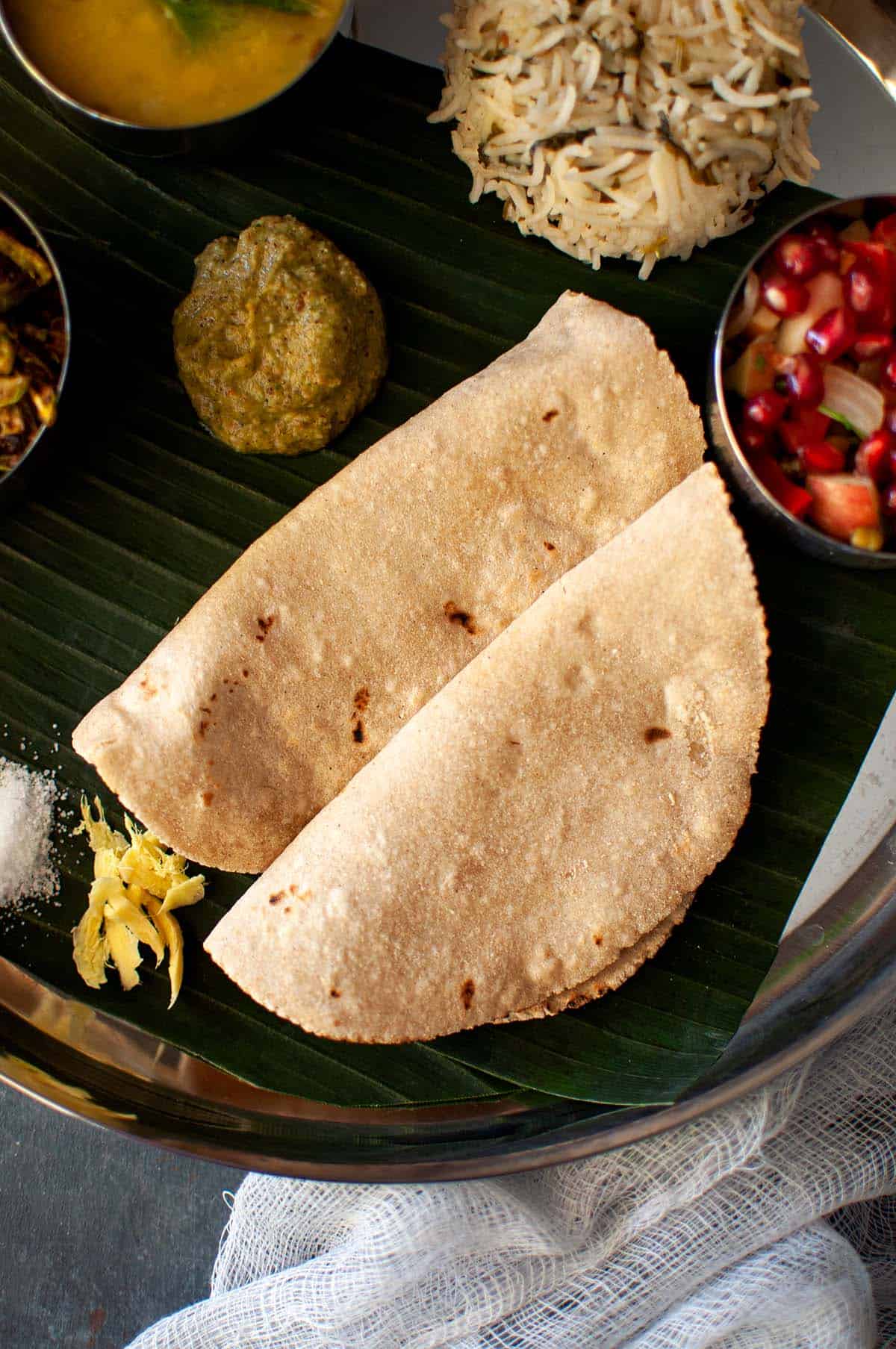 About the Meal
Please note I am not an expert in Ayurveda or Ayurvedic cooking. I have learnt a little bit from reading various books. These recipes work for my family's lifestyle.
My every day cooking involves making easy dishes that are quick and with minimum spices. I also love making thali once in a while for my family.
Thali means a plate/ platter in Hindi. So, thali generally consists of a collection of dishes that make a wholesome meal. This Ayurvedic meal is inspired from the cookbook Sukham Ayu.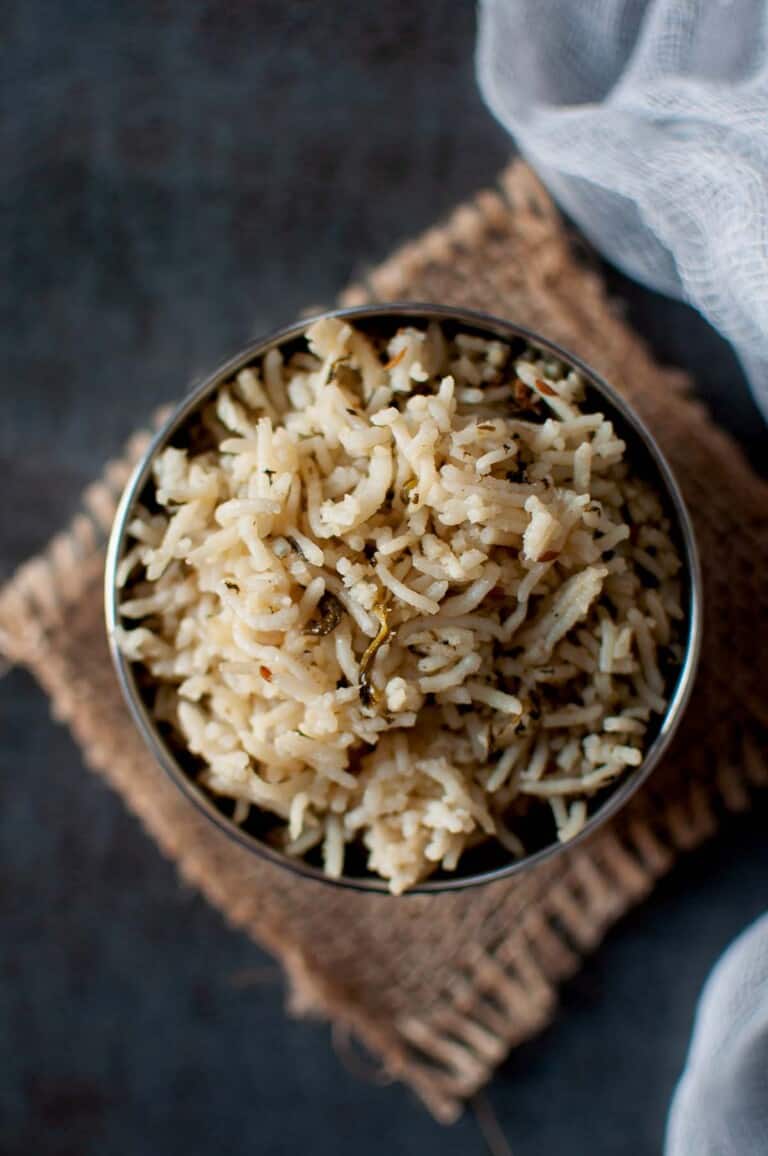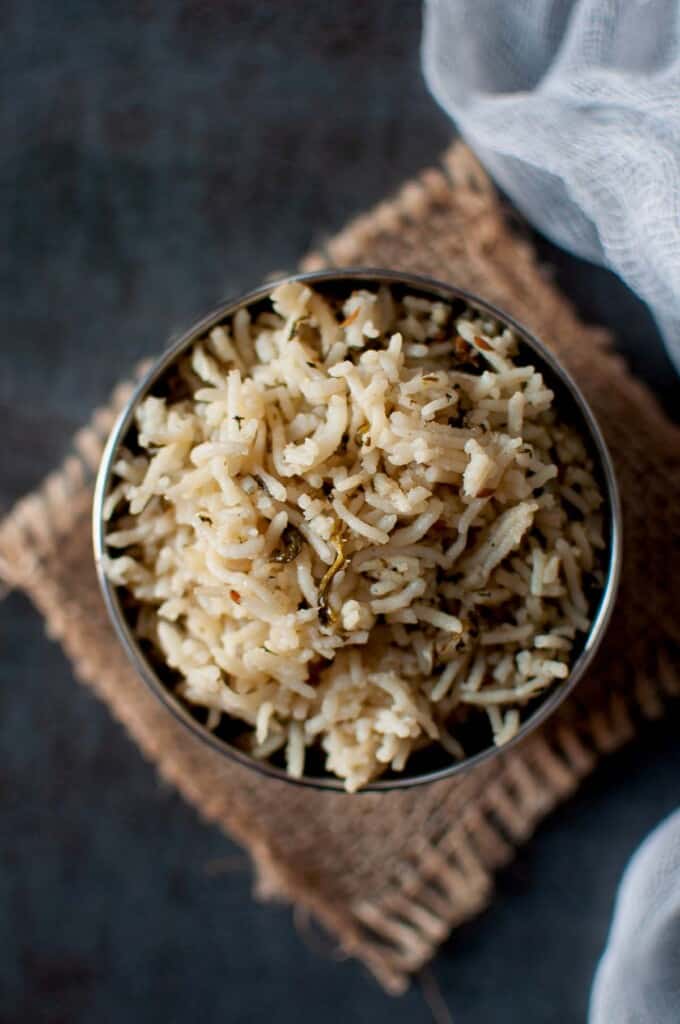 All of these recipes are very basic and can easily be customized with the choice of veggies. They are easy to make with few ingredients and not many spices. Best part is all of these recipes can be made either for lunch or dinner.
Ghee, powdered rock salt are usually used to make the dishes. Here is what I have in the thali:
Sprouts Salad
Home-style Dal
Basic home-style Vegetable curry
Home-style Pulao
Carrot Kheer
Home-style chutney
Roti
Buttermilk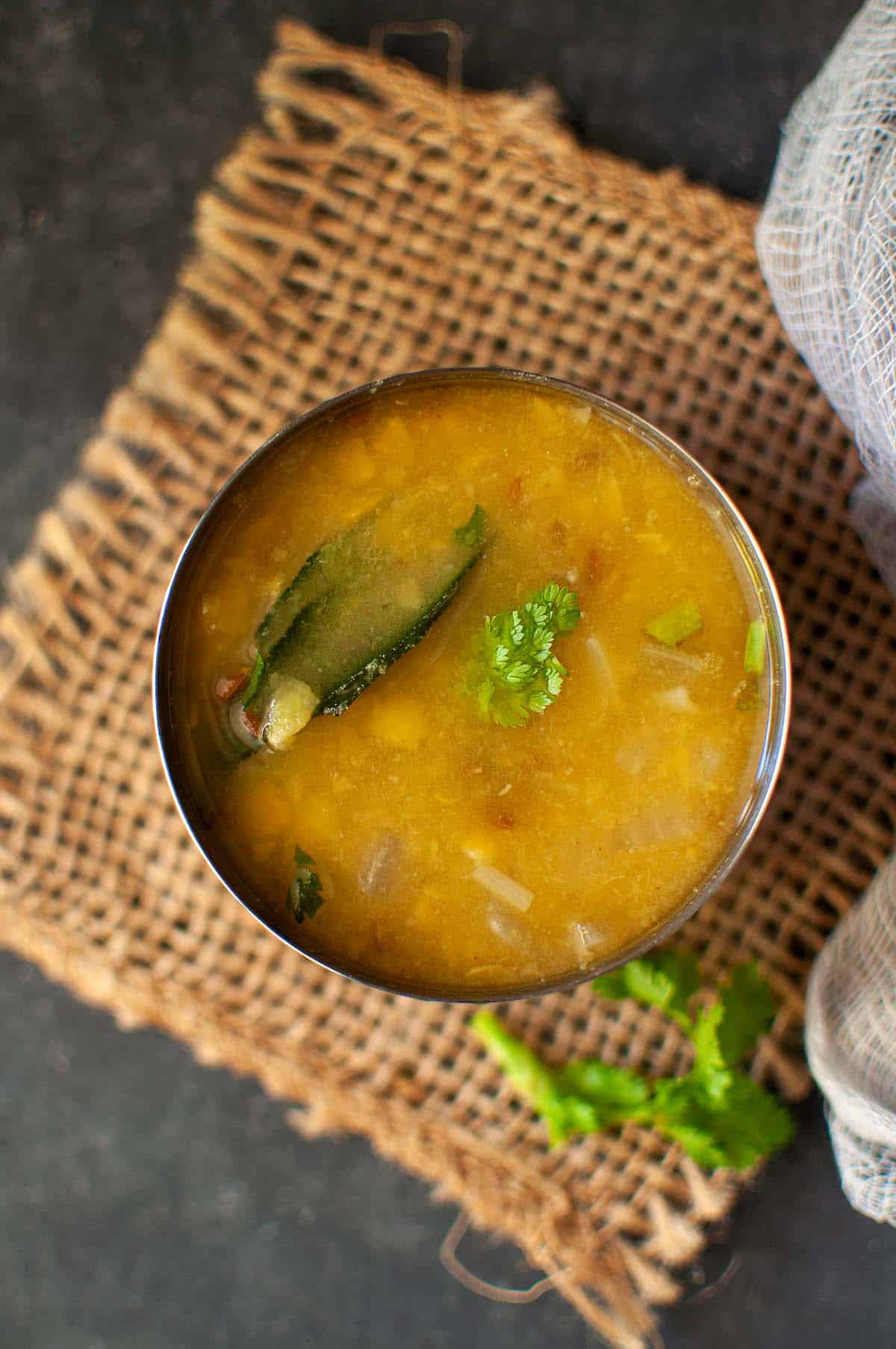 Planning a Ayurvedic Meal
Ayurveda advises that one should eat when just hungry, rather than waiting until ravenous. Digestive fire is at its highest around noon, so a hearty lunch is recommended for all. An early dinner with enough time for digestion before sleep is a good habit to cultivate in life.
Ayurveda tells us that food should be eaten in proper quantity, keeping seasonal and regional availability in mind.
Balance a meal in the proportion of ½ portion solid, ¼ portion liquid and ¼ portion air. This means that a meal must include solid preparations like rotis, vegetables and rice. Liquid preparations like soups and dals and little sips of water as well. For air to move in the last quarter, one must stop eating just before the stomach is completely full.
Ayurvedic Recipes
Here are the recipes for the dishes in this Ayurvedic meal:
Sprouts Salad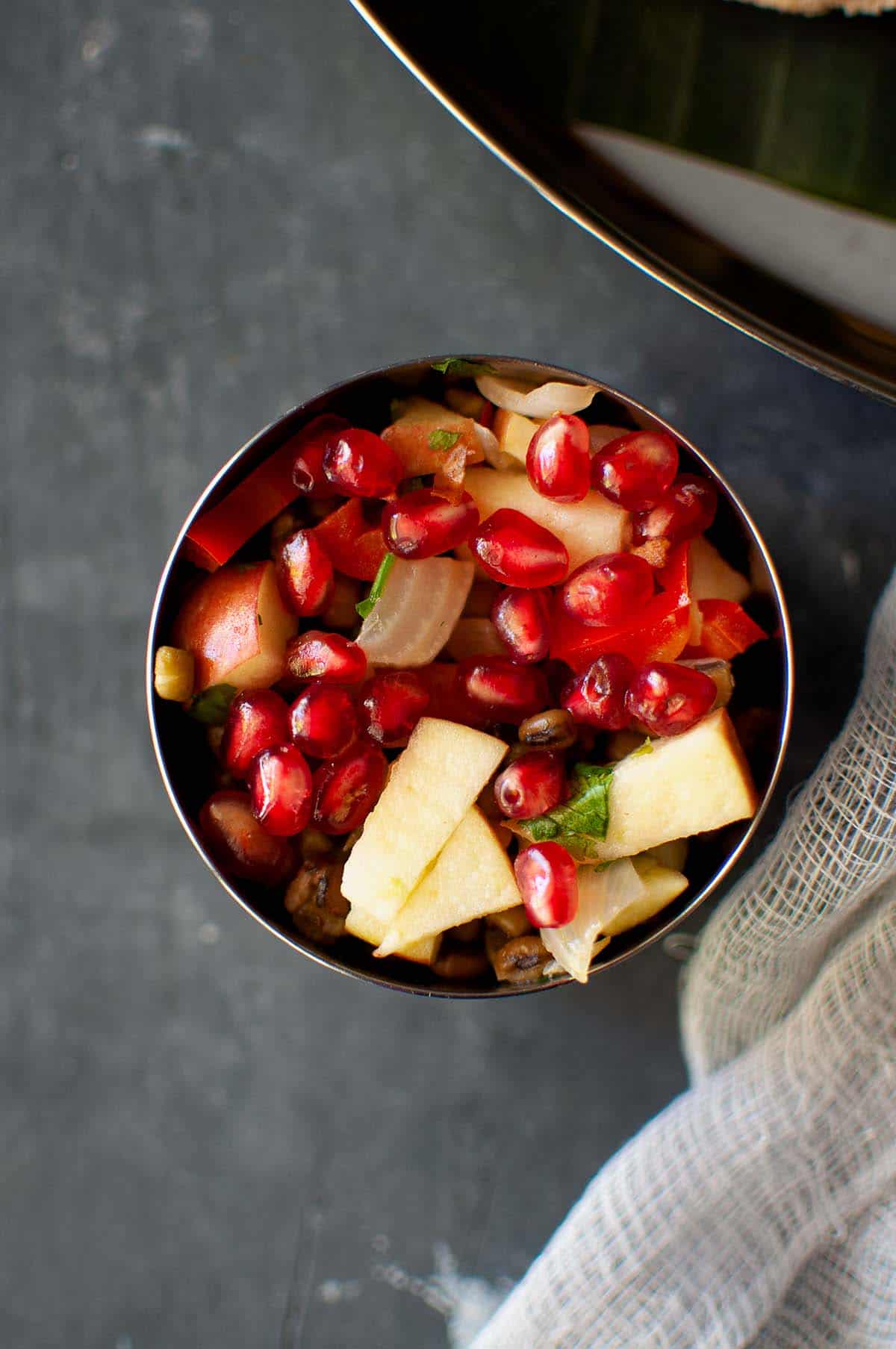 Steam 2 cups green gram sprouts for 5~7 minutes. Heat 1 teaspoon ghee, add 1 small chopped onion and capsicum and cook for 1~2 minutes. Then add the sprouts and cook for 1 minute. Let the mixture cool.
Add 1 small chopped apple, ¼ cup of pomegranate seeds, 2 tablespoons each of cilantro, mint leaves and salt. Serve immediately.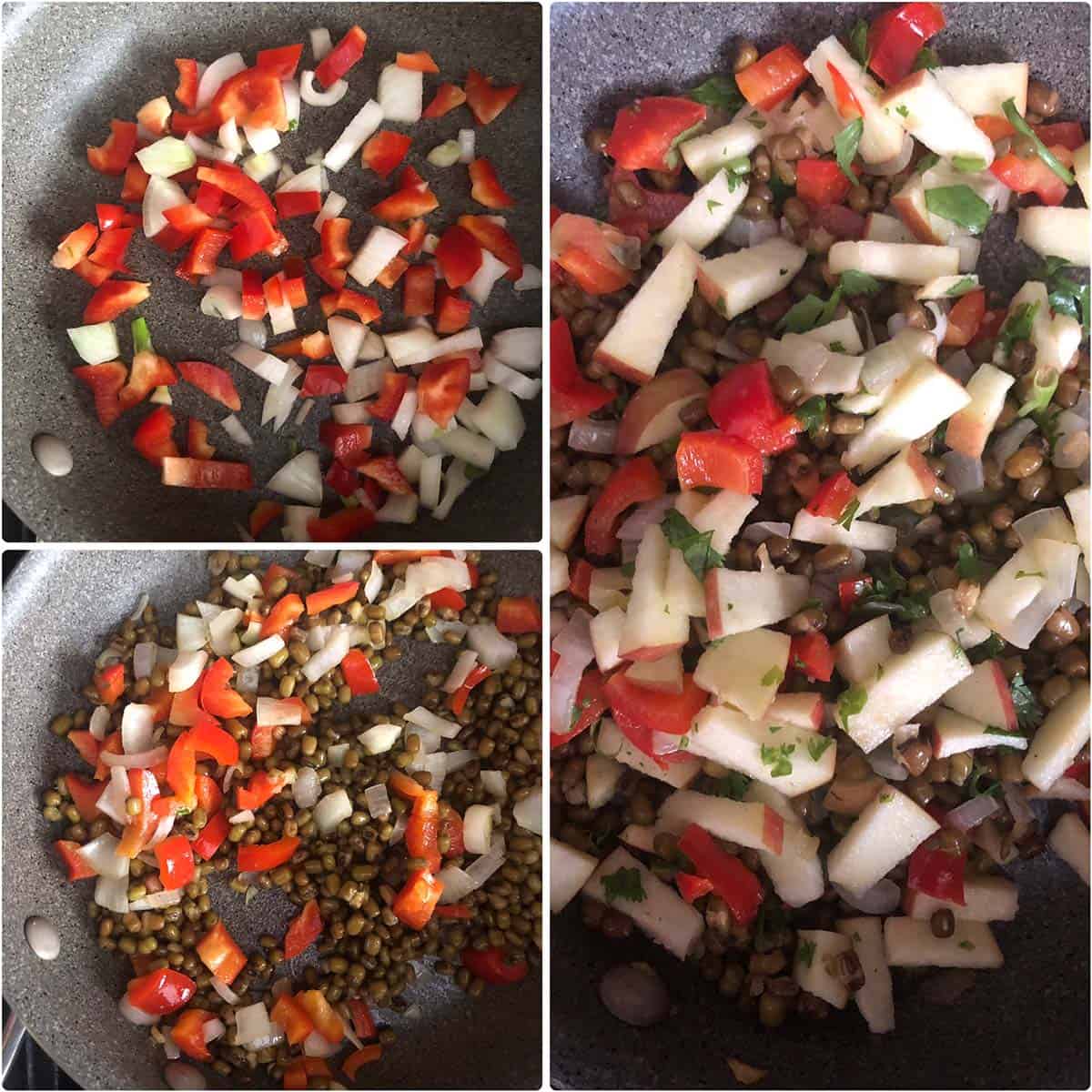 Basic Home-style Vegetable Curry
This curry is a simple and basic one. Make it with any of your favorite vegetable. Beets, bitter gourd, cabbage, ivy gourd, carrots, pumpkin, ridge gourd, radish or even green veggies.
Some veggies might take a little longer to cook. If using baby corn, cauliflower, french beans, green peas, plantains or yam, add ½ cup water after adding the spice powders. Follow the same recipe for the curry with any of the veggies.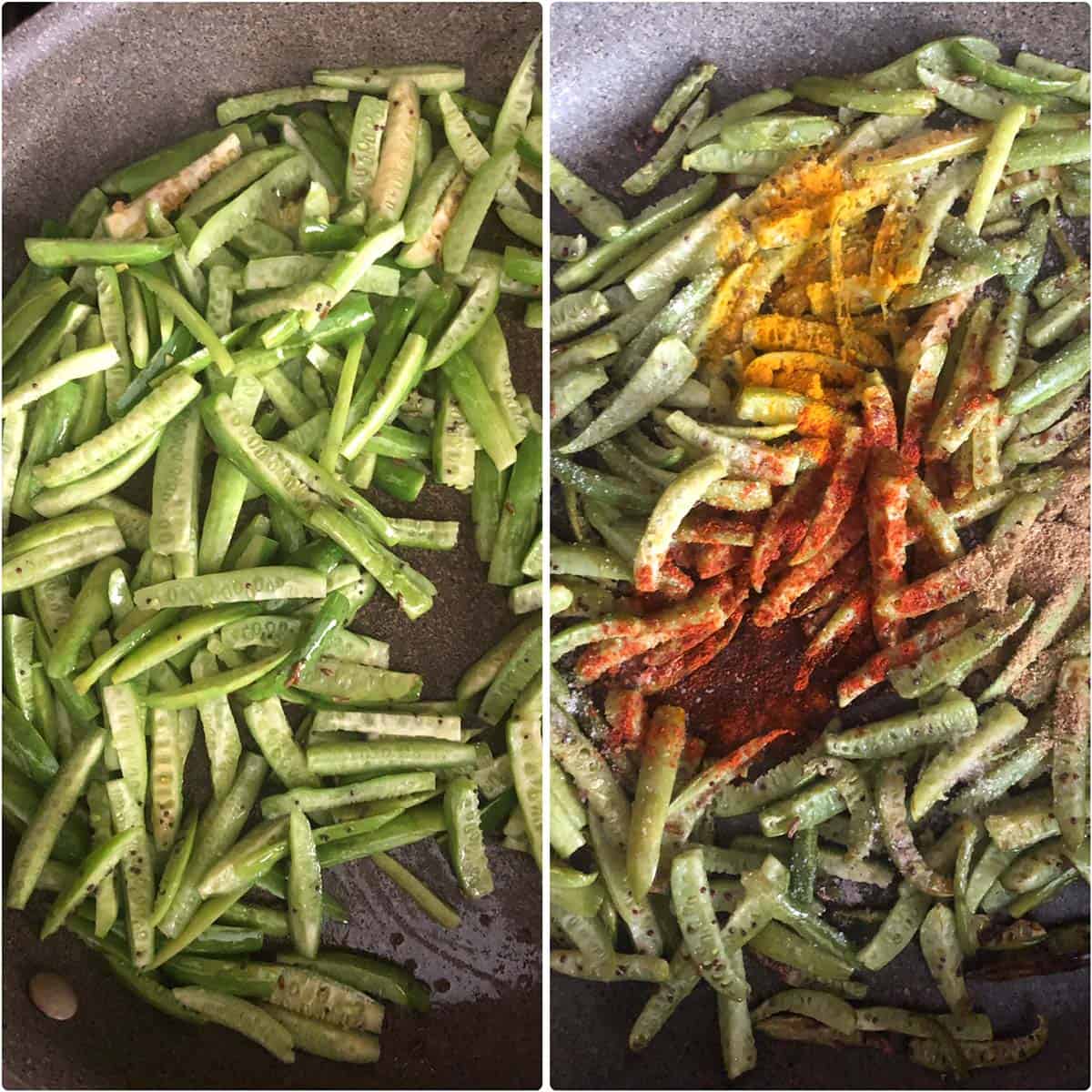 Heat 1 teaspoon ghee in a pan; add ½ tsp each of mustard & cumin seeds and a pinch asafoetida. Once the seeds start to splutter add 4 cups of chopped veggies and sauté for 2~3 minutes.
Add ¼ tsp turmeric, ½ tsp red chili powder, 1 tsp ground Coriander and powdered rock salt to taste. Cook, covered until the veggie is tender. Serve immediately.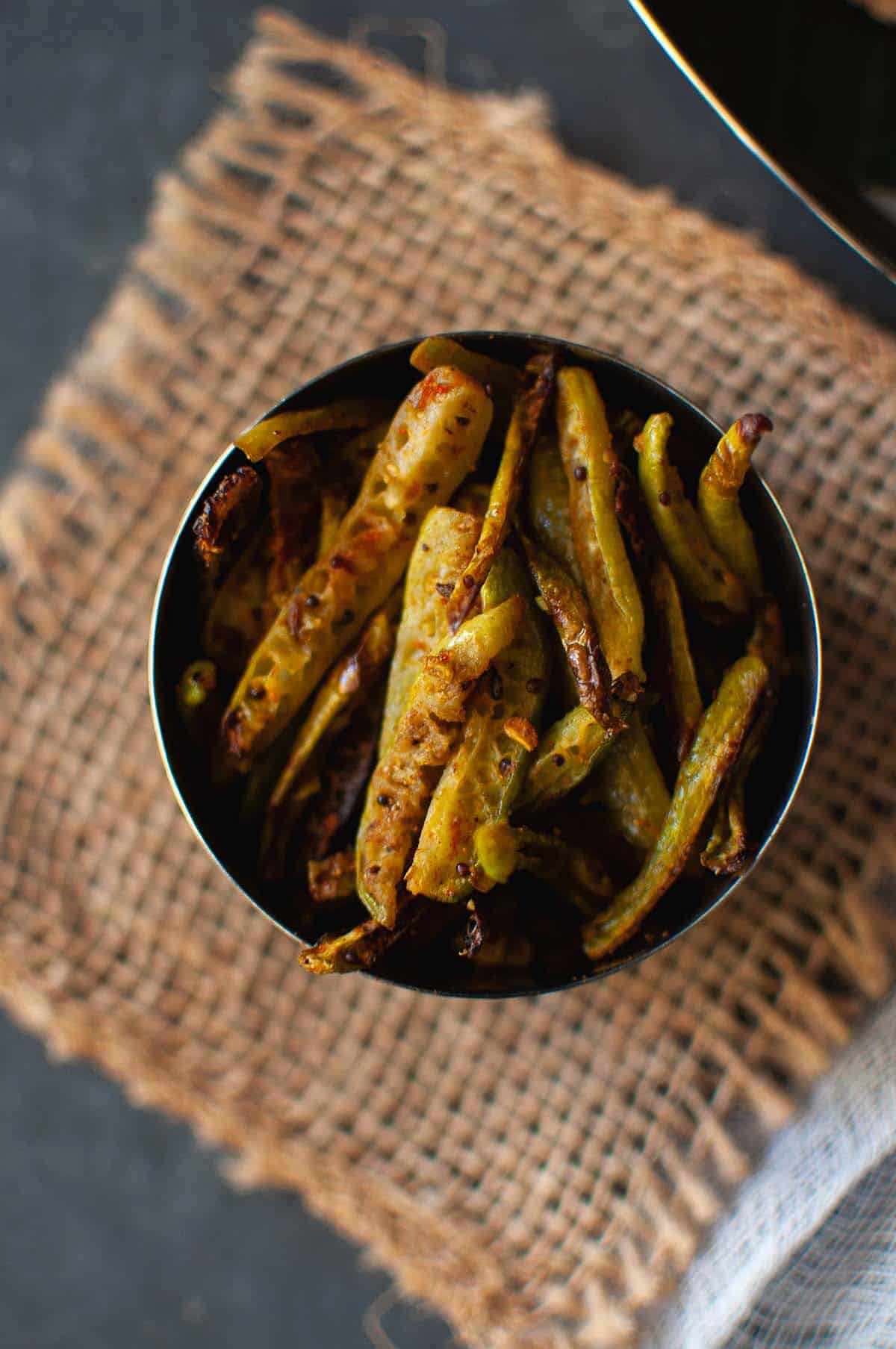 Carrot Kheer
Soak ¼ cup whole almonds for 1 hour. Steam 1 large grated carrot for 4~5 minutes. Set aside to cool. Peel almonds and grind to a coarse powder. Add the steamed carrot and grind into a coarse paste.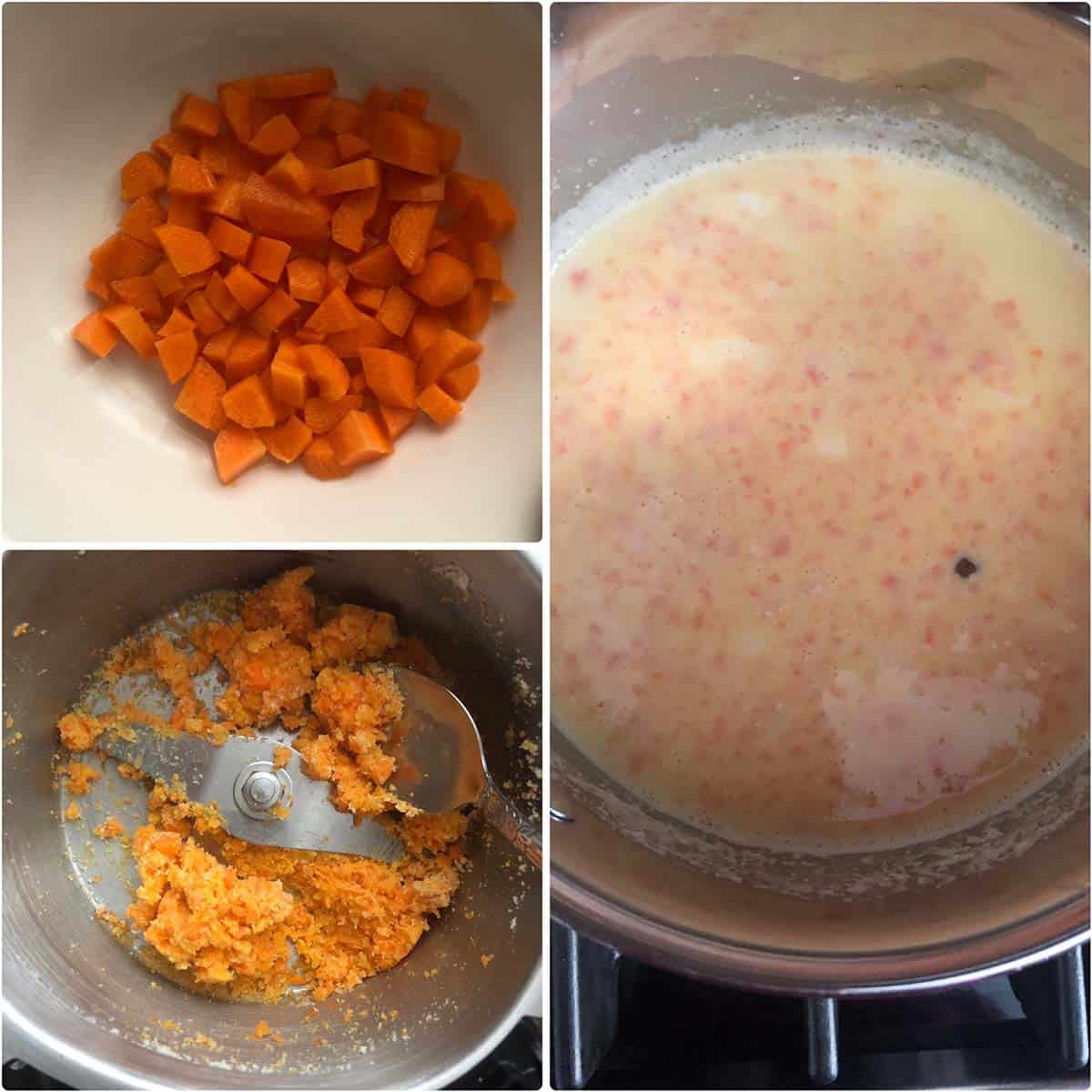 In a thick bottomed pan, bring 4 cups milk to a boil, lower the heat and simmer.
Heat 1 teaspoon ghee and add 2 cloves. Once they puff up, add the carrot-almond mixture and sauté for 1 minute. Add the carrot mixture to the simmering milk along with ⅓ cup sugar and continue cooking over low flame for 7~8 minutes, stirring occasionally. Add ¼ teaspoon ground cardamom and turn off the flame. Serve warm or at room temperature.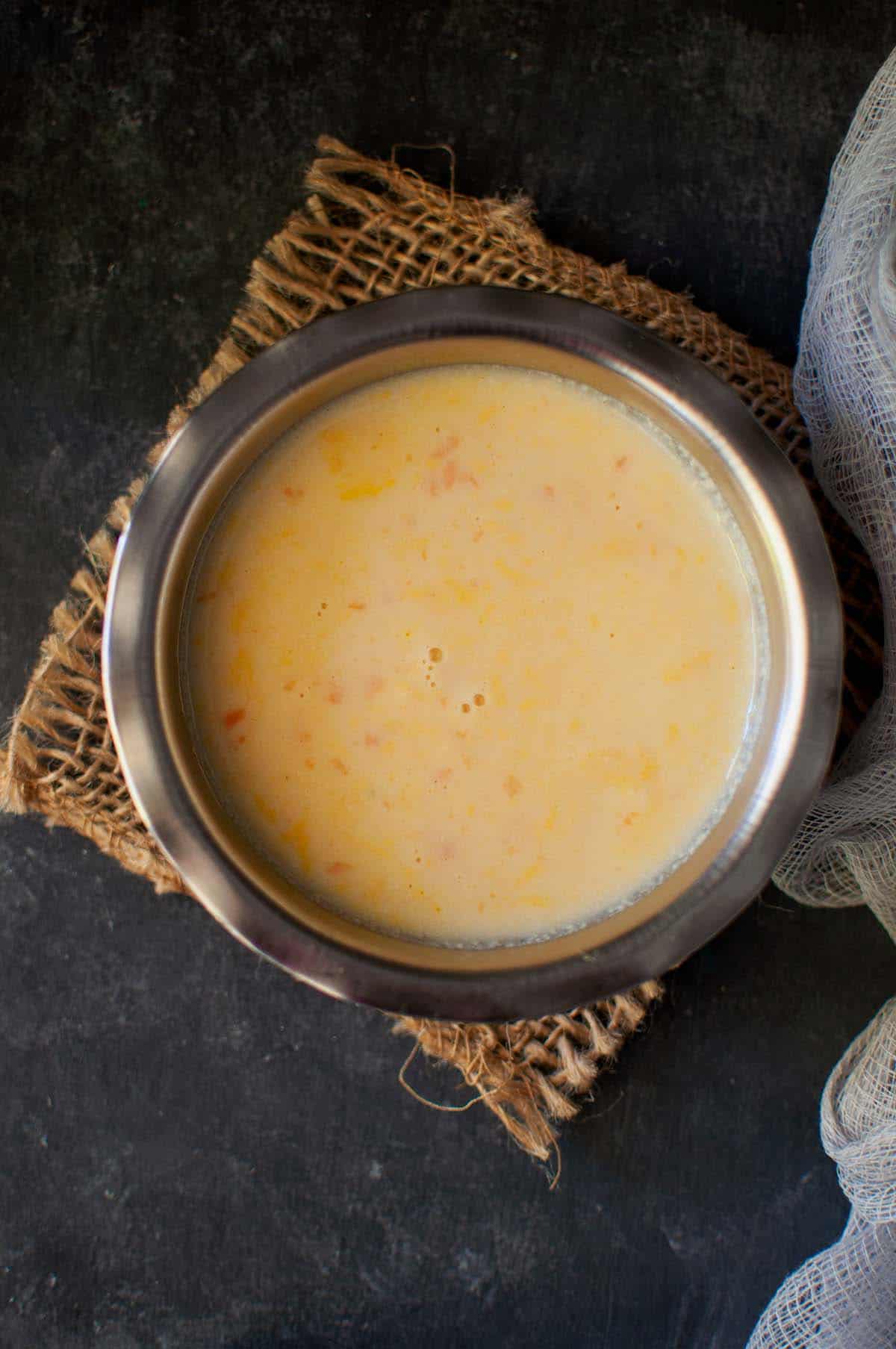 Home-style Chutney
My home state of Andhra is very famous for chutneys. They are called pachadi and are great to mix with rice and eaten. You can use ridge gourd, chayote squash, raw mango to make this chutney.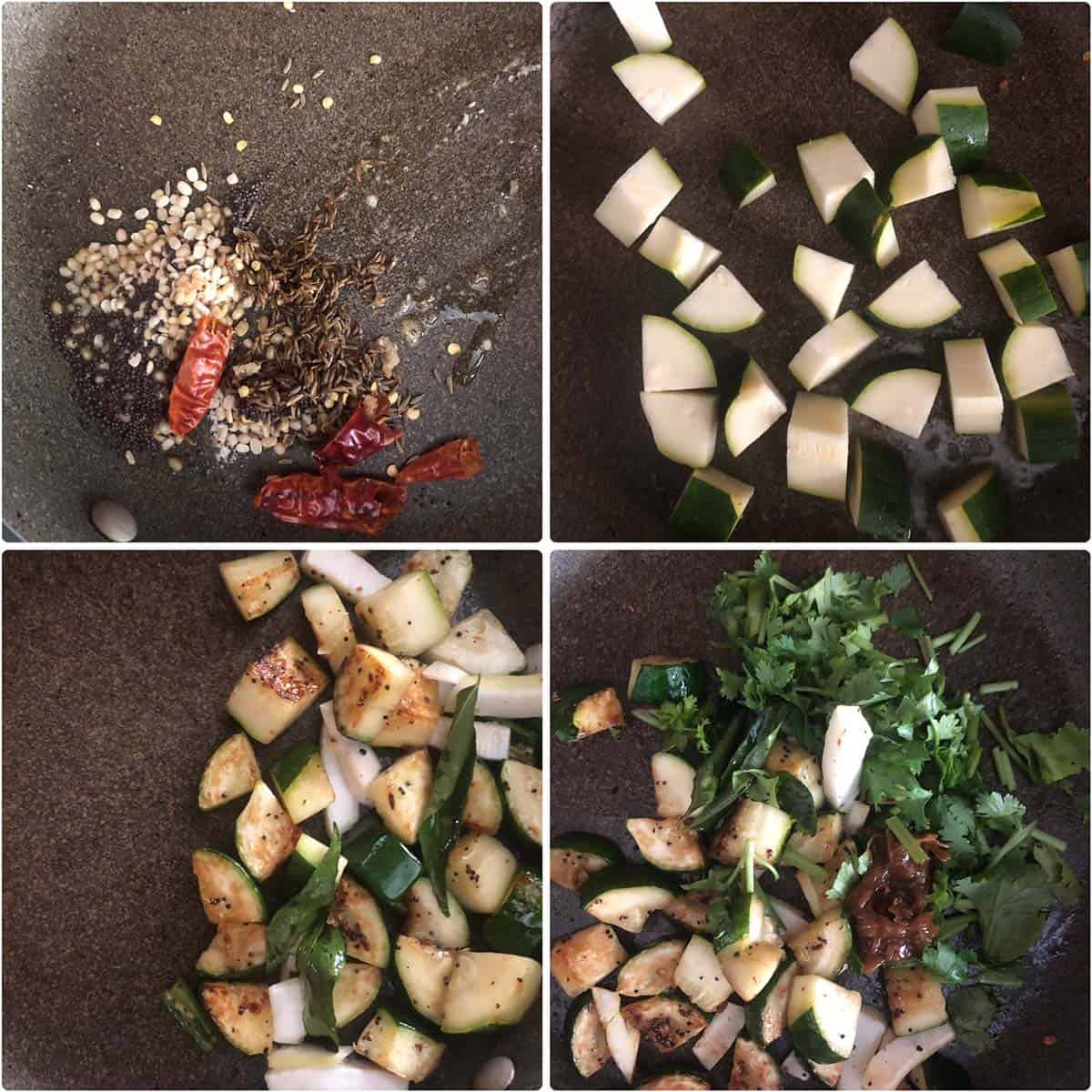 In a skillet, heat ½ teaspoon ghee on medium heat. Add 1 cup chopped veggie of choice and sauté for 2~3 minutes. Transfer to a bowl and set aside.
In the same skillet, heat 1 teaspoon ghee for tempering. Add the 1 tablespoon urad dal and as it turns golden, pop 1 teaspoon each of mustard & cumin seeds. Stir in ¼ teaspoon of asafetida, 1 red chili and 1 green chili and 6~8 curry leaves.
Cool and grind the tempering along with 1 tablespoon coconut, 1 tablespoon tamarind paste, 2 tablespoons cilantro and salt to taste to a paste. Add the cooked veggie and grind coarsely.
Rotla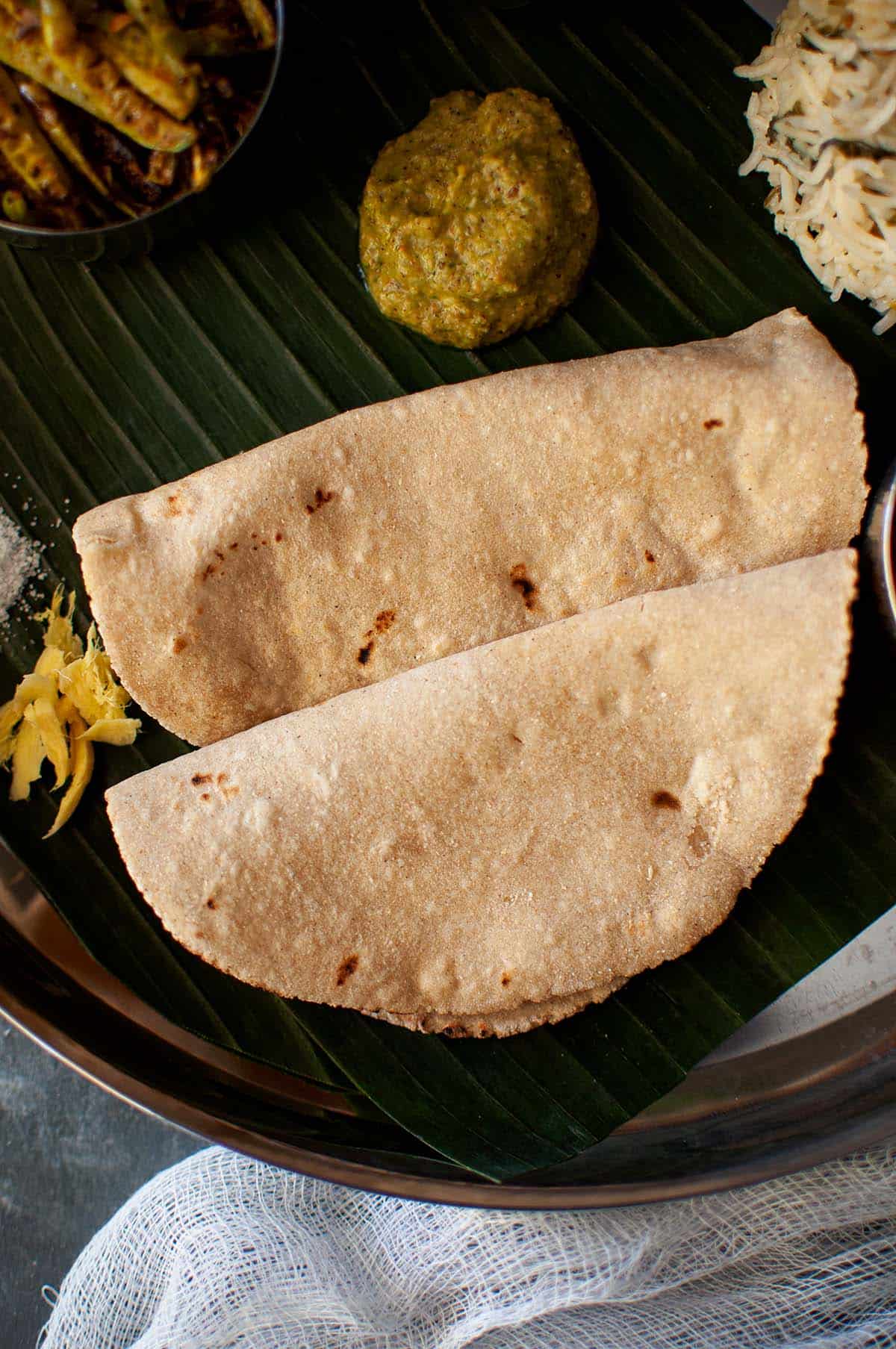 Rotla is a roti made with millet flour. Use 1 cup of millet/ jowar flour and 1 cup of atta or whole wheat flour to make these roti.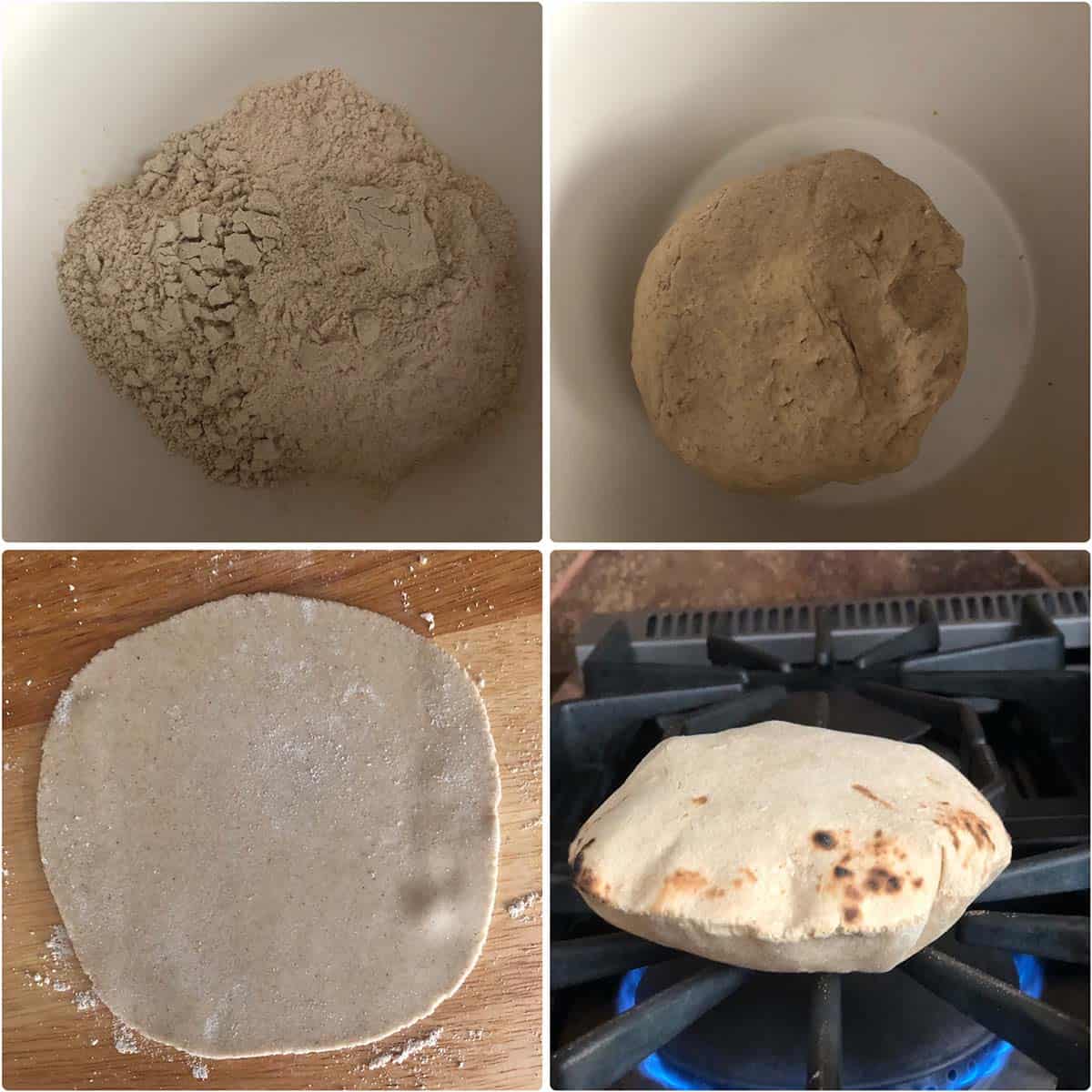 Buttermilk
Churn 1 cup yogurt with 3 cups of water. Add ¼ teaspoon roasted cumin powder and powdered rock salt to taste. Garnish with chopped mint or cilantro leaves.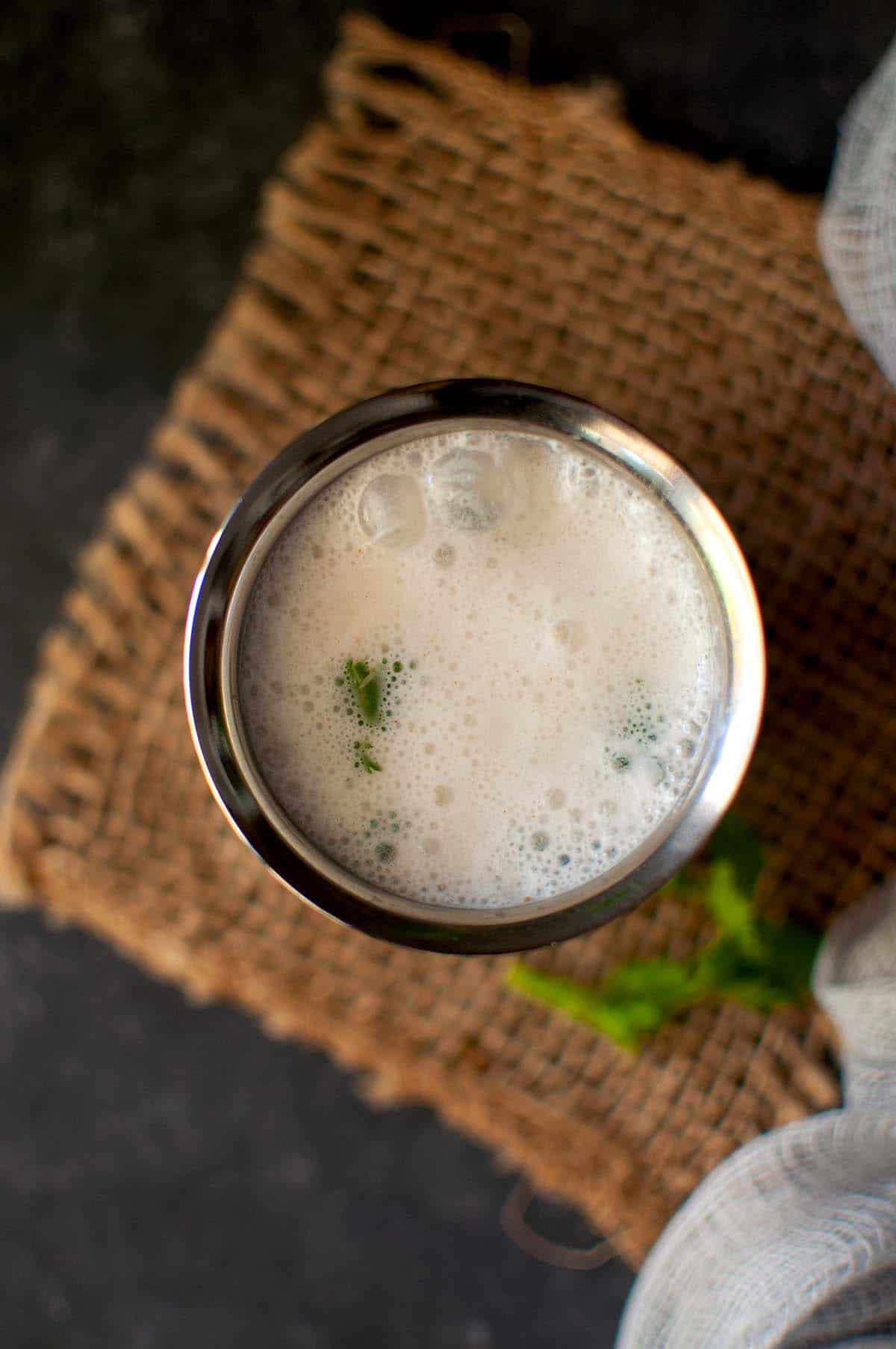 You might also like
Here are a few more healthy Indian recipes that you might like: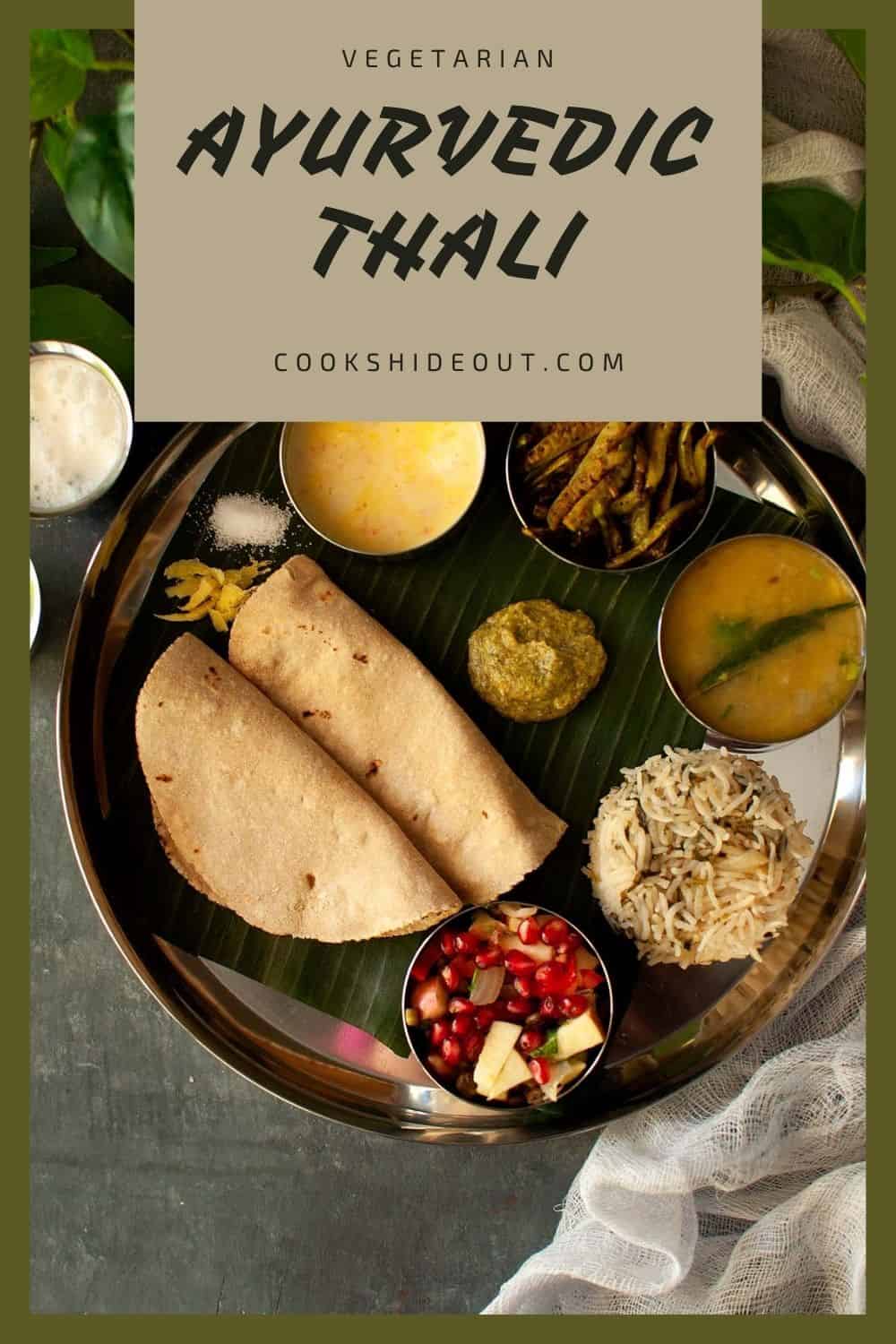 Recipe Card - Pulao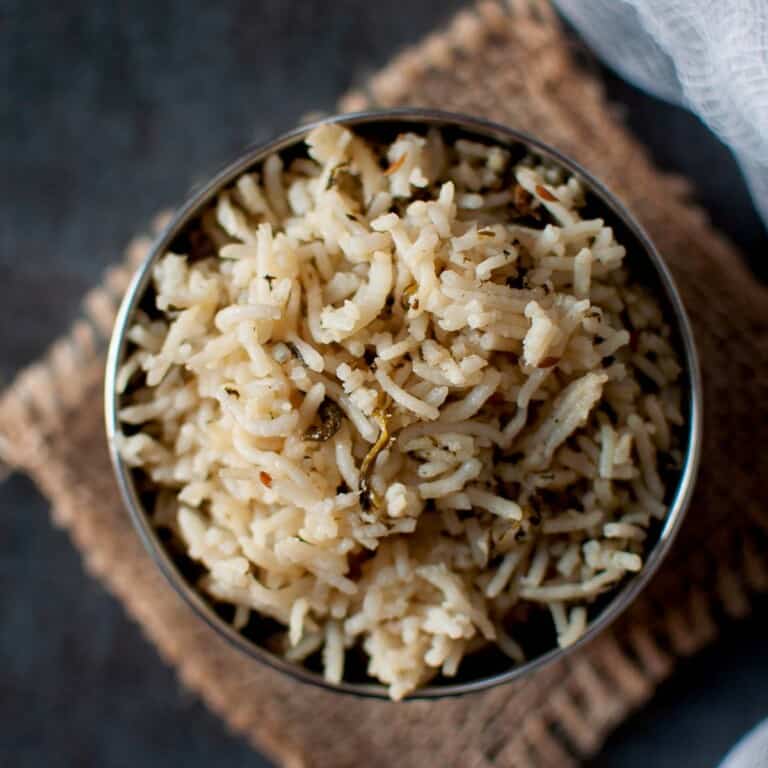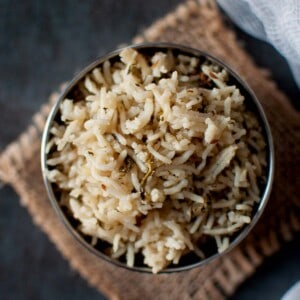 Basic Home-Style Pulao
A very simple yet delicious pulav flavored with whole spices and spinach. A great side dish to any Indian meal.
Print
Pin
Rate
Ingredients
1

cup

Basmati Rice, rinsed and drained

1½

teaspoons

Ghee

1

Bay leaf

2"

Cinnamon Stick

2

Cloves

2

Cardamoms

1

teaspoon

Cumin seeds

1

Small

Onion, thinly sliced

2

Garlic cloves, finely minced

1

cup

Chopped Spinach

1½

cups

Water

To taste

Powdered rock salt
Instructions
Soak basmati rice for 10 minutes.

1 cup Basmati Rice, rinsed and drained

Heat ghee in a pressure cooker or an Instant Pot. Add bay leaf, cinnamon stick, cloves, cardamoms, cumin seeds. Once the seeds start to splutter, add onion and garlic. Once the onions turn translucent, add chopped spinach and sauté for 2 minutes.

1½ teaspoons Ghee,

1 Bay leaf,

2" Cinnamon Stick,

2 Cloves,

2 Cardamoms,

1 teaspoon Cumin seeds,

1 Small Onion, thinly sliced,

2 Garlic cloves, finely minced,

1 cup Chopped Spinach

Next add the drained rice and water. Season with salt. Pressure cook for 1 whistle. or for 5 minutes on High pressure. Allow the steam to settle down completely. Gently fluff the rice with a fork and serve hot.

1½ cups Water,

To taste Powdered rock salt
Notes
Substitute spinach with beets, carrot, cabbage, corn, methi, green peas or any combination of these.
If you think, whole spices are a hindrance while eating, substitute with garam masala.
Nutrition
Calories:
204
kcal
|
Carbohydrates:
42
g
|
Protein:
4
g
|
Fat:
2
g
|
Saturated Fat:
1
g
|
Polyunsaturated Fat:
1
g
|
Monounsaturated Fat:
1
g
|
Cholesterol:
5
mg
|
Sodium:
9
mg
|
Potassium:
114
mg
|
Fiber:
2
g
|
Sugar:
1
g
|
Vitamin A:
14
IU
|
Vitamin C:
2
mg
|
Calcium:
49
mg
|
Iron:
1
mg
Recipe Card - Home Style Dal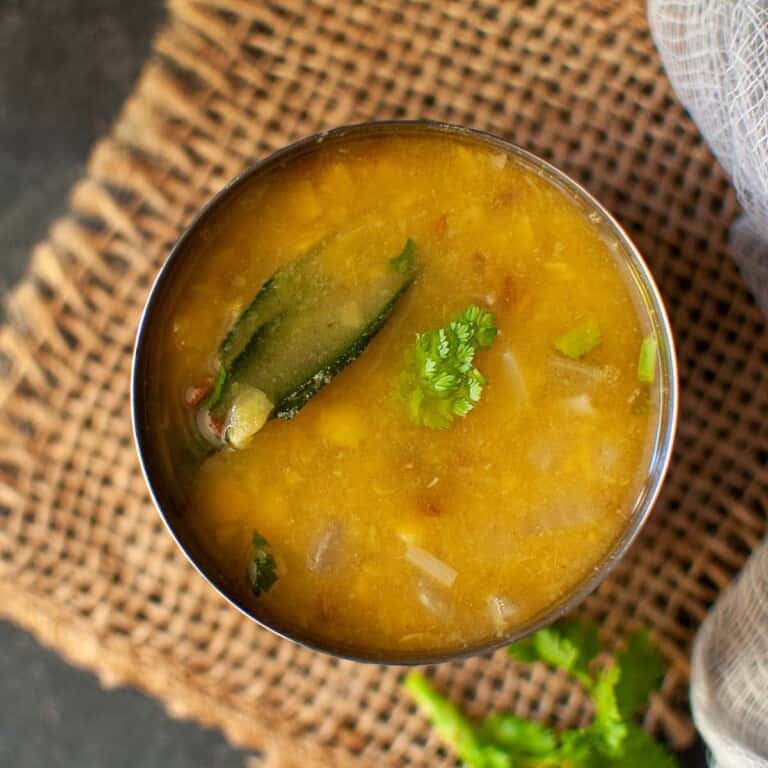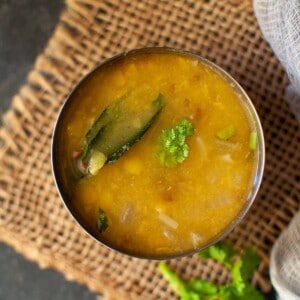 Home Style Dal
An easy to make every day dal that is comforting and delicious. Can be served with rice or roti.
Print
Pin
Rate
Ingredients
½

cup

Moong dal or Toor dal

½

teaspoon

Turmeric

¼

teaspoon

Methi seeds

1½

cups

Water

1½

teaspoons

Ghee

1

teaspoon

Cumin seeds

Pinch

Asafetida

5~6

Curry leaves

2

Green Chilies, slit

1

tablespoon

Lemon juice, optional

2

tablespoons

Cilantro leaves, chopped
Instructions
Pressure cook dal along with turmeric and fenugreek in 1½cups of water to a soft consistency. Churn well and set aside.

½ cup Moong dal or Toor dal,

½ teaspoon Turmeric,

¼ teaspoon Methi seeds,

1½ cups Water

In a small pan on medium heat, melt ghee and add cumin seeds. Once the seeds start to crackle, add hing, curry leaves and chilies.

Add the cooked dal and salt. Add water if the dal seems too thick. Simmer for 5~6 minutes. Stir in lemon juice and garnish with cilantro leaves. Serve hot.

1½ teaspoons Ghee,

1 teaspoon Cumin seeds,

Pinch Asafetida,

5~6 Curry leaves,

2 Green Chilies, slit,

1 tablespoon Lemon juice, optional,

2 tablespoons Cilantro leaves, chopped
Notes
Jazz up this simple dal by adding 1 finely chopped onion and a dash of ginger-garlic paste to the tempering. 
To add sour tang to the dal, you can also use kokum or tamarind pulp or raw mango. Tomatoes are not recommended because of the high level of neuro-toxins contained in them.
Nutrition
Calories:
117
kcal
|
Carbohydrates:
18
g
|
Protein:
7
g
|
Fat:
2
g
|
Saturated Fat:
1
g
|
Polyunsaturated Fat:
1
g
|
Monounsaturated Fat:
1
g
|
Cholesterol:
5
mg
|
Sodium:
88
mg
|
Potassium:
18
mg
|
Fiber:
3
g
|
Sugar:
1
g
|
Vitamin A:
127
IU
|
Vitamin C:
33
mg
|
Calcium:
25
mg
|
Iron:
1
mg