BM# 77: Week 1/ Day 1
Theme: Recipes with Whole Grains
Dish: Sprouted Ragi Dosa
We are starting a new edition of Blogging marathon today and my theme for the first week is 'Recipes with Whole Grains'. First up is this Sprouted Ragi dosa that I made with whole ragi that my mom got me from India. Sprouted ragi flour (finger millet flour) is also available in India but I haven't seen it in Indian groceries here in US.
Recipe for this sprouted ragi dosa is from DK's Chef in You. Like all traditional dosa recipes this one requires some planning ahead of time. Also since sprouting is involved, it needs another 12~15 hours more than the regular recipe. So first step is to soak ragi for 8~10 hours, then sprout it for another 8~10 hours. When you set the ragi for sprouting, then soak urad dal and rice.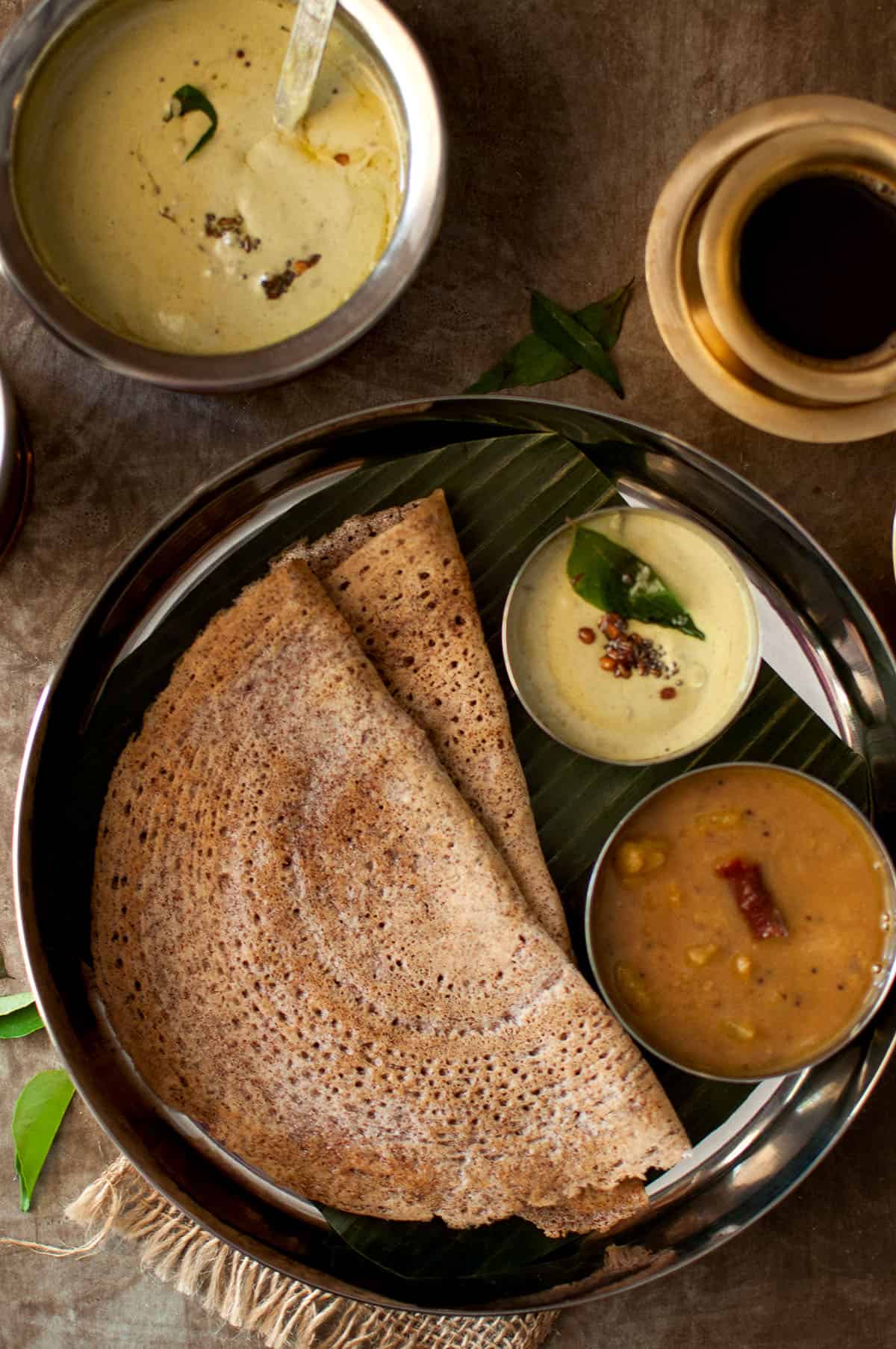 Alternately ragi can be sprouted ahead of time and stored in the refrigerator for up to 4 days. 1 cup of whole ragi yields 2 cups of sprouts. Sprouted whole grains are more nutritious -- the sprouting process can help break down phytate, a compound in grains that inhibits iron and zinc absorption in the body, meaning we get more of these nutrients. Also sprouting can unlock more folate, beta-carotene and vitamins C and E.
One thing I noticed with this batter is that it fermented beautifully in less than 10 hours and this was in pretty cold weather. My house is like an ice-box and it takes batters at least 24 hours to show any visible fermentation. I think adding sprouted ragi helped in the fermentation also.
These ragi dosas turned out crispy and delicious. The whole family enjoyed these delicious and nutritious dosas. Leftover batter would be great to make ponganalu the next day. Serve with your favorite chutney or podi.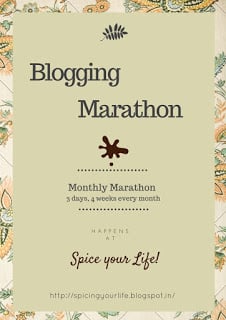 Lets check out what my fellow marathoners have cooked today for BM# 77.
Sprouted Ragi Dosa
Sprouted Ragi Dosa is nutritious and delicious South Indian Breakfast that is great to serve with some chutney and sambar.
Print
Pin
Rate
Ingredients
1

cup

Ragi (Finger Millet)

¾

cup

parboiled rice

¾

cup

Rice (I used sonamasoori rice)

½

cup

Urad dal (black gram dal)

½

tsp

Fenugreek seeds

To taste

salt
Instructions
Wash and rinse ragi. Soak them in enough water for 8~10 hours. Drain the water and place the ragi in a thin muslin cloth or cheese cloth. Cover and place it in a dark place at room temperature for another 10~12 hours until the ragi starts to sprout.

Soak urad dal and methi seeds in a bowl for 8~10 hours. In a separate bowl, soak both the rice.

Drain the water from the rice and grind to a slightly coarse mixture.

Drain and grind urad dal and methi seeds into a smooth paste. Add just enough water while grinding.

Finally mix ragi sprouts into a smooth paste.

Mix urad dal, rice and sprouts. Mix well. Add salt to taste. Cover and set aside in a warm place for 10~12 hours or until the batter ferments.

Heat tawa and pour about ¼ cup of dosa batter and spread it out evenly. Drizzle with some oil and let the dosa cook until golden brown, about 1~2 minutes. Flip and cook for another minute.

Serve hot with chutney.