BM# 68-Cooking Carnival: Day 1
Theme for Week 1: Recipes using Ancient Grains flour blend
Dish: Ancient Grains Pancakes
It is September which means it's time for another Mega Marathon. So it's going to be a Cooking Carnival all this September here at Cook's Hideout. Don't forget to check out what my fellow marathoners are cooking too for the event.
So we have a choice of picking 1 ingredient or 1 category for the whole month or pick 5 different ingredients or categories. I have 5 ingredients planned for the month, so each week I will have a new ingredient.
My choice for the first week is Ancient Grains Flour Blend. It is a blend of ancient grain flours. So what are ancient grains? Ancient grains are grains and pseudocereals that have not been changed by selective breeding over the recent millennia, as opposed to more widespread cereals like corn, rice and modern wheat, which are the product of years of selective breeding. Ancient grains include grains spelt, kamut, millet, barley, teff, oats, freekeh, bulgur, farro, sorghum and pseudocereals like quinoa, amaranth, buckwheat and chia.
We had a theme for Ancient grains bread in our Bread Bakers group few months back. I had bookmarked some recipes to make for the event, but we were asked to use only ancient grains and not mix it with any 'modern' flours. So I ended up making
Spelt Parathas
that month.
I made my own ancient grains flour blend (recipe is here) and the first recipe I made with it are these pancakes. Recipe is from King Arthur flour. These pancakes are gluten free and I skipped the eggs to make them vegan too. They had a earthy and slightly bitter taste from all of the grains in it. That didn't really bother anyone and they were quite a hit with the kids and adults in the family. So if you want a hearty and nutritious start to any day, try these pancakes.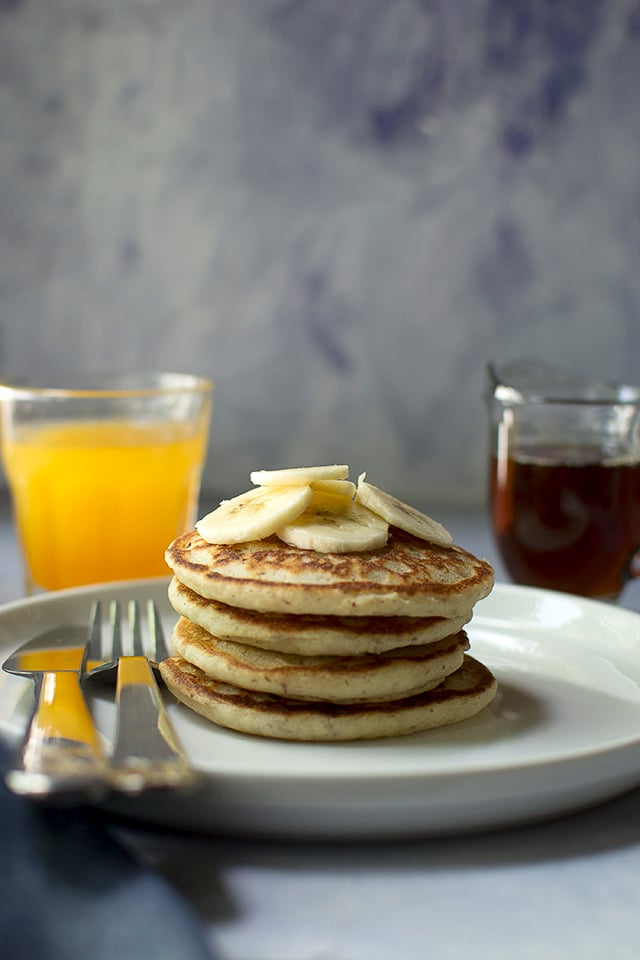 Ancient Grains Pancakes
Gluten free pancakes made with homemade ancient grains flour and gluten free all-purpose flour. These pancakes are earthy, nutty and delicious.
Print
Pin
Rate
Ingredients
1

cup

Ancient grains flour blend (homemade or store-bought)

1

cup

All purpose flour or Gluten free flour

2

tablespoons

Ground flaxseed meal

2

tablespoons

Sugar

½

teaspoon

Salt

¼

teaspoon

Baking soda

1

teaspoon

Baking powder

3

tablespoons

Oil or melted vegan butter

2

tablespoons

Egg replacer powder whisked in 6 tablespoons of water

1½

cups

Non dairy Milk, at room temperature*

1½

tablespoons

Apple cider Vinegar
Instructions
Combine the flours, ground flaxseed meal, sugar, salt, baking soda and baking powder in a large mixing bowl.

In another mixing bowl, whisk together buttermilk, oil and egg replacer mixture.

Add the wet ingredients to dry ingredients and mix until well combined, a few lumps are fine.

Let the batter sit for 15 minutes to thicken slightly.

Heat a griddle on medium heat and spray with non-stick cooking spray. Scoop about ¼cup of the batter onto the hot surface. Cook the pancakes for 2~3 minutes, once the bubbles start to form the surface, flip it and cook for another 1~2 minutes, or until nicely browned.

Serve the pancakes with maple syrup and fruits.
Notes
Use 1

½

cups buttermilk instead of non-dairy milk and vinegar.
You can use 2 large Eggs instead.
Nutrition