For this month's Indian Cooking Challenge Srivalli chose Chegodi which is a yummy fried Andhra snack that I've never made at home before. I don't recall my mom making them either, but I know it is a time consuming process and never dared to try it myself. But when Srivalli picked it for this month's ICC, I was excited to make, so we can have freshly made home-made chegodilu. They turned out crunchy and delicious.
Here's the recipe from Valli that I used: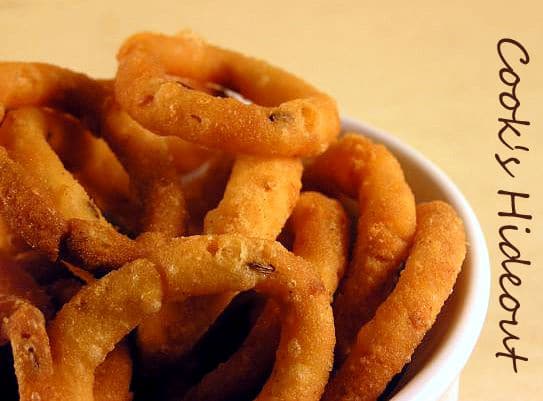 Ingredients
1

cup

Rice Flour

1

cup

Water

1 ½

tbsp

Moong dal Mung Dal

Split Yellow / Pesara pappu / / Pasiparuppu

1

tsp

Cumin Seeds

1

tsp

Sesame Seeds

1

tsp

Chili powder

1

tbsp

Ghee

or oil

to taste

Salt
Instructions
To make the dough: Soak moong dal in water for half hour to 1 hour. In a deep bottom pan, boil water, then add salt, ghee and moong dal. Bring it to boil, simmer and slowly add the rice flour. Mix the flour with water by stirring it well. When the flour is mixed and done, turn off the heat immediately. Cover with lid and keep aside for 10 to 15 mins.

Once the dough is cool, add chilli powder, sesame seeds, cumin seeds and mix well. Knead till you get a smooth dough. Adjust the salt and spice depending on your preference.

Frying the Chegodi: Heat a pan with oil, enough to fry 3 -4 at time,temperature should not be smoking hot.

Grease your fingers with oil and pinch out a small lemon size ball and roll between your palms to form a thick rope. Bring the two ends to together and press to form a rope. Ensure the ends are firmed pressed as not to give out during frying.

Continue with the rest of the dough until you are done with the entire batch. You can either cover it with a plate or a cloth to prevent the dough from getting dried.

Check if the oil is in the correct temperature, by dropping a tiny bit into the oil. Then gently slide the rings or the chegodis in batches of 4 -5. The flame has to be on high until the chegodis come up to the surface, then lower the flame to medium and cook till you get a golden color on the chegodis.

When the chegodis are golden all over, using a slotted ladle, remove to a kitchen towel and cool. Store in an air tight container for longer shelf life.
Notes
Notes: Remember to turn the heat to medium to high and high to medium for getting the chegodis to golden color and also to be cooked evenly. Only this way you get crispy chegodis. These should not be cooked on low flame as they will absorb more oil and can turn soggy also at times.