Chopped Salad with Ginger-Honey dressing is an easy to make salad that is colorful and delicious.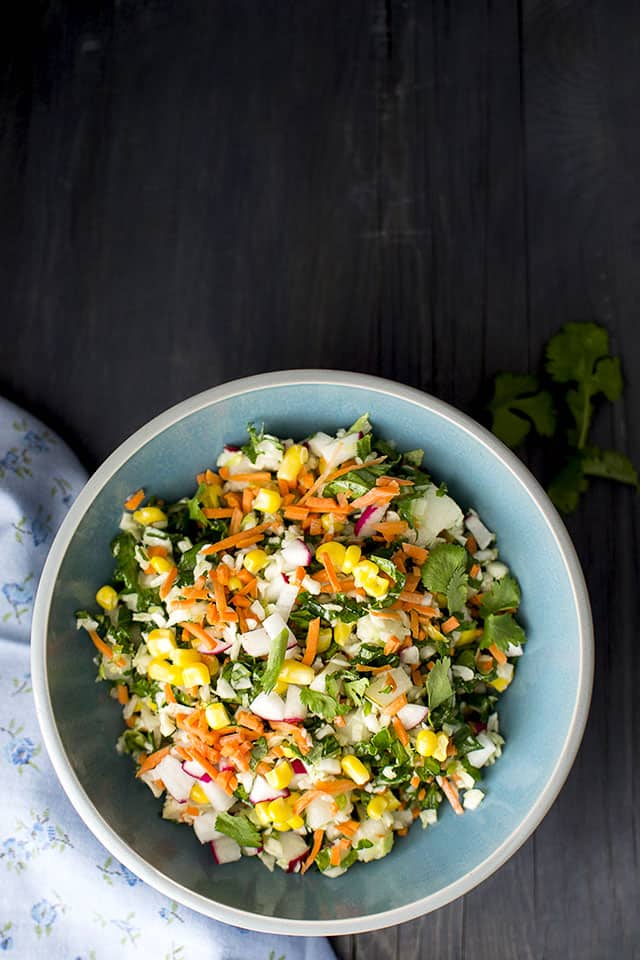 For the second day of this week's 'Homemade Takeout Recipes', I have a very simple and easy to make Chopped Salad with ginger-honey dressing. There is absolutely no cooking involved in making this salad and the dressing is just finger-licking good.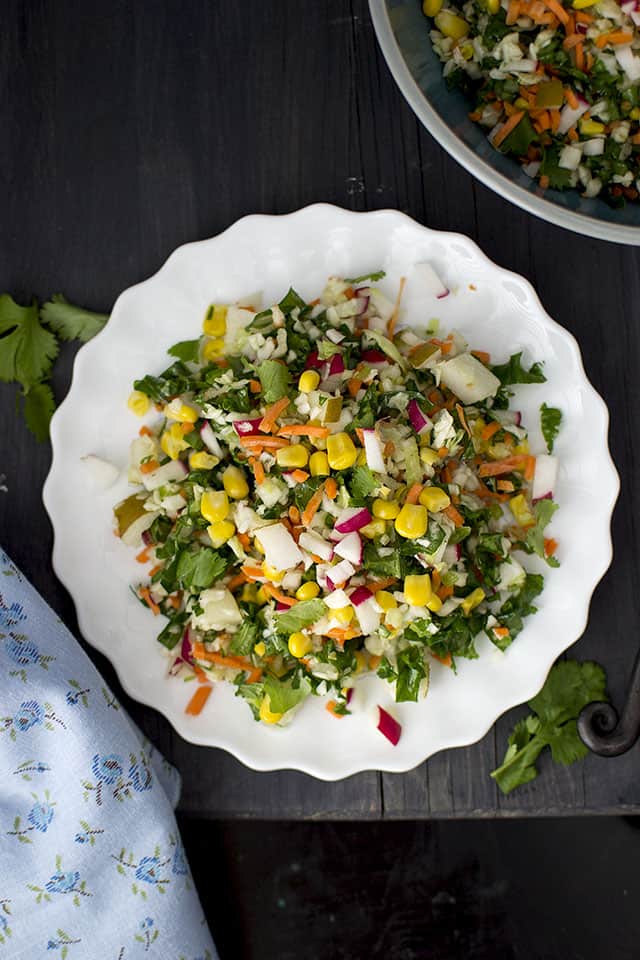 I was researching on the internet on what to make for this week's theme and most of take home dishes that come up on Google are Chinese dishes. I have quite a few Chinese dishes on the blog, so wanted to make something else. But it took me a while to finalize what I wanted to make.
Chopped Salad:
I remembered this amazing lunch I had with a dear friend in NY Botanical garden and I thought why not try one of the recipes at home. We were there in Spring and their menu had this chopped salad with tropical fruit. 
Trick to make delicious Salad:
The trick to make chopped salad is to actually chop all the ingredients/ veggies real fine. It is very different eating salad with a spoon instead of a fork. Use a shark knife to chop the veggies almost the same size.
Veggies to use:
I used veggies that I had on hand. You can make this salad with just about any vegetable you like or have in the refrigerator. Just make sure to dice them real fine and they are all of approximately the same size.
Lettuce, kale (or any hearty greens), pepper, radish, onion, carrot, corn are perfect options. Diced cucumber, zucchini also are good.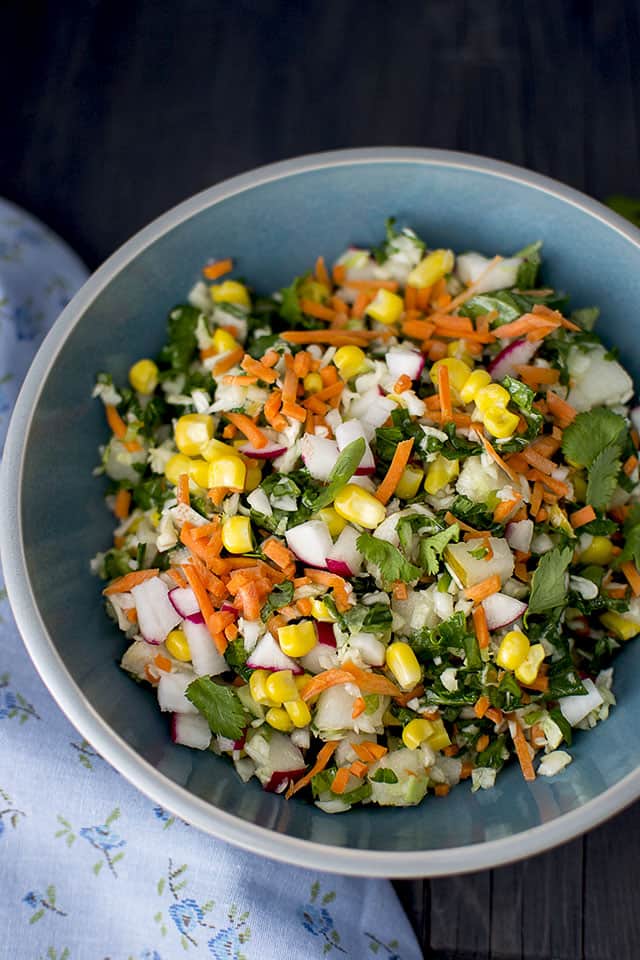 Fruits in Salad:
I like adding fresh or dried fruit to my salads to add a nice (and surprising) sweet element to the dish. The salad I had in NYC had finely chopped mango in it. But you can add chopped pear, apple or pineapple or even berries.
Ginger-Honey Dressing:
The best part of this recipe is the ginger-honey dressing. It's slightly spicy, sweet and tangy. Just a handful of simple ingredients are needed to make this homemade dressing:
Grated Ginger
Honey (or use agave-nectar for a vegan recipe)
Vinegar - any kind you have on hand (rice wine, apple cider or red wine)
Olive Oil
Salt  & Pepper
The quantities in the recipe is what worked for me, make sure to taste the dressing before adding to the salad and adjust all the elements to your liking.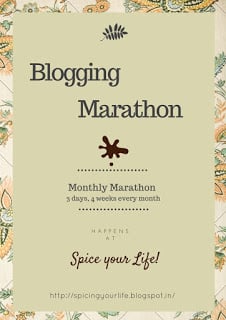 Let's check out what my fellow marathoners have cooked today for BM# 82.
Chopped Salad with Ginger-Honey Dressing
Chopped Salad with Ginger-Honey Dressing is a easy to make and crowd pleasing dish that is colorful and delicious. No cook recipe perfect for Holidays.
Print
Pin
Rate
Ingredients
For the Salad:
2~3

cups

Lettuce, finely chopped

2

cups

Kale, finely chopped

1

Small Onion, finely chopped

1

Small Green Pepper, finely chopped

4~6

Small red Radishes, finely chopped

1

Small Carrot, peeled and finely chopped

½

cup

Corn kernels

1

Pear or Apple (or tropical fruits like mango/ pineapple)
For the Dressing:
2

tbsp

Grated Ginger

3

tbsp

Honey or Agave Nectar (for vegans)

1

tbsp

Rice wine vinegar or Apple cider vinegar or Red wine vinegar

¼

cup

olive oil

To taste

Salt Pepper
Instructions
Combine all the chopped veggies in a mixing bowl. Mix well.

In a small mixing bowl, combine grated ginger, honey, vinegar of choice (rice wine, apple cider or red wine), salt and pepper. Whisk until combined. Slowly drizzle in olive oil while whisking continuously. Taste and adjust the seasonings.

Stir in few tablespoons of dressing into the salad. Mix well. Serve right away or chill until ready to serve.