A warm piece of this Cinnamon Sugar Pull Apart Bread is all you want for breakfast or a snack.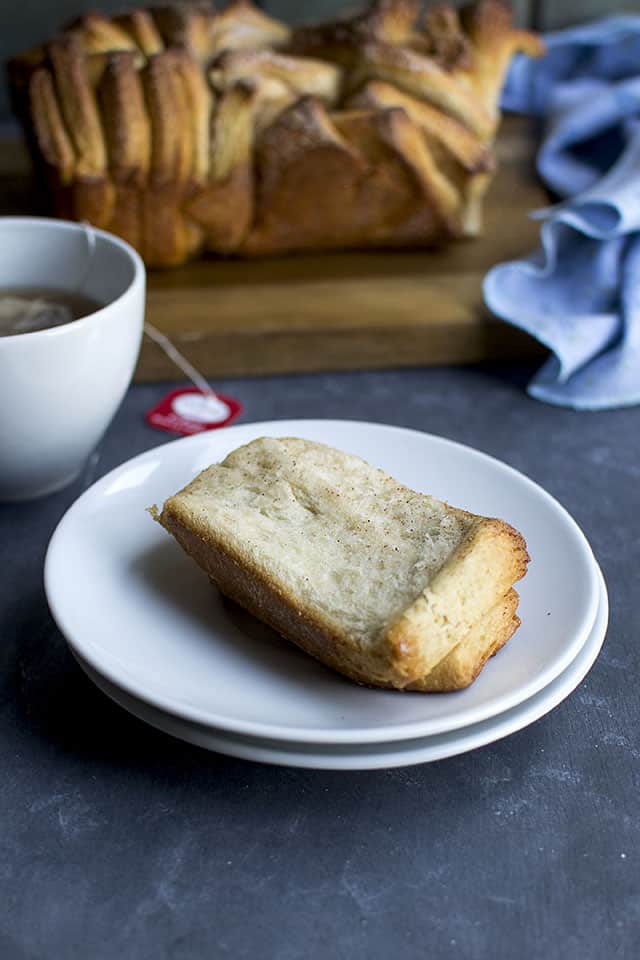 Time for yet another edition of Bread Bakers and this month our host is Kelly who blogs at The Passion Kneaded. She wanted us to bake pull apart breads like monkey breads, bubble breads and so on. I wanted to try my hand at making monkey bread but I don't have a tube pan (I guess I have to add it to my Christmas list). I made this Cinnamon Sugar pull apart bread instead.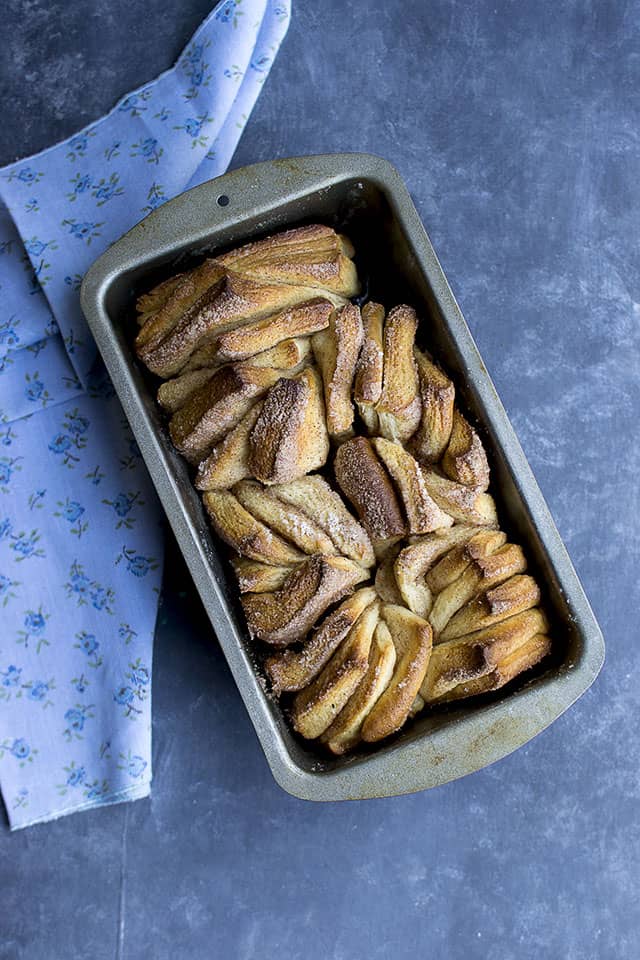 I LOVE pull apart breads -- they are so much fun to make and much more fun to eat. I already have quite a few pull apart bread recipes on the blog. I especially love this Buttery Garlic pull apart bread, these Golden rolls (perfect for Thanksgiving) and this stunning Yemeni Kubaneh.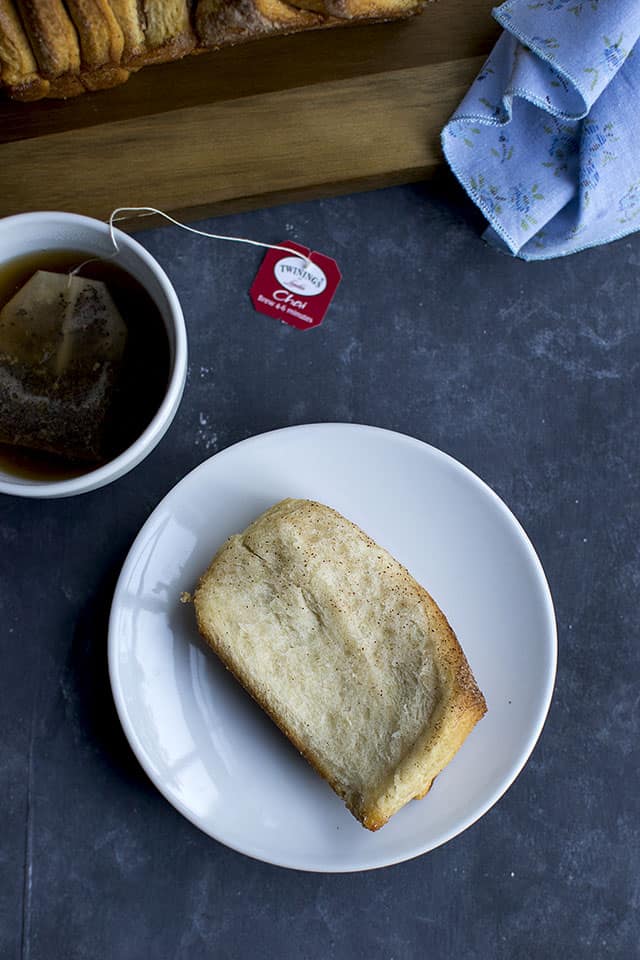 This Cinnamon Sugar pull apart bread recipe is from Joy the Baker site. I subbed eggs with egg replacer powder and the bread still turned out excellent. The dough is very easy to work with -- soft, pliable and perfect to roll. The cinnamon sugar filling is just amazing, but the sugar tends to stick to the pan while baking. But I loved snacking on those sticky burnt bits 🙂
My kids absolutely loved this bread. My daughter said it tasted like a donut and I have to agree with her. They want me to bake this bread every week now 🙂 🙂
#BreadBakers is a group of bread loving bakers who get together once a month to bake bread with a common ingredient or theme. You can see all our of lovely bread by following our Pinterest board right here. Links are also updated after each event on the #BreadBakers home page.
We take turns hosting each month and choosing the theme/ingredient. If you are a food blogger and would like to join us, just send Stacy an email with your blog URL to [email protected].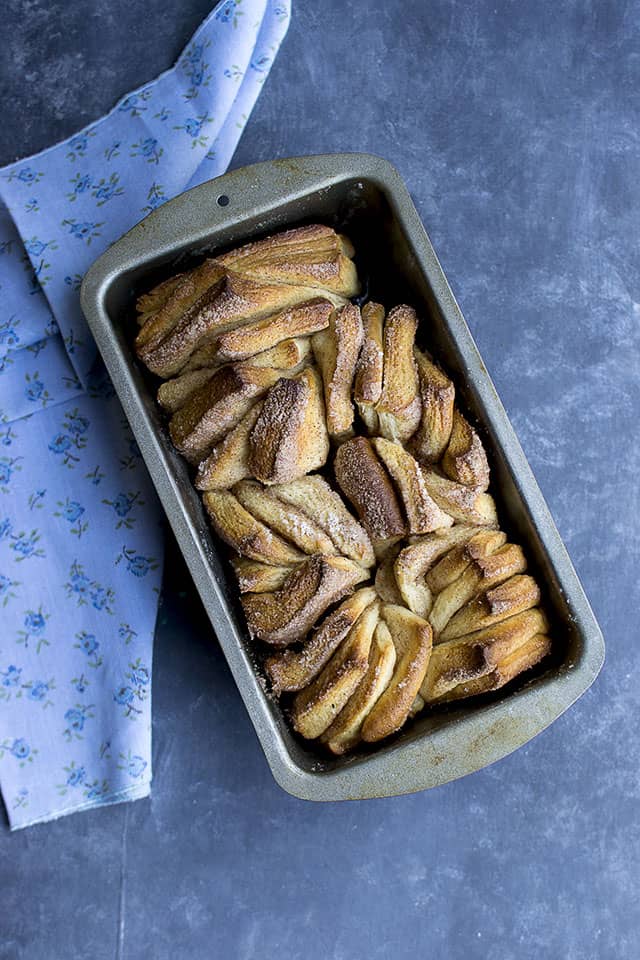 Cinnamon Sugar Pull Apart Bread for #BreadBakers
A warm piece of this Cinnamon Sugar Pull Apart Bread is all you want for breakfast or a snack. Bread itself is soft and the cinnamon filling is amazing.
Print
Pin
Rate
Ingredients
For the Dough:
2½

cups

all purpose flour

½

cup

White Whole wheat flour

2¼

tsp

Instant Yeast

¼

cup

sugar

½

tsp

salt

2

tbsp

Egg replacer powder whisked in 6tbsp water (or use 2 large eggs)

4

tbsp (or 2oz.)

unsalted butter

⅓

cup

milk

¼

cup

water

1

tsp

vanilla extract
For the Filling:
¾

cup

sugar

1½

tsp

Ground Cinnamon

½

tsp

Freshly grated Nutmeg

4

tbsp (or 2oz.)

Unsalted Butter, melted
Instructions
Combine 2 cups of water, yeast, sugar and salt in a large mixing bowl or in the bowl of the stand mixer. Whisk well.

In a small saucepan, heat butter and milk; cook till the butter is melted. Turn off the heat and let cool for a couple of minutes. Add water and vanilla extract. Mix well.

Add the egg replacer mixture (or whisked eggs) and the melted butter to the dry ingredients in the bowl. Mix and knead to form a sticky dough. Add ½ cup of wholewheat flour and knead to form a soft, pliable dough. If the dough seems sticky, then add in the remaining ½cup of all purpose flour 1tbsp at a time. Knead for 5~7 minutes.

Transfer the dough into a lightly greased bowl, cover and set aside to rise until doubled in volume, about 1 hour.

In the mean time, combine sugar, ground cinnamon and ground nutmeg for the filling. Melt the butter and keep ready.

Gently deflate the dough and roll it out into a 12"x20" rectangle. Brush the butter liberally over the dough and sprinkle the cinnamon sugar evenly all over.

Cut the dough into 6 equal pieces -- stack the pieces one on top of the other. Then cut the stack into 6 equal pieces. Place the pieces in a greased 9"x5" loaf pan. Cover with a plastic wrap and kitchen towel for 30~45 minutes.

Preheat the oven to 350°F. Bake for 30~35 minutes until the top is golden brown and the bread is baked through. Remove from the oven and let cool for 20 minutes. Run a knife around the edges of the bread and turn over onto a plate to cool slightly. Enjoy warm, for the best taste. Leftovers can be stored in an airtight container for up to 2 days.