Uragaya or pickle, pachadi or chutney find a special place on any Andhraiite plate. It is a tradition in many families to have some kind of a pickle or chutney for almost every meal. It is not an exaggeration to say that a meal is not complete with either of above for these pickle aficionados.
Basic difference between a pickle and a chutney is the shelf life: pickles can be stored at room temperature for almost a year whereas chutneys are generally consumed within a day or two of making. Also pickles use raw veggies, more salt and oil for preservation purposes, while chutneys can be more "figure friendly". Pickles generally need almost 3-4 days marination before tasting, chutneys can be eaten right away.
There is another class in between pickle and chutney, also called pachadi for lack of another word. These resemble pickles because they use raw veggies and lot more chili powder and salt compared to chutneys. Easy to make, can be eaten after 1 day marination and last up to a month in the refrigerator or at room temperature (with enough salt).
The idea to make Tomato pachadi in Dosa avakai style (Cucumber pickle, a very famous Andhra pachadi) came from my mom. She tasted it recently at one of our relatives place and was very impressed with the new idea that she passed it onto me. I decided to use Green tomatoes or Tomatillos instead of the red ones. The reason being tomatillos have a more tart flavor and are crisper than regular tomatoes.
(Picture courtesy Gourmet Sleuth)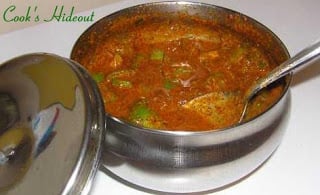 Ingredients
4

Tomatillos

- medium

2

tbsp

chili powder

Red

2

tbsp

Mustard

powder

2

tbsp

Salt

1

tsp

Vinegar

(Lemon juice)
Instructions
Remove the outer papery skin around the tomatillos and rinse them thoroughly. They tend to be sticky, so make sure to thoroughly clean them. Dry them completely, before finely dicing them.

In a clean, dry dish, add chili powder, mustard powder (grind mustard seeds in the spice grinder or blender) and salt. Mix well.

Add vinegar, tomato pieces and oil (you can use any oil sesame seed oil, vegetable, canola etc.). Mix well with a clean, dry spoon.
Notes
Let it sit for atleast 1 whole day and enjoy the spicy pachadi with plain rice and dal.
You can find Dosa avakai recipe from Sailu's Kitchen here.
I made the pickle in a steel dish and I transfered into a sterile glass bottle after 1 day. Vinegar is added to keep veggie pieces crisp longer (Mom's tip) and also for that extra zing (my tip :0)
This is my entry to Pooja's Vegetable of the Week series, over at Creative Ideas.