To go with the Korean Miso Soup, I made these Korean style Rice & Veggie Fist balls called Joomuk Bap. I landed on this recipe while I was looking for Korean recipes and really liked everything that went into this dish. My broccoli loving daughter really liked these rice balls.
Joomuk Bap (Fist Rice) -- Recipe adapted from here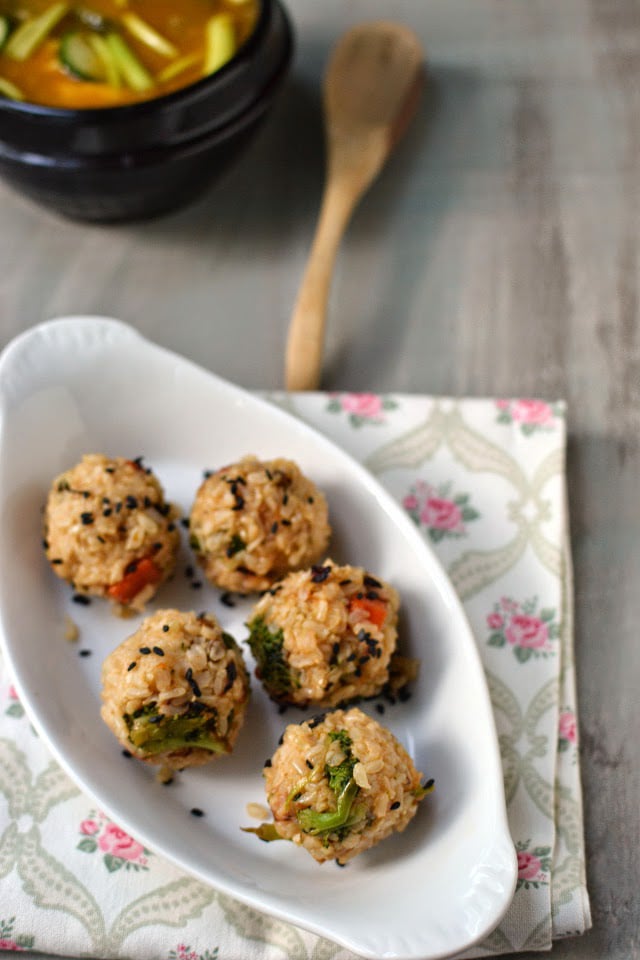 Ingredients
3

cups

Brown Rice

Cooked

½

cup

Carrot

- finely diced

½

cup

Broccoli

- finely diced

½

cup

Cabbage

- finely diced

2 ~ 3

tbsps

Scallions

- chopped

2 ~ 3

tbsps

Mushrooms

Dried Shitake - reconsituted

1

clove

Garlic

- finely minced

¼

tsp

Sesame oil

2

tsp

seaweed

Roasted , powdered

1

tbsp

Black Sesame seeds

to taste

Salt Pepper

&
Instructions
Heat 2tsp oil in a saute pan, add the veggies (carrot, broccoli, cabbage, scallions and mushrooms), garlic and cook till the veggies are cooked through and tender, about 8~10 minutes.

Add the gojuchang (if using), sesame oil, powdered seaweed, salt and pepper. Mix well and cook for another 1~2 minutes.

Add the vegetable mixture to cooked rice. Mix well and let cool a little bit.

When cool enough to handle, take about one generous tablespoon of rice mixture and form into round balls. Lightly grease your hands not avoid rice sticking. Place to a plate and enjoy with the soup for a healthy & comforting meal.
Notes