Recipe Courtesy: My Dear friend Yagna Jyothy
Here's another crunchy and delicious snack recipe from Jyothy. Here's what she said on how and what made her make these murukkus for her daughter Raaga:"Cheese puffs are my husband's favorite junk food and he keeps them stocked at home much to my annoyance. Raaga has been munching on them lately and it got to a point where she has to have a handful of them EVERY evening while I make dinner. I decided that if she must eat junk, it might as well be something homemade- and somehow minimize the junk factor. Put in a call to my mom and got this recipe. Raaga has not eaten cheese puffs since I made these. My next goal would be to move from murkulu to fresh veggies for a pre-dinner snack, although that may just be my wishful thinking."
On one of the Telugu cooking shows (Abhiruchi on Etv), a doctor explains the nutritional values of dishes that were made that day and she mentioned that our traditional dishes that are deep fried are still better than buying junk food with tons of preservatives and empty calories from the store.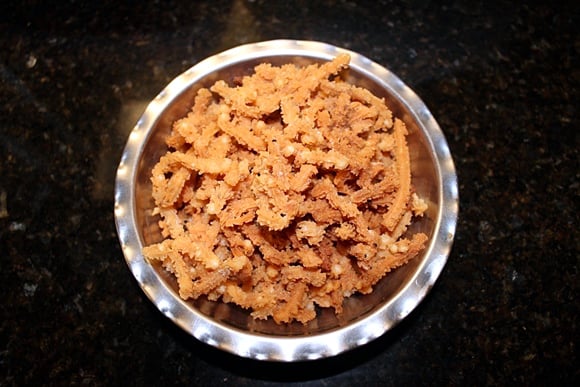 Ingredients
3

cups

Rice Flour

1

cup

Tapioca yogurt

(saggubiyyam/ sago/ sabudhana) - soaked in for an hour

Ajwain

(Vaamu/ Carom seeds) - Spoonful

½

Butter

- a stick

½

tsp

Chili powder

to taste

Salt
Instructions
Combine all of the ingredients into a dough using water if necessary (leftover yogurt from tapioca can be used too). The consistency should be somewhat wetter than a typical roti dough.

Lightly oil the muruku mold, press the dough into desired shape and fry till golden brown.

Remove onto a paper lines plate and enjoy when cooled. Store in an airtight container.
Notes
It is best to not wait for too much longer than an hour of soaking tapioca before making these as the muruku might crumble and not hold the shape otherwise.
This goes to Valli'sKid's Delight: 5 Ingredient fix event being held right here. You have 2 more days to send in your entries. So hurry up and send them in.