These easy vegan lemon cupcakes are moist, fluffy with just the right hint of lemon flavor. Recipe is easy to make and uses fresh lemon zest.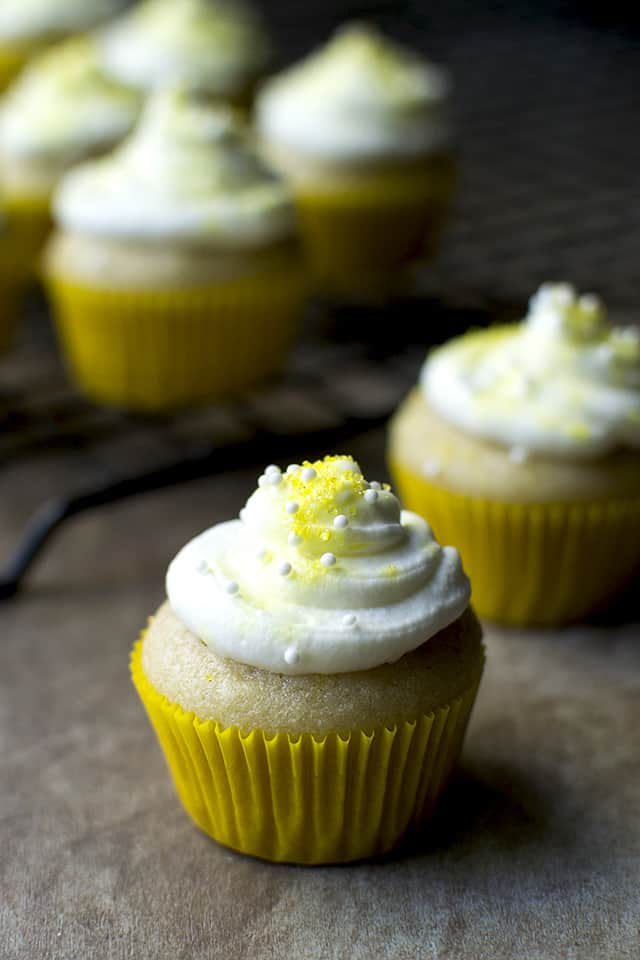 Cupcakes are my go-to for any occasion. They are much easier to make than a full cake and they are perfectly portion controlled too 🙂 I am an eggetarian, which means I include eggs in my diet. But I try to keep my baking egg-free and vegan.
Lemon Cupcakes:
I have a vegan vanilla cupcake recipe that I always use. It is a basic recipe that can be tweaked to make different flavored cupcakes. So in this lemon version, vanilla essence was replaced with lemon zest and pure lemon extract.
The best thing I like about vegan baking is that there is no softening of butter or bringing eggs to room temperature. These can be baked up in no time at all. Just mix all the ingredients in a big bowl until smooth. A few lumps in the batter here and there is also OK. Then bake a batch of delicious cupcakes.
Ingredients to make Vegan Cupcakes:
As I mentioned before vegan cupcakes do not really need any previous planning. Here are basic ingredients needed to make vegan cupcakes:
Flour - I use all purpose, whole-wheat pastry flours in my baking. Sometimes I use a mix of flours to add fiber and nutrition.
Corn Starch - Couple of tablespoons of cornstarch in the batter makes them extra soft and fluffy.
Non-dairy Milk - I generally use almond milk and oat milk. I think almond milk has a nice nuttiness and slight sweetness that works well in desserts.
Vinegar - Vinegar is added to the non-dairy milk to curdle and give it a buttermilk like consistency. Apple cider or good old white vinegar will work.
Leaveners - Baking powder and baking soda give the lift to the cupcakes.
Oil - Any light flavored oil like canola, safflower or vegetable can be used.
Granulated Sugar - what's a cupcake without sugar - right??
Flavorings - Vanilla extract or lemon extract in this case.
Taste Test:
The vegan cupcakes turn out moist and fluffy with just the right hint of lemon. I topped them with coconut whipped cream. Personally I'm not a big fan of lemon flavor, but I think I'll make an exception for these cupcakes. Recipe is from Vegan Cupcakes Take over the World.
I've started to like the mini cupcakes over the regular standard size ones these days. The mini cupcakes are just perfect 1~2 bites and done. But there is also a chance of overdoing it by popping in a couple or a few without realizing (ahem....). I also made these pretty Rosewater & Pistachio mini cupcakes (these are my personal favorite).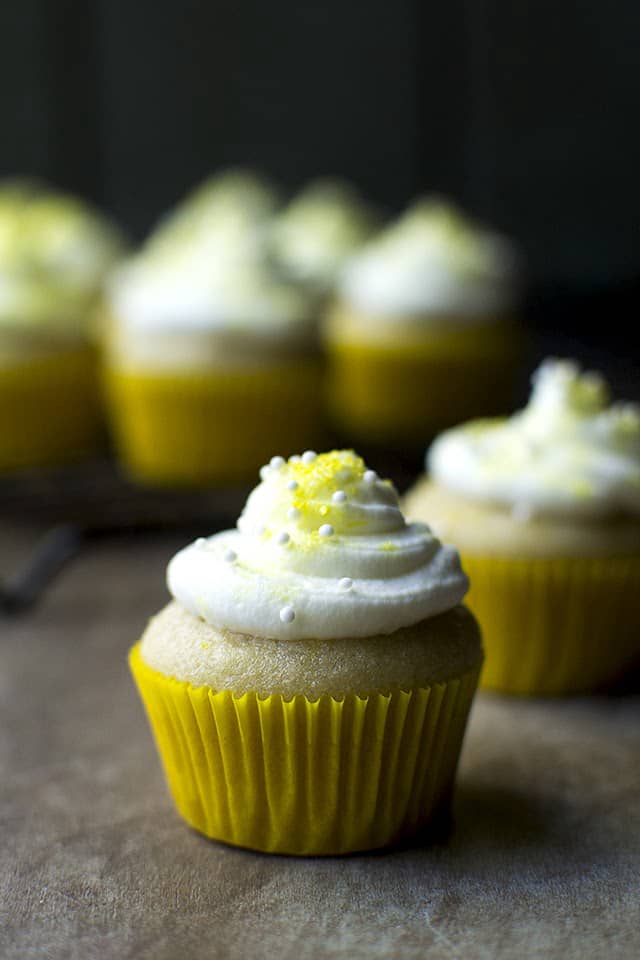 Vegan Lemon Cupcakes
These easy vegan lemon cupcakes are moist, fluffy with just the right hint of lemon flavor. Recipe is easy to make and uses fresh lemon zest.
Print
Pin
Rate
Ingredients
1

cup

Almond or Oat Milk

1

tsp

Apple cider Vinegar

¾

cup

Sugar

⅓

cup

Canola Oil or any other light flavored oil

1

tsp

Pure Vanilla Extract

½

tsp

Pure Lemon extract

1

tbsp

Lemon zest

1¼

cups

All purpose flour

2

tbsps

Cornstarch

¾

tsp

Baking powder

½

tsp

Baking soda

½

tsp

Salt
Instructions
Preheat oven to 350°F and line a regular muffin pan or mini-muffin pan with cupcake liners.

Whisk soy milk and vinegar in a measuring cup and set aside for a few minutes to curdle.

Beat together the soy milk mixture, oil, sugar, vanilla, lemon extract and lemon zest in a large bowl. Sift in the flour, cornstarch, baking powder, baking soda and salt and mix until no big lumps remain.

Fill cupcake liners ⅔rds of the way full and bake for 20-22 minutes or until a toothpick inserted in the center comes out clean.

Transfer to a cooling rack and let them cool completely before frosting.
Notes
This recipe makes 12 standard size cupcakes, 24 mini cupcakes - baking time will be around 14~18 minutes.
Recipe can also be used to make a regular 8" round/ square cake - Increase the baking time to 25~28 minutes.
Linking this to Valli's 'Cooking from Cookbook Challenge: May -- Week 2'.