Blogging Marathon# 39 - Indian States: Day 1
State: Andhra Pradesh
Dish: Madatha Kaaja/ Thapeshwaram Khaja
Our Blogging marathon group loves challenges and this time we have decided to do a month long mega marathon exploring the dishes from 30 Indian States & Union Territories. Which means starting today, all of us are going to post authentic dishes from each of the 30 Indian states in alphabetical order.
This would have been an impossible challenge some 5~6 years back, but with so many food bloggers from various parts of the country sharing their recipes online, finding authentic recipes was not too difficult except for the North eastern states. More about that when I do those states in a few days.
Preparations for the Mega marathon started almost 5~6 months ago, but I started working on them 2 months back. In the past couple of months, I have tried ingredients and ingredient combinations that I've never tried before. I can't say I learnt a lot about all the food cultures from the different states, but I sure know at least a few dishes names from each state now.
The most interesting take away for me after cooking from the 30 states is that 'there are so many similarities in the dishes that are made in different states, but at the same time there are as many differences in them too'. Take for example, rice is used in some form or the other in ALL the states, but the dishes that are made are very different from each other. Also the type of spices used and when they are added to a dish makes a big difference in the final taste of the dish.
Acknowledgements: First of my husband who was a very kind guinea pig. He ate everything, without a word, that was served even though some of the dishes tasted quite different with unusual ingredient combinations (from what we are used to). Thanks to the BM group for the inspiration (and nonstop chatter), without which I wouldn't have been able to complete the project on time. Thanks to the internet: Google & Wikipedia in particular for providing all the information on just about everything. Thanks for the hundreds of bloggers from across India for sharing their traditional dishes.
A for Andhra Pradesh: First day, we are exploring the cuisine of Andhra Pradesh. It is my home state and selecting a dish from it was quite challenging.
Andhra Pradesh is situated on the Southeastern coast of India. Ironically the state has been bifurcated into 2 separate states in the interim, but we decided to stick to Andhra Pradesh for marathon purposes.
Cuisine: Andhra Pradesh is the leading producer of rice, red chilies and millets in India. These influence the liberal use of spices making Andhra food one of the richest and spiciest in the country. Lentils, vegetables, tamarind are largely used in making the dishes. Various hot and spicy varieties of pickles form an important part of Andhra cuisine.
Regions: There are many regional variations in the cuisine based on the topographic location and the cuisine can be classified by region into Andhra, Telangana, Rayalaseema, Kosta (coastal) Andhra & Hyderabadi.
Staple Food: Rice, Lentils, Millet etc.,
Specialties
:
Pulihora (tamarind rice)
,
Pesarattu-Upma
,
Gongura Pachadi
,
Gutti Vankaya Kura
,
Bagara Baingan
,
Avakaaya
,
Boorelu
,
Bobbatlu
and many more.
In the previous month long marathon, I did a A-Z of Andhra dishes and so it was a little difficult for me to find a dish that was traditionally made in AP. After discussing with my mom, who was here in the states at the time, I decided on this traditional sweet that is made in Thapeshwaram and it is called Thapeshwaram Kaaja. So starting the marathon on a very sweet note with this yummy dessert.
My aunt makes these really really well and my mom got the recipe from her. This was the first time for even my mom to make them and we were both very surprised on how well the kaajas turned out. They were flaky and very juicy even after a week of making them -- thanks to my pedamma for this traditional recipe.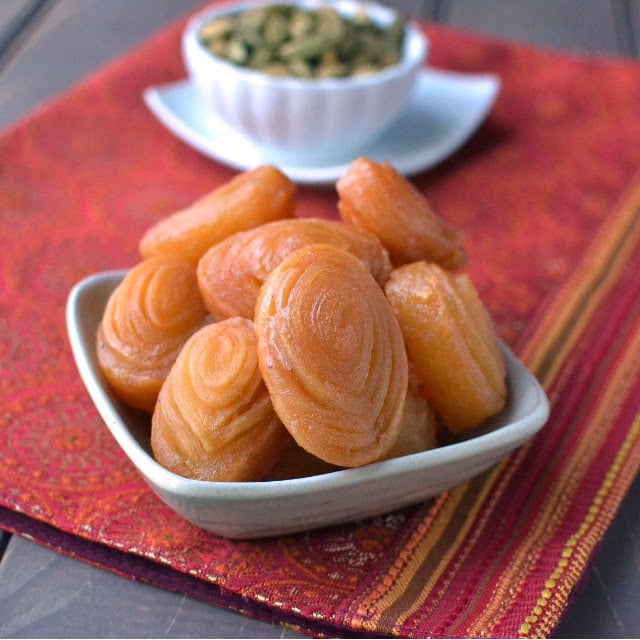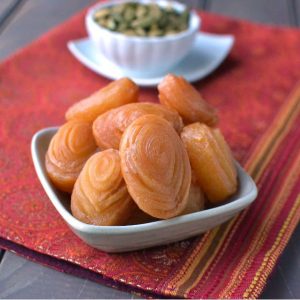 Madatha Kaaja/ Thapeshwaram Khaja
Andhra Madatha Kaaja is a traditional sweet that is made in Thapeshwaram and it is called Thapeshwaram Kaaja. They were flaky and very juicy and absolutely delicious.
Print
Pin
Rate
Ingredients
2 + 2 ~ 3

cups tbsps

All purpose flour

¼

cup

Shortening

Vegetable

½

cup

Yogurt

a pinch

Salt

1½

cups

Sugar

½

tsp

Cardamom

Ground

2

tbsps

Ghee

- melted
Instructions
Make the dough: Combine flour, salt and shortening in a mixing bowl. Mix them together until the mixture resembles crumbs.

Add yogurt and enough water to form a pliable dough. Knead for 2~3 minutes, then cover with a damp kitchen towel and set it aside for at least 15~20 minutes.

Make the Sugar syrup: Combine sugar and just enough water to cover the sugar in a sauce pan. Bring the mixture to a boil and simmer until single thread consistency is reached. Which means when you take a drop of the syrup between your thumb and forefinger and stretch -- sugar should make a single thread. Keep the syrup warm.

Make Kaajas: In a small bowl, combine 2~3tbsp flour and the melted ghee to form a paste.

Divide the dough into small lemon size balls and roll it out into a thin roti/ disc. Place it on a clean work surface. Brush the flour+ghee mixture on top of the roti.

Now roll another dough ball into roti/ disc and carefully place it on top of the first roti. Roll this into a tight log. Then cut the log into ½" thick pieces. Gently roll out each piece to form a slightly flattened oval shaped dough. Don't smash the layers too much.

Heat oil for deep frying. Fry the kaajas on medium flame in batches until golden brown. Using a slotted spoon, remove kaajas from oil and place them into the sugar syrup. Soak for about 1~2 minutes and then place them onto a plate to dry completely.
Notes
Store in an airtight container for about 7~10 days.
Lets check out what my fellow marathoners have cooked today for BM# 39.
An InLinkz Link-up