Vegan Mofo Day 18:
This recipe from Vegetarian Times has been on my list "to-make" for a very long time and last night I made it. It is very simple to make, but is packed with flavor. I wanted to add some Caribbean flavored tofu I had on hand to the rice, but the flavors were too bold and I didn't think my 3 year old would like it much. So I made just the rice (which by the way, the kiddo loved) and tofu separately (I sautéed tofu with some green onions & spinach and seasoned it with coconut milk powder, salt & pepper). Yummy dinner I should say and perfect for a weeknight meal.
Recipe adapted from Vegetarian Times.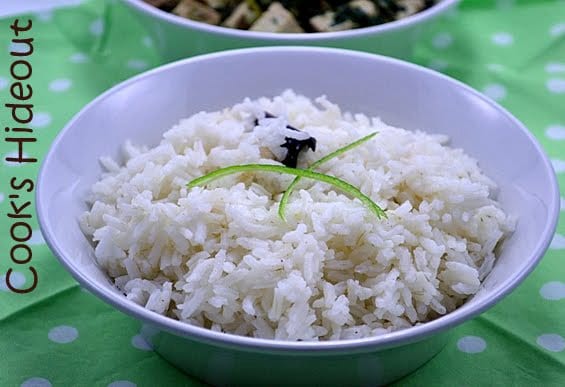 Ingredients
2

cups

Rice Jasmine rice

- preferably (I used Blue Ribbon brand long grain rice)

1½

cups

Coconut milk

Light

1

Ginger

" - grated

2

cloves

Garlic

- finely minced

1

Cinnamon

" stick

2

tsps

Lemon zest

- grated

to taste

Salt

½

tsp

White Pepper

(or more to taste)

1

tsp

Sugar

2

tbsps

Coconut

Toasted Unsweetened (optional)
Instructions
Rinse and drain the rice. Keep aside.

In a medium sauce pan, heat 2tsp butter (I used Earth Balance butter). Add ginger, garlic & cinnamon stick. Cook for 1-2 minutes or until it starts smell fragrant.

Add rice and sauté for 2 minutes or until rice turns opaque.

Add coconut milk, 2½ cups of water, sugar, pepper and salt. Bring to a simmer on medium heat.

Reduce the heat to low; cover and cook for 15 minutes (no peeking please). Let the rice rest for 5 minutes.

Fluff with a fork garnish with toasted unsweetened coconut (if using) and serve with any Asian or Caribbean side dish.
Notes
This is the first time ever in my life, the rice turned out perfect when cooked in a pot. I'm so used to cooking in the pressure cooker that whenever I try to cook separately in the pot, it either turns out to be mushy or undercooked. Do try this rice and the addition of lemon zest brings a new dimension to the taste. Enjoy!!