For this month's Home Baker's ChallengePriya Suresh @ Priya's Versatile Recipes chose some yummy French baked goodies. I picked this simple flat bread from Northern France called Faluche du Nord from Priya's list. The recipe seemed very simple to make almost, yeasted dough then rolled out and baked into bread, almost like our own naans. But I thought these were much simpler to make because the rolled out dough is cut using a cutter instead of rolling each bread separately.
I thoroughly enjoyed making these bread. I added some atta (whole wheat flour) to add some fiber and nutrition. The dough is very easy to work with, very smooth and pliable. House smelt amazing when the breads were baking. I baked them a few minutes before I brought my son back from school and the first thing he said when he walked in was 'what are you baking? It smells good in here.' He loved how soft the bread was.
Priya says these breads are eaten for breakfast with butter & jam or with any filling as a sandwich. So we enjoyed them with buttr & jam and also with some Nutella. The next day I used it as a bun for my veggie burger. All in all a great all purpose bread to bake. It is also great for newbie bakers since it is almost fool proof.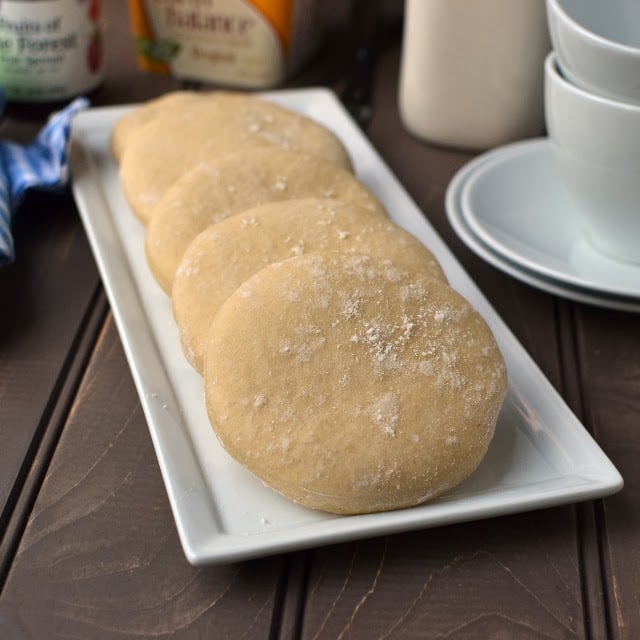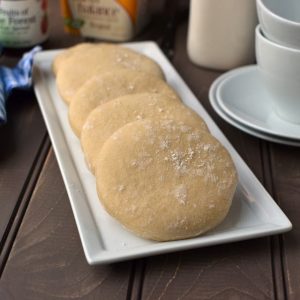 Ingredients
1¾

cups

All purpose Flour

(if not using wholewheat flour, use 2¼cups of all purpose flour)

½

cup

Atta

(or wholewheat flour)

½

tsp

Salt

1

tsp

Yeast

½

cup

Water

Lukewarm

½

tsp

Sugar

2

tbsps

Olive Oil bread

- and more for brushing on the
Instructions
Combine yeast, sugar and water in a measuring cup and set aside for 5~10 minutes or until the mixture gets foamy.

In a medium mixing bowl, combine flour (s), salt and oil. Slowly add the yeast mixture and knead into a smooth and soft dough.

Transfer the dough into a greased bowl, cover and set aside to rise for 1½hour or until doubled in volume.

Sprinkle flour on a baking sheet and keep ready.

Gently deflate the dough and roll it out into ¼" thick rectangle on a lightly floured surface.

Using a medium sized round cutter (I used a 3¼" round cutter), cut the dough and place them on the prepared baking sheet. Cover the baking sheet and set aside to rise for 1 hour.

At the end of the rising time, preheat the oven to 350°F. Brush the discs with oil and sprinkle with more flour.

Bake for 10~15 minutes. These bread are supposed to be white, so make sure that they don't over-bake and change color.
Notes
I wrapped the leftover breads tightly in plastic and put them in an airtight ziploc bag. I think they'll stay fresh for 2~3 days.