Bee and Jai at Jugalbandi are hosting this month's JFI with a very special ingredient – Jackfruit (or Panasa kaya in telugu). I have never cooked with it before but I have tasted both ripe jackfruit and the yummy jackfruit curry (panasa pottu kura) that my Peddamma (Mom's older sister) makes. But never have I thought of using the ingredient myself (don't ask me why).
I have to thank Bee and Jai for choosing jackfruit as the ingredient, as it made me try it and both my husband and I liked the dish.
This recipe is from my cousin.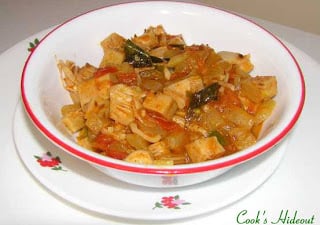 Ingredients
1

can

Jackfruit

– drained and rinsed; chopped into bite size pieces

1

Onion

– large

2

Tomatoes

– medium, ripe (I substituted one tomato with 1 tsp tomato paste)

½

tsp

Ginger-garlic

paste

6

Curry leaves

½

tsp

Cumin seeds

½

tsp

chili powder

Red

1

tsp

Chole masala

– (or Garam )

¼

tsp

Aamchur

powder – (or little bit of tamarind pulp)

¼

tsp

Turmeric

powder

to taste

Salt
Instructions
Heat 2 tsp oil on medium heat; add cumin seeds and when they splutter add curry leaves and onions; sauté till transparent and lightly browned on the edges.

Add turmeric, ginger-garlic paste and sauté for 30 seconds.

Add tomatoes; cover and cook till the tomatoes are tender.

Next add the jackfruit pieces, ½ cup of water. Cover and cook for about 8-10 minutes.

Add the powders and salt; cook for another 3-5 minutes. Serve with steamed rice or rotis.