One pot dishes are so convenient any time of the day. Being a South Indian most of my dishes revolve around rice, so a lot of one pot dishes I make are with rice. If I have leftover rice, it gets transformed into some kind of one-pot rice dish the next day. I'm sure all South Indians would probably say the same thing. Talking about rice lovers, I had an American co-worker who didn't like rice at all and I couldn't even imagine what it would be like without eating rice.
Today's rice dish is a new combination for me. I've never made a rice dish with bittergourd before. I saw the recipe on a Telugu Cooking show and the combination of bittergourd, sesame seeds and rice sounded very interesting. I was pleasantly pleased how good the dish turned out to be and was even more happy when the husband really really liked it.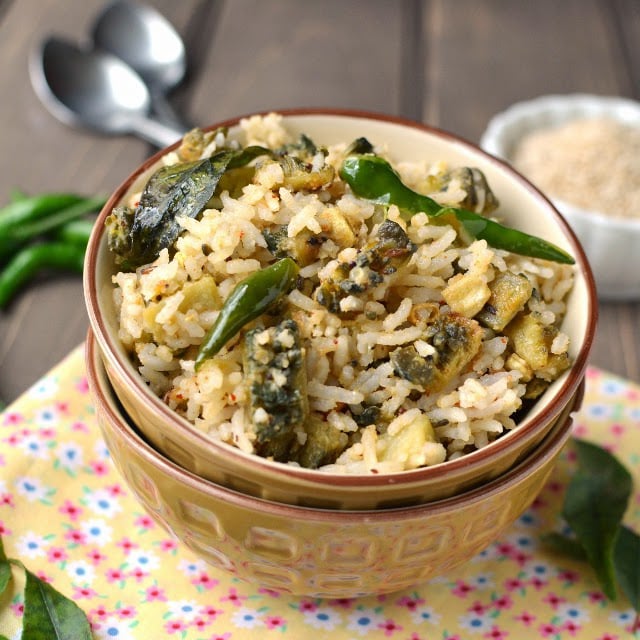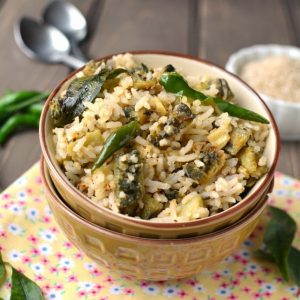 Ingredients
2

cups

Rice

- cooked (I used basmati, but any cooked rice that is not mushy will work here)

¼

cup

Sesame seeds

2

chilies

Dry red

- 3

cloves

Garlic

1

tsp

Mustard seeds

1

tsp

Cumin seeds

8 ~ 10

Curry leaves

3

chilies

Green - slit

to taste

Salt
Instructions
Boil or microwave kakarakaya along with salt and 2tbsp yogurt until tender. Squeeze out the water and set aside until ready to use.

Dry roast sesame seeds and dry red chilies until lightly golden. Turn off the heat and add garlic cloves. Let the mixture cool a little bit and then grind into a powder along with some salt.

Heat 2tbsp oil in a pan; add mustard seeds and cumin seeds. Once the seeds start to splutter, add curry leaves and boiled bittergourd and cook until bittergourd starts to turn lightly browned around the edges.

Add the cooked rice, ground sesame powder and salt. Mix well and cook for 2 minutes. Serve hot.
Notes
Linking this to Valli's 'Cooking from Cookbook Challenge'.