Vegan Bread Pudding with dried fruit and homemade butterscotch sauce.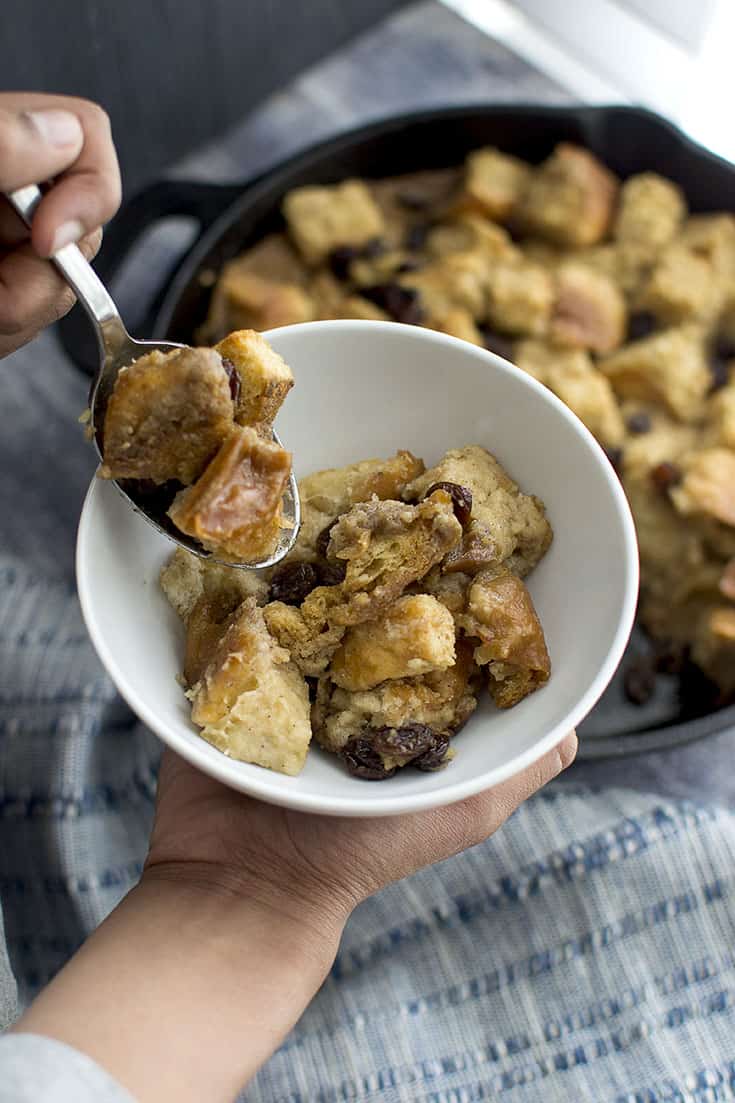 For the last day of this week's combo desserts, I have a rich and decadent baked treat served with a sweet, creamy sauce. This bread pudding is baked with dried fruit, walnuts and homemade butterscotch sauce. The best part of this dessert is that it is 100% vegan and there's no way you can guess that from tasting it.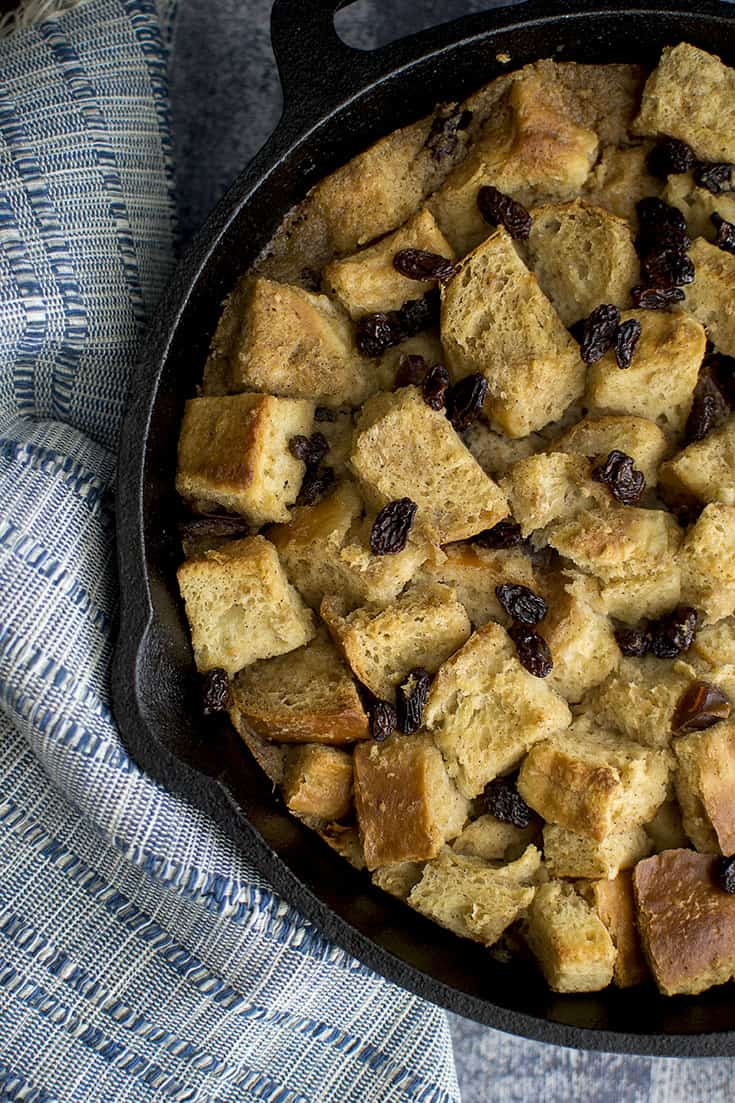 After I signed up for this combo dessert theme, I started looking for recipes and there were quite a few interesting ones like custard with warm pie or ice cream with chocolate cobbler or pannacotta with Gulab Jamun. But then I saw this bread pudding recipe in the same vegan cookbook that I mentioned yesterday. It sounded just perfect and I am very glad that I tried this recipe.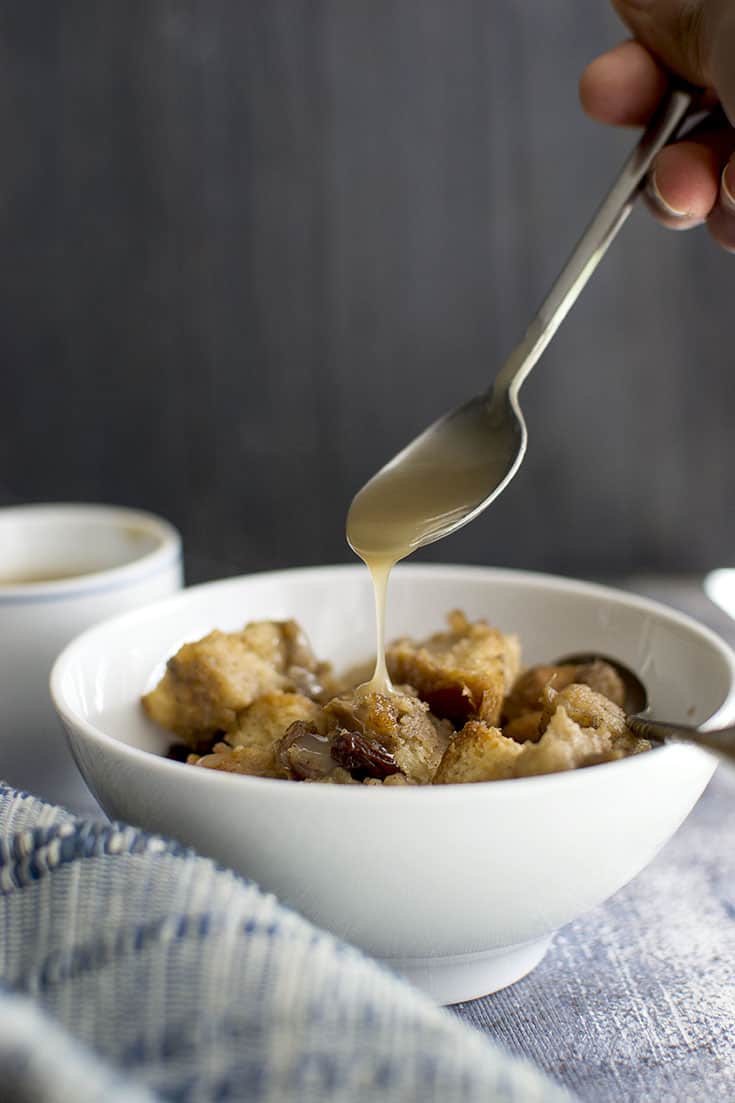 Traditionally bread pudding is made by soaking bread in egg based custard and then baked until golden and cooked through. In this vegan version bread is soaked in a non-dairy milk (I used almond milk) base. I had a few doubts if the pudding will set or not after baking. But it set perfectly and looked almost like the traditional version.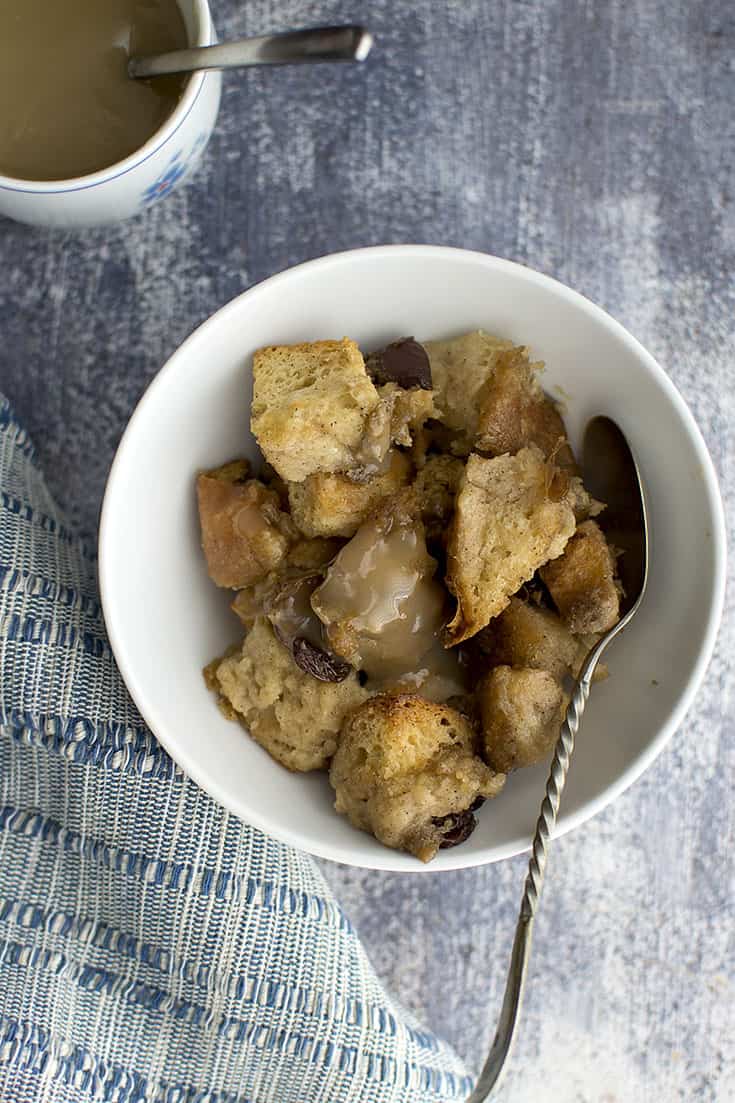 My family absolutely loved it. Butterscotch sauce makes this bread pudding extra special. It is really easy to make too - just combine all the ingredients and cook till thickened. Enjoy this bread pudding warm with some butterscotch on top. I was in carb heaven after eating a big portion of this yumminess.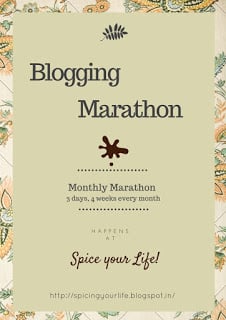 Lets check out what my fellow marathoners have cooked today for BM# 88.
Also sending this to Valli's 'Cooking from Cookbook Challenge' - May - Week 1.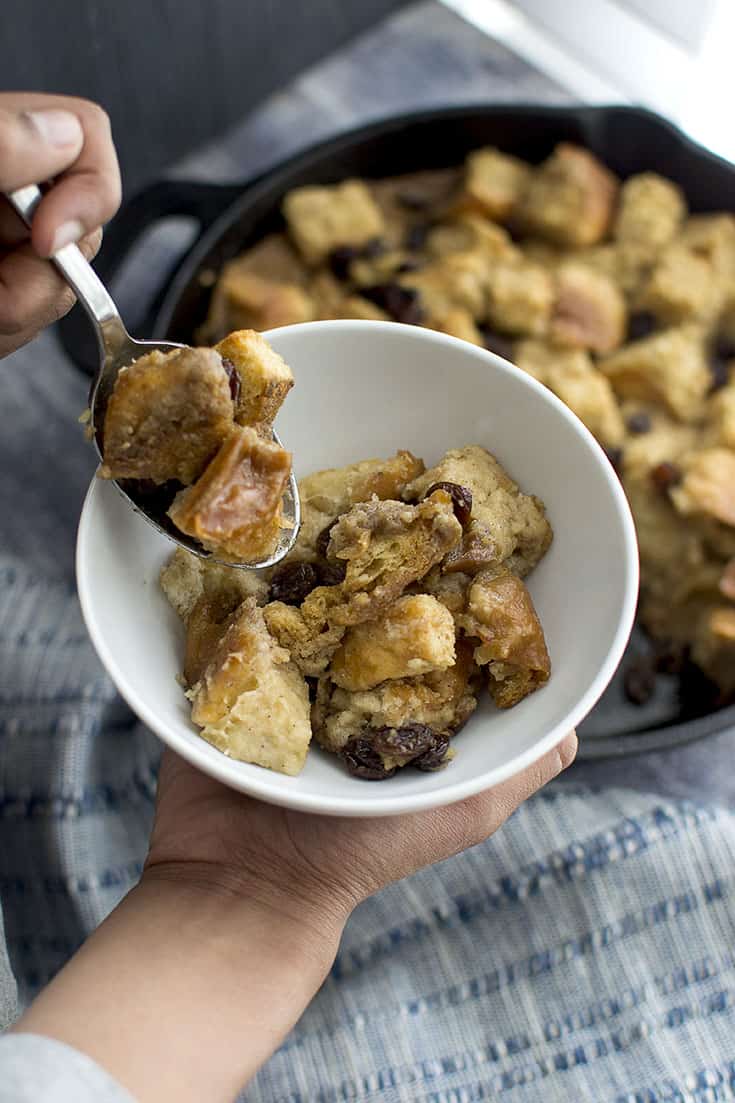 Vegan Bread Pudding with Butterscotch Sauce
Vegan Bread Pudding with dried fruit and homemade butterscotch sauce. Bread soaked in non-dairy milk custard and baked off until golden and delicious.
Print
Pin
Rate
Ingredients
For Butterscotch Sauce:
½

cup

Vegan Butter

½

cup

Coconut Sugar or Vegan Brown Sugar

½

cup

Vegan Creamer (I used almond-coconut creamer)

½

cup

Almond Milk (or other non-dairy Milk)

2

tsp

vanilla extract

Pinch of

salt

1

tbsp

Cornstarch or Arrowroot powder
Bread Pudding
6

cups

French or Sourdough bread, cubed (preferably stale)

1

cup

Dates (or dried apricots, raisins etc)

½

cup

Walnuts, chopped (optional)

1¾

cups

Almond Milk (or other non-dairy Milk)

½

cup

Unsweetened Applesauce

¼

cup

Coconut Sugar or Vegan Brown Sugar

1

tsp

vanilla extract

1

tsp

Ground Cinnamon

¼

tsp

Ground Nutmeg

¼

tsp

salt
Instructions
Make Butterscotch Sauce:
In a medium saucepan, melt the butter over medium heat. Add the coconut sugar, creamer, non-dairy milk and agave syrup. Bring to a boil. Reduce the heat and simmer for 5 minutes, stirring occasionally.

Stir in the vanilla and salt.

Whisk corn syrup in 2tbsp milk; add this to the butter mixture. Whisking continuously cook for 1~2 minutes or until the sauce thickens. Turn off the heat and let the syrup cool. This can be made up to 1 week in advance and chilled in an airtight container until ready to use.
Make Bread Pudding:
Preheat the oven to 350°F. Lightly spray a 8" square baking pan or a 8~10" cast iron skillet or 6~8 8oz. ramekins with cooking spray.

In a large bowl, combine the bread, dates, raisins (or other dry fruit) and walnuts (if using).

In a medium bowl, combine non-dairy milk, applesauce, coconut sugar, vanilla, cinnamon, nutmeg, salt and ½cup of the butterscotch sauce. Add this mixture to the bread mixture and stir until combined. Soak for about 5 minutes.

Transfer the mixture into the prepared pan(s). Bake for 30~40 minutes (or 20~25 minutes for ramekins), until the top is set and beginning to turn golden brown. Remove and let cool in the pan for about 10 minutes.

Serve with a drizzle of the remaining butterscotch sauce. Enjoy!!