I love to try anything vegetarian ingredient at least once. When I saw Nags' post for Kerala Kappa Masala, I wanted to try this new veggie, Tapioca. I'm trying this Tapioca Masala recipe from Edible Garden, who is hosting the Kerala Kitchen cookout this month.
I've seen it in the farmers market and wondered how this strange looking veggie tasted, but never dared to buy it myself. I don't remember seeing this veggie back home and my mom thought it looked like 'karra pendalam', but she wasn't sure. 
After reading Nags' post, I went looking for tapioca and came home with my first ever tapioca/ kappa. I followed Nags instructions on how to cut and prepare the dish to the T and I've to say that this will not be the last time I'm going to buy this veggie. I was eating it right out of the saute pan -- it had a nice texture and the garlic-chili masala made it spicy and absolutely delicious. Definitely a must try for people who haven't tried it before.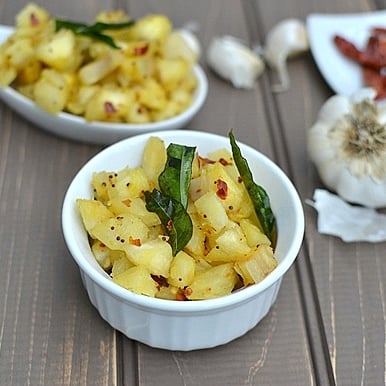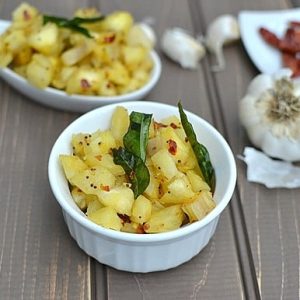 Ingredients
1

Tapioca Kappa

/ - medium

3

cloves

Garlic

3

chilies

Dry red

½

tsp

Mustard seeds

½

tsp

Urad dal

8 - 10

Curry Leaves

to taste

Salt
Instructions
Peel and wash tapioca well. There is a fiber like thing in the center of the tapioca, so remove this before chopping it into ½" cubes.

Put the cubes in a sauce pan and cover with 1" of water. Bring water to a boil, then simmer until the pieces get fork tender, about 10-12 minutes. Drain the water and keep aside.

In the meantime, crush the garlic along with red chilies into a coarse mixture.

In a saute pan, add 1tbsp coconut oil, add the mustard seeds, urad dal, garlic-chili mixture and curry leaves. Saute until garlic starts to smell fragrant, about 30 seconds. Add the drained tapioca, turmeric and salt. Mix well and cook for couple of minutes. That's it it's ready to be snacked on.
Notes