For this month's International Food Challenge and for this month, our host Shobana @ Kitchen Secrets and Snippets wanted us to explore the Alsace-Lorraine region. This is a multi-cuisine region which inherits partly German, partly French culture and so their recipes are influenced from both the countries. Alsace and Lorraine are separate regions in France's north-eastern corner, and share borders with Belgium, Luxembourg, Germany and Switzerland. Alsatian cuisine, somehow based on Germanic culinary traditions, is marked by the use of pork in various forms. Traditional dishes include baeckeoffe, flammekueche, choucroute, quiche lorraine and fleischnacka. Southern Alsace, also called the Sundgau, is characterized by carpe frite (that also exists in Yidish tradition).
Out of the many prominent dishes from the region, we were asked to pick 1 of the 3 dishes: Tarte Flambe/ Kugelhopf & Quiche Lorraine. I chose to make Savory Kugelhopf.
Kugelhopf or Gugelhupf is a yeasted soft -- a hybrid between cake and a bread. Usually kugelhopf is a sweet bread that contains raisins, almonds and is flavored with citrus. Some also contain candied fruits and nuts. A lesser known version of the Kugelhopf is its savoury Alsatian version called the Kugelhopf aux Lardons. "Lardons" is the French word for bacon, and this version is typically made with onions, ham/ bacon, walnuts and herbs.
Kugelhopf is a rich bread almost like brioche and has eggs in it. I used 'egg replacer' in place of eggs and the bread turned out great. This bread is baked in a Kugelhopf pan, but can also be baked in a bundt pan, a regular loaf pan or a muffin pan.
Recipe adapted from Aparna's My Diverse Kitchen & Vardhini's Cook's Joy: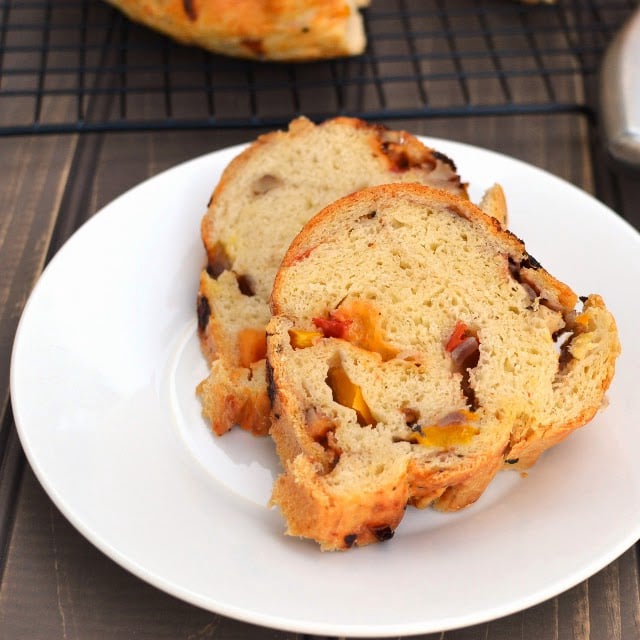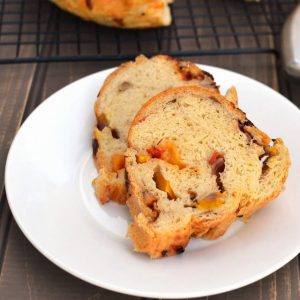 Ingredients
For the bread:
3 - 3½

cups

All purpose Flour

2

tsp

Yeast

1

tsp

Salt

6

tbsps

Butter

- at room temperature

2

Eggs

(or use 2tbsp egg replacer mixed with 6tbsp water)

¾

cup

Milk

- warm
For the filling:
1

Onion

- medium, finely chopped (1cup)

½

Pepper

of - a medium, chopped (⅓ cup)

1

Tomato

- small, deseeded and chopped

½

cup

Cheddar Cheese

- cubed

⅓

cup

Walnuts

- chopped

1

tsp

Thyme

Dried (I used dried mint instead)

1½

tsps

Pepper

to taste

Salt
Instructions
Make the Bread dough: Combine flour, salt and yeast in a mixing bowl or the bowl of your stand mixer. Mix well to combine. Add the butter and mix until well combined.

Next add the warm milk and knwead until a soft dough forms. Cover and rest the dough rise for 1½-2½ hours or until doubled in volume.

Prepare the Filling: Heat 1tsp oil and saute onions for 3~4 minutes. Remove into a bowl. In the same pan, heat 1tsp oil and saute peppers and tomatoes until crisp tender, about 3~4 minutes. Add this to the same bowl. Season with salt. Mix well and set aside.

Punch the dough down and roll it out into a circular disc. Sprinkle the prepared onion-pepper filling, followed by cubed cheese, ground pepper and dried thyme.

Fold the dough over the filling and knead well to incorporate the filling evenly in the dough. Dough is very sticky due to the moisture from the filling, so work with it gently. Form the dough into a log and place it in a greased bundt pan. Pinch the ends close.

Cover the pan and let rise for 1hour.

Preheat the oven to 400°F. Bake the Kugelhopf for 35-40 minutes or until bread is baked and sounds hollow when knocked on.
Notes
My bread stuck to the pan a little bit, so make sure to grease the pan very well. Let the bread cool in the pan for 10~15minutes before removing it from the bundt pan. Enjoy as is with some butter or with a warm bowl of soup.