There are some vegetables that get treated the same way ALL the time. In our household, cabbage is one of them. I usually make a dry curry with grated ginger and coconut which tastes great but after a while I got bored of cooking it. So I bookmarked this recipe from the 'India Cookbook' by Pushpesh Pant.
This is a huge cookbook with 1000 recipes (out of which may be 500~600 are vegetarian) and since I'm borrowing it from the library, I don't have too much time to even go through the recipes in detail. Luckily there are pictures of the dishes at regular intervals in the book and I looked through them to find the dishes I want to try. Even with that I have more than 20 recipes to try and I think I can keep the book till the end of this month. I'll be happy if I can try at least half of what I bookmarked.
Coming back to this dry cabbage curry, I made this dish twice already and really loved how all the spices make the dish very flavorful. I made it couple of days ago for my in-laws and my MIL really liked it. The book says the origin of this dish is from Awadh.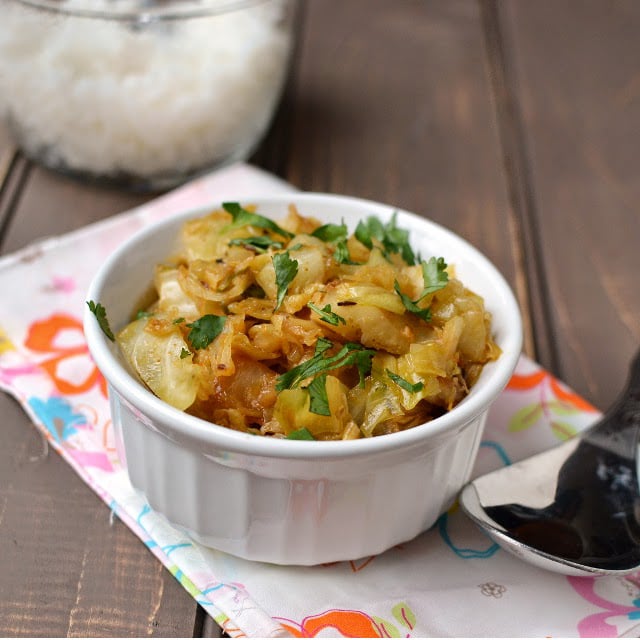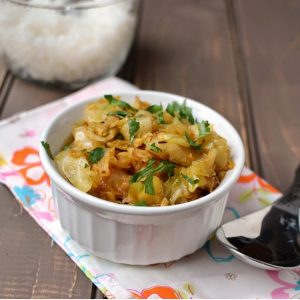 Ingredients
1

small head

Cabbage

- cut into large pieces

2 ~ 3

Chilies

Green - slit

1

Ginger

" - finely grated

½

tsp

Ginger

Dry

¼

tsp

Turmeric

½

tsp

chili powder

Red (adjust as per taste)

½

tsp

Coriander

Ground

1

tsp

Cumin seeds

¼

tsp

Fenugreek seeds

a pinch

Asafoetida

/ Hing

3

tbsps

Cilantro

- finely chopped

½

tsp

Sugar

to taste

Salt
Instructions
Heat 2tbsp oil in a saute pan; add cumin seeds, fenugreek seeds and asafoetida, cook for 1 minute or until the seeds splutter. Next add green chilies, grated ginger, dry ginger and cook for 1 minute.

Add cabbage, mix well and cook for a minute. Stir in turmeric, ground coriander and red chili powder. Mix well and cook covered until cabbage is cooked through, about 10~12 minutes. Serve with steamed rice.
Notes
Linking this to Valli's 'Cooking from Cookbook Challenge: May -- Week 4'.