I was wondering one day, is it possible to make all the delicious recipes that I bookmark online AND make the recipes from my cookbooks AND make ALL my favorite recipes that Amma used to make AND make something new and creative when I'm inspired in ONE LIFETIME. I have my doubts, since I don't actively cook during the week and weekend being ONLY 2 days, I don't think I can do them all. Unless I stop bookmarking anymore new recipes for the next year and cook everything I already have. I really want to know how you guys manage your bookmarks, please!!
Years ago, I used to print the recipes and file them by category: rotis, rice, subzi etc. After flooding the favorite section on our browser, I've started to maintain a notebook where I write down the recipe name and the URL that interest me. So when I want to make something from my bookmarks I refer to my notebook.
For some websites (like Eenadu, a very famous Telugu daily newspaper), I have to write the recipes since their archives are available only for the past 90days. I like to write as it is something that I have been doing very little of these days. My Telugu handwriting used to be very neat, but now with no practice it has become scribbled and illegible. I mix English and Telugu while writing the recipe as some of the Telugu letters have become difficult for me to write.
Here's one such recipe that I wrote from Eenadu and it's my absolute favorite eggplant dish I tried it right away. Small eggplants are slit and stuffed with filling in the original recipe, but I'm super lazy to do that extra step, so I chopped the eggplant into big wedges and cooked in the gravy instead.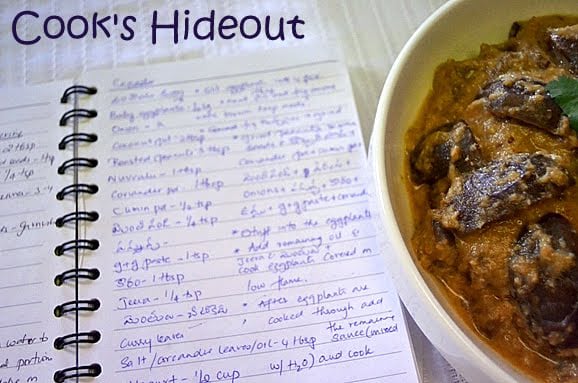 Ingredients
10 - 12

Eggplants

– medium size

2

Onion

– medium, chopped

2

tbsps

coconut

Grated dry

3

tbsps

Peanuts

Roasted

1

tbsp

Sesame seeds

1

tbsp

coriander

Ground

½

tsp

Cumin

Ground

¼

tsp

fenugreek

Ground

¼

tsp

Turmeric

1

tsp

Ginger garlic

+ paste

2

tsps

chili powder

Red – (or to taste)

¼

tsp

Cumin seeds

a few

Fenugreek seeds

(Menthulu)

6 - 8

Curry leaves

to taste

Salt

¼

cup

Coriander leaves

– , roughly chopped

½

cup

Yogurt
Instructions
With the crown portion of the eggplant still intact, slit them into 4 pieces or if you are like chop the crown out and cut eggplant into 4 separate wedges.

Heat 1tbsp oil in a sauté pan and fry onions until browned and slightly caramelized. Remove and keep aside.

Fry sesame seeds until light brown; set aside.

Grind peanuts, sesame seeds, grated coconut, ground coriander, cumin, fenugreek pd, yogurt, onions, turmeric, red chili pd, salt, ginger+garlic paste and coriander leaves into a smooth paste using very little water.

Stuff the eggplants with the paste (or not if you are following my lazy advise) and save the leftover paste for later.

Heat 2tbsp oil in the same sauté pan, add cumin & fenugreek seeds and once they start to splutter, gently slide in the stuffed eggplants (or the wedges and all of the ground paste); cover and cook on low flame.

After the eggplants are cooked through, add the remaining masala paste mixed with ½ cup of water. Simmer for 5-6 minutes.

Garnish with coriander leaves and serve with steamed rice or roti.
Notes
This is going to Aipi's Bookmarked recipe every Tuesday event.