White Pumpkin aka Ash Gourd in India is a very versatile vegetable (wow.. alliteration right there). You can make both sweet and savory dishes with it. My mom makes halwa with it, but I've never tried it myself. I usually make aviyal or this curry with it. But this time wanted to try something slightly tangy and sweet with it. Curry tastes even better the next day.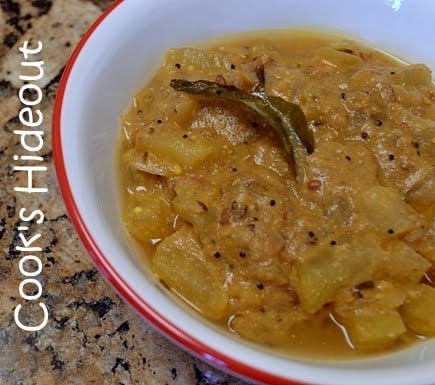 Ingredients
1

Ash Gourd Pumpkin

small piece of / White / Gummadikaya (about 3-4 cups when chopped)

1

Onion

– medium, chopped

2

chilies

Green – slit

2

tbsps

Tomato Paste

2

tbsps

Tamarind

paste - (Thanks Anise for pointing this out)

¼

tsp

Turmeric

2

tsps

Jaggery Brown sugar

/

2

tbsps

peanuts

Roasted – , coarsely ground

2

tsps

Sesame seeds

– , dry roasted and ground to powder

to taste

Salt
For tempering:
1

tsp

Urad dal

(Minapappu)

1

tsp

Chana dal

(Senagapappu)

1

tsp

Cumin seeds

1

tsp

Mustard seeds

1 - 2

chilies

Dry Red

6 - 8

Curry leaves
Instructions
Microwave the chopped pumpkin with ½ cup of water & pinch of turmeric until ¾th cooked but not completely cooked, about 5-6 minutes.

In a sauté pan, heat 2tbsp oil; add the tempering ingredients and once the seeds start to splutter, add onions and green chilies.

Sauté until onions turn translucent.

Add tomato paste, sambar powder, turmeric and ½ cup of water. Cook on medium-low flame until almost all the water evaporates.

Add the cooked pumpkin along with the water; cover and cook until the veggie is completely cooked through.

Add tamarind paste and jaggery and more water if the curry looks too dry. Cook for another 5 minutes.

Stir in ground peanut & sesame seeds, mix well and simmer for 5 more minutes for all the flavors to meld.

Serve with steamed rice and plain dal or with rotis.
Notes