For this month's Home Baker's Challenge, our host Priya Ranjit very aptly chose Holiday Bakes. She gave us recipes for holiday cookies, cakes and breads to choose from. As usual when I saw the list I wanted to bake 2 or 3 recipes and as usual I ran out of time. But I'm glad I found time to bake at least one from the list and I'll try to bake a few more before the end of the year.
We had a snow storm yesterday (all that white in the background is snow in the next picture) and as luck has it my husband was out of town on business. It was quite a feat to drop off and pick up the kids from school. I was upset that the local school district didn't announce a snow day, but then I made best of the day by baking. With the kids away I had time to bake this yummy Challah bread.
Priya gave us this Challah Bread recipe from thekitchn. But I wanted to make to make a little more healthy by adding whole wheat pastry flour and made it eggless by using egg replacer. I brushed the top with heavy cream before baking, but brushing with egg wash will make the bread even more golden with beautiful brown crust.
I also referred to the recipe in
The Whole Grain Baking cookbook
by King Arthur Flour. The bread turned out so soft and fluffy. Me and the kids snacked on the warm bread with some butter and absolutely loved it.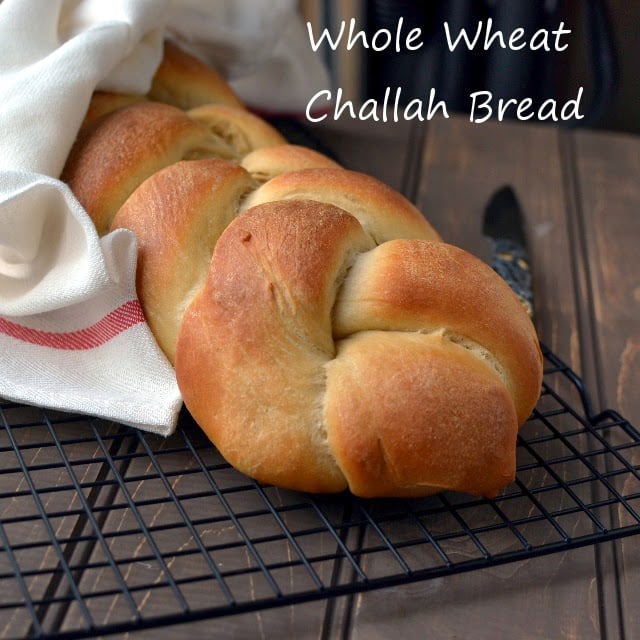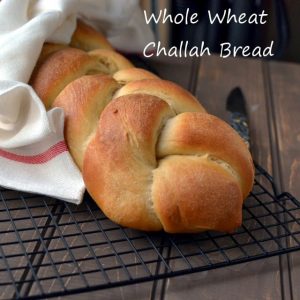 Ingredients
2

cups

All purpose flour

2

cups

Whole wheat Pastry flour

¼

cup

Sugar, divided use

2

teaspoons

Instant Yeast

2

teaspoons

Salt

2

tablespoons

Egg replacer, whisked in 6 tablespoons of water (or use 2 large eggs)

1

cup

Lukewarm Water

3

tablespoons

Oil

2

tablespoons

Heavy cream, for brushing (for a nicely browned crust, use whisked egg)
Instructions
Sprinkle yeast and 2tbsp sugar in water. Whisk and set aside until the mixture gets very frothy.

In the bowl of a stand mixer or a large mixing bowl, combine flours, salt and remaining 2tbsp sugar. Mix well.

Make a well in the center and add the egg replacer mixture, oil and yeast mixture. Mix and knead until a smooth, pliable dough forms. Add more flour if the dough looks too sticky. Knead for 6 minutes in a stand mixer or for 10 minutes with hand.

Transfer the dough to a greased bowl and set aside to rise for 1½ - 2hours until dough is doubled in volume.

Punch the dough lightly and divide into 3 equal portions. Form each portion into rough logs and set aside covered for 10 minutes.

Roll each log into 18" long log. Place the 3 logs next to each other. Squeeze the ends together at the top and tuck inside. Then start braiding - over 1, under 1 - just as you would with your hair. Make a fairly tight braid. Cover loosely with a greased plastic wrap and set aside to rise and get puffy, for another 1 hour.

By the end of the rising time, preheat the oven to 375°F.

Bake the bread for 20 minutes. Then tent the bread with foil and bake for 8~10 minutes until the crust is golden brown. Bread should register 190°F internal temperature.

Remove from the oven and transfer the bread onto wire rack to cool. Slice once the bread is lukewarm and enjoy.
Notes
If not eating right away, wrap the bread tightly with foil or plastic wrap and put in a freezer safe bag and stash in the freezer to enjoy later. Just thaw in the fridge and toast before eating.