Weekends are extremely lazy in our household. I cook more during the week than on the weekends. I just want to take it easy and not bother with cooking, but that doesn't mean we go out to eat. We eat all the left overs from the weekdays (I know that sounds kind of weird, but that's what we do). Today I made a small change and cooked for lunch. I made this simple cabbage curry and tomato-spinach dal and served them with steamed white rice.
I planned on making a soup and bought some leeks last week, but never got around to make the soup. So I used leeks instead of onions in this dish and it turned out delicious.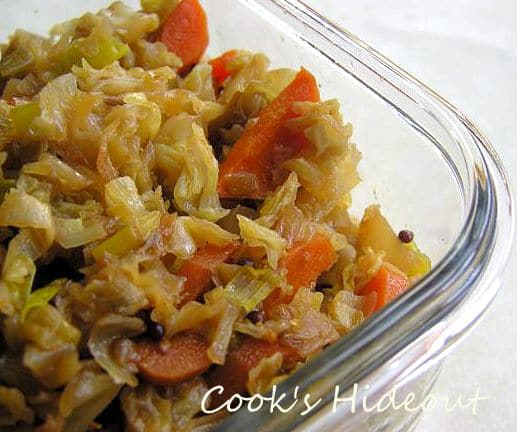 Ingredients
4

cups

Cabbage

- finely chopped (about ¾th of a medium head)

4

Leeks

- medium, chopped and rinsed properly to remove any grit and dirt

2 small half

Carrots

- medium, chopped in moons

Curry Powder

- homemade or store bought

a pinch

Turmeric

t0

Salt

- taste

1

tsp

Mustard Cumin seeds

& - each
Instructions
Heat 2tbsp oil in a large skillet; add the seeds and once they start spluttering, add leeks and cook on medium flame until they turn light and limp, about 5 minutes.

Next add chopped cabbage & carrots along with turmeric; cover and cook till the veggies are tender.

Increase the flame to medium-high and let the veggies lightly brown along the edges, about 2-3 minutes. Keep stirring otherwise the veggies will burn and that is not what you want.

Add the curry powder and salt; mix well and cook on medium-high for another minute. Serve with rice or rotis.
Notes