This is a foolproof recipe for Injera that I found on one of the forums at Fresh Loaf website. I forgot to write down the name of the person who gave the recipe on the forum, but it really works. I have read that many people had trouble making injeras, with stinky batters, crepes sticking to the pan etc. But using sourdough starter and steaming the crepe before flipping them made "the best" Injera I've ever eaten (to be honest I ate them only once in my life in, Mesob, an Ethiopian restaurant in NJ). This is another great way to use some of the Sourdough starter.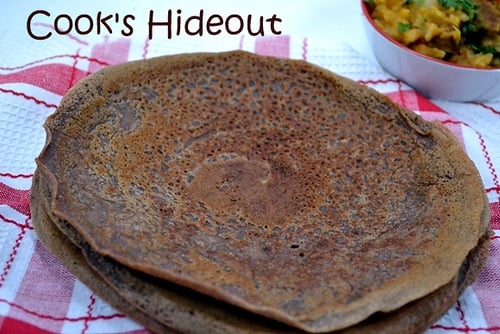 Ingredients
½

cup

Sourdough

Starter (100% hydration)

2

cups

flour

Teff

2

cups

Water

½

tsp

Salt

– (I used kosher salt)
Instructions
Night before you want to make Injera: Mix all the ingredients well in a bowl; loosely cover with a plastic wrap or kitchen towel and set aside at room temperature for 12-24 hours (I made Injera for dinner the next day, so the batter sat for almost 20-22 hours).

When ready to make the crepes: Preheat a 10" nonstick skillet on medium heat. Mix the batter thoroughly.

Use cooking spray to lightly grease the pan; pour about ⅓ – ½ cup of batter into pan; immediately twirl the pan to evenly distribute the batter. Let cook for 1-2 minutes until bubbles rise to the surface; COVER the pan with a lid and let the crepe steam for 2-3 minutes.

At this stage, the injera should be completely cooked on the underside; the top should be set and firm and should be pulling away from the sides. Cooking the other side is optional; I cooked the second side for about 30 seconds.
Notes
Remove and stack on cloth towel. Enjoy with your favorite Ethiopian side dishes like this Ethiopian Wat.
A Pictorial of Injera Making:
Sending these over to Priya & Aipi's "Bookmarked Recipes Every Tuesday" weekly event.