It has been a busy month so far with the on-going A-Z International mega marathon. But I didn't want to miss Valli's 'Cooking from Cookbook Challenge' because I have so many recipes bookmarked that if I don't make them now, I'll never make them.
This Mixed Dal Sambar recipe is from a recent Telugu cooking show that I watched and liked the use of more than one dal to make sambar. I jotted it down and made it today for lunch. I've blogged masoor dal sambar & regular sambar already. Taste wise I don't think there's any difference between this and the regular sambars, but I think texture wise adding moong dal makes this a little more creamy than the other versions. Give it a try if you looking for a slightly different variation to your regular sambar. Also change the veggies too and add whatever you fancy or have in your fridge.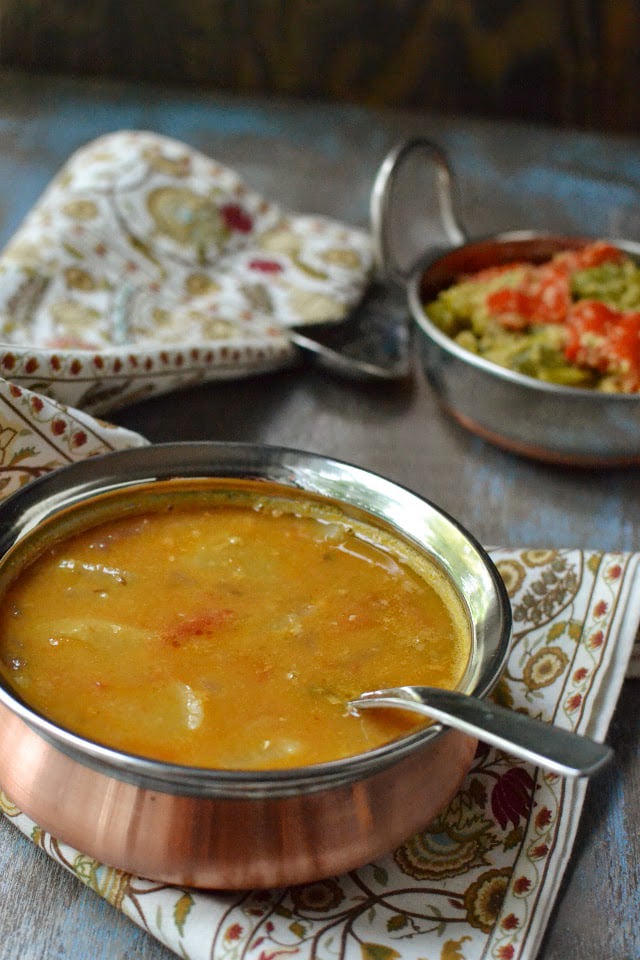 Ingredients
2

tbsps

Toor Dal

2

tbsp

Masoor Dal

2

tbsp

Moong dal

1

Onion

- medium, thinly sliced (or use ½cup of small sambar onions or shallots)

1

Radish

- small piece, peeled and chopped

2

Tomatoes

- medium, chopped

2

Chilies

Green - slit

2

tbsp

Tamarind

pulp

½

tsp

Turmeric

½

tsp

chili powder

Red - (optional)

to taste

Salt
For Tempering:
2

chilies

Dry red

1

tsp

Mustard seeds

1

tsp

Cumin seeds

½

tsp

Fenugreek seeds

½

tsp

Asafoetida

/ Hing

8 ~ 10

Curry leaves
Instructions
Combine all the dals and pressure cook until very soft.

Heat 2tbsp oil in a medium saucepan, add the red chilies, cumin seeds, mustard seeds and fenugreek seeds. Once the seeds start to splutter, add the curry leaves and asafoetida.

Next add the green chilies, onions and radish. Cover and cook till the veggies are tender, about 5~6 minutes.

Next add the tomatoes, chili powder (if using), turmeric, sambar powder and salt. Cook covered until tomatoes turn mushy.

Add tamarind pulp and cooked dal. Mix well and add enough water to get the desired consistency. Simmer for 5~6 minutes. Turn off the heat and garnish with chopped cilantro. Serve with steamed rice.
Notes
Linking this to Valli's 'Cooking from Cookbook Challenge: September -- Week 1'.