Palak Paneer is probably one dish that is on ALL Indian restaurant menu cards around the world. Restaurant can be South Indian, North Indian or any Indian cuisine at all, I'm sure all of them have Saag Paneer or Palak Paneer on their menu. It is that famous and if you are an Indian food aficionado, you probably tasted it at least once. 
There are quite a few recipes on the internet for palak paneer. Each one using different spice blends and some blend the spinach to a paste and some use it just as is. I like my palak paneer creamy and smooth. 
When you think of Punjabi food, this is the first dish that comes to mind. So when I made Amritsari Aloo Kulcha last week, palak paneer seemed to be the perfect side dish to go with it. I modified the recipe I found in 660 Curries by Raghavan Iyer a little to suit our taste preferences.
Recipe adapted from 660 Curries: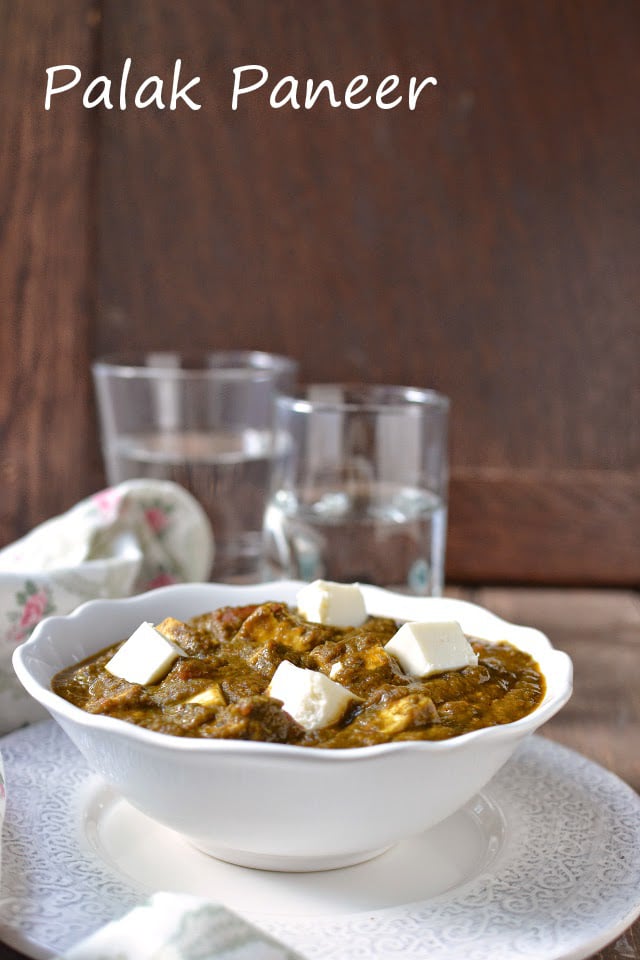 Ingredients
2

tbsp

Oil (plus 2 tsp to cook spinach)

6 ~ 8

cups

Spinach, chopped (approximately 500 gms)

2

Green Chilies

1

medium

Onion, finely chopped

½

cup

Tomato puree

1

tsp

Ginger-garlic paste

½

tsp

Red Chili powder

½

tsp

Garam Masala

1

tsp

Cumin seeds

1

tsp

Salt

2

cups

Paneer, cubed

2

tbsp

Heavy Cream (optional)
Instructions
Heat 2 tsp oil in a saute pan, add the spinach and green chilies. Cook till the greens are wilted, about 3~4 minutes. Remove from the pan and let cool, then grind to a smooth paste.

Wipe the pan clean with a tissue, heat 2 tbsp oil. Add cumin seeds and once the seeds start to splutter, add the chopped onions. Cook till the onions are lightly browned around the edges.

Stir in the ginger-garlic paste and cook for 1~2 minutes.

Add the tomato puree, cover and cook till the oil starts to float around the edges.

Slowly add the spinach puree, red chili powder and salt. Mix well and cook covered till the flavors mingle. Add a little bit water if the mixture is too thick.

Add the paneer and garam masala. Mix well and cook for 3~4 minutes to heat paneer through. Serve hot with roti, naan, kulcha and fried rice.