Ragda Pattice is a very popular Chaat item from Mumbai. This was the first dish I made for Maharashtra, but changed it to Vada Pav and kept this for 'Cooking from Cookbook Challenge' instead. I've never made ragda pattice at home until I saw this recipe being made on a Telugu cooking show and made it twice since then. I remember enjoying this snack on the road side stalls in Hyderabad, one particular one close to my aunt's house was our favorite.
Prepping the chutneys (green & sweet) is the most time taking for making chaats and if you have them prepared ahead of time, then dish takes a snap to put together. Oh, the other thing you need to remember is to soak the dried peas or dried chana overnight, so they cook fast. On the show I mentioned earlier, the chef used black chana instead of the traditionally used dried peas (vatana). I tried both and they taste equally good.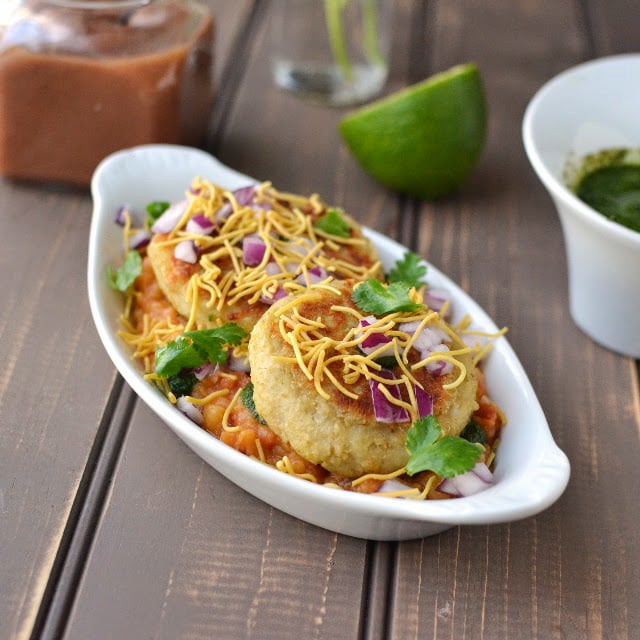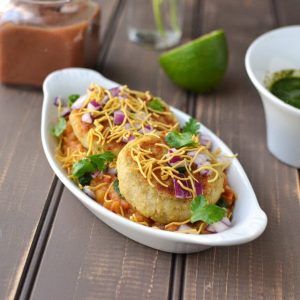 Ingredients
For Aloo/ Potato Pattice:
2

Potatoes

- medium, boiled, peeled and mashed

½

cup

Bread bread

Crumbs (adjust as per requirement) -- grind some rusk to make your own crumbs or use store bought

1

tsp

Ginger+garlic

paste

½

tsp

coriander

Ground

½

tsp

cumin

Ground

¼

tsp

Turmeric

to taste

Salt
For Ragda:
1

cup

Peas

Dried Yellow (vatana) - soaked overnight

1

Onion

- medium, finely chopped

3

Tomatoes

- medium, chopped

1

tbsp

Tomato paste

½

cup

Yogurt

- whisked very well

1

tsp

Ginger+garlic

paste

¼

tsp

Turmeric

1

tsp

chili powder

Red (or to taste)

½

tsp

Garam Masala

1

tsp

Chaat Masala

to taste

Salt
Other Ingredients for serving:
Green Chutney

- as needed

Sweet Chutney

- as needed

1

Red onion

- small, finely chopped

Sev

- as needed

Cilantro

- as needed, finely chopped

Yogurt

- as needed (optional)
Instructions
Make Potato Pattice: Mash the potatoes well and add ginger+garlic paste, ground coriander, ground cumin, chaat masala and salt. Mix well, add enough bread crumbs and knead into a smooth, pliable dough. Divide the mixture into big lemon size balls and flatten them in the palm of your hand. Set them aside on a plate.

Heat a tawa or griddle on medium flame. Add 2~3tsp oil and place the prepared patties on the hot tawa and cook until golden brown crust forms on both sides. Keep them warm while you prepare the Ragda.

Make Ragda: Pressure cook soaked peas until tender, but not too mushy. Heat 2tbsp oil in a pan; add onions and cook until onions are soft and turn golden brown.

Stir in ginger+garlic paste, turmeric, red chili powder, garam masala, chaat masala and cook for 1~2 minutes.

Next add chopped tomatoes, tomato paste and salt. Cook covered till tomatoes are soft and mushy.

Add the cooked peas and 1cup water. Bring the mixture to a boil and simmer for 4~5 minutes.

Finally add the whisked yogurt and mix well. Simmer for 2~3 minutes and turn off the heat.
Notes
To serve -- Method 1: Arrange the patties on a plate and top it evenly with ragda. Then garnish with chopped onions, chutnies, sev, cilanto, yogurt and ENJOY!!
Method 2: Heat 2tsp oil in a small pan; crumble 1~2 patties and add it to the oil along with some ragda, 1~2tbsp chopped onion, pinch of salt and cook for 2~3 minutes. Then serve with your favorite toppings as in method 1.
Linking this to Valli's 'Cooking from Cookbook Challenge: April -- Week 4.'