This Vegan Mexican Quinoa and Beans Bowl is packed with healthy ingredients and tons of flavor. The cashew cheese sauce is absolutely amazing.
For the second day of this week's 'Vegan Recipes' theme, I have a filling and delicious Mexican Quinoa bowl. We love Mexican food in our home and I'm always looking for new recipes. This recipe is from 'But I could never go Vegan' cookbook.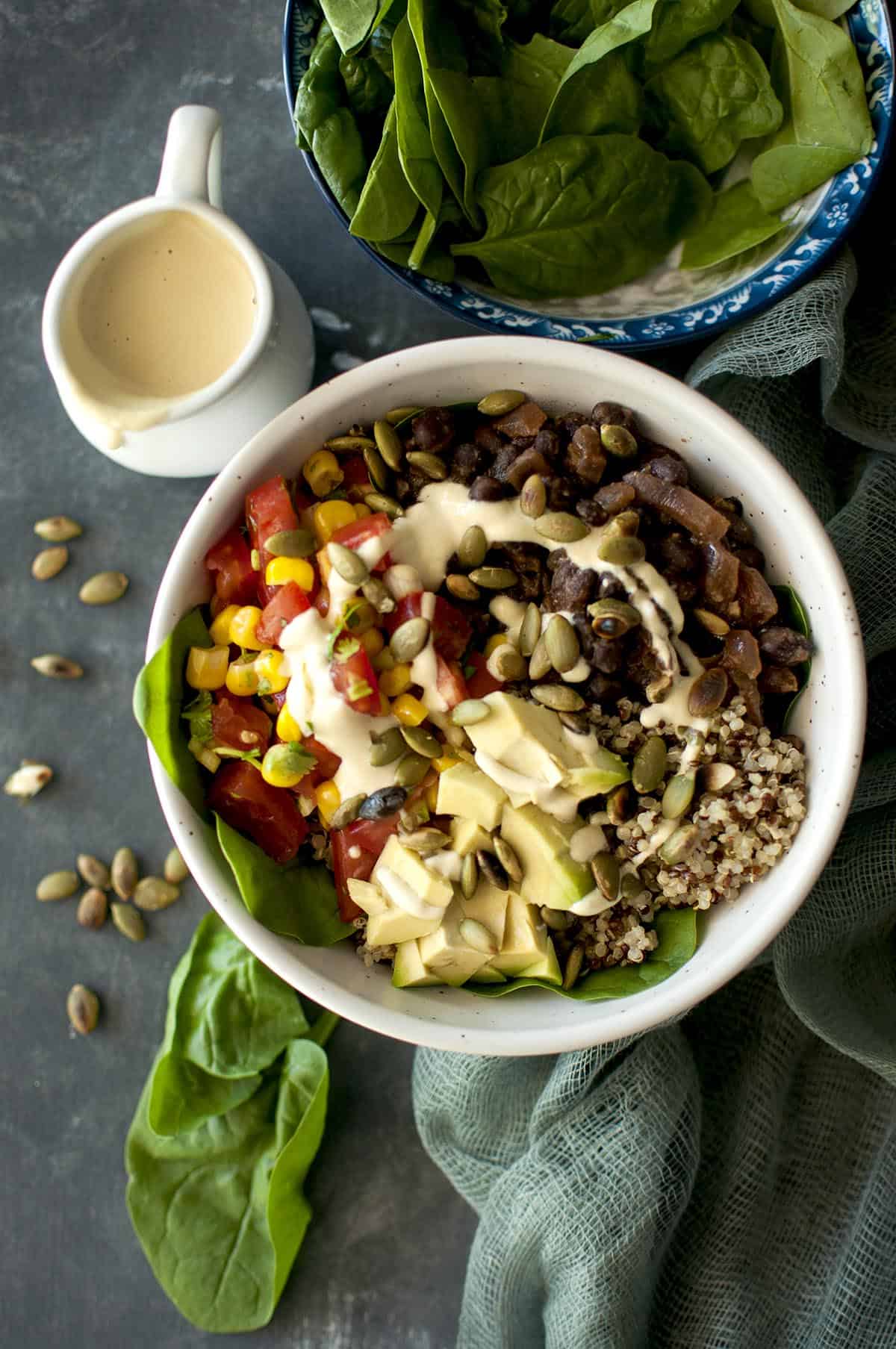 Burrito Bowls:
Burrito bowls are my favorite both to order outside or to make at home. They are much convenient and easy to eat than their tortilla wrapped counterpart. I have couple of Mexican bowl recipes on the blog - but this one with spicy tofu sofritos is my favorite.
Main Ingredients for Vegan Quinoa Bowl:
The main ingredient for this Mexican style bowl is of course Quinoa. But you can choose to sub quinoa with other whole grains. Farro, amaranth or brown rice or a combination of grains is a great idea.
Then comes the protein component of the dish - Beans. Original recipe used black beans but I used pinto beans instead. So feel free to use any beans you have on hand.
Vegan Cashew Queso:
Toppings make any bowl recipe special. What makes this quinoa bowl special is the vegan cheese sauce.
I've always enjoyed Mexican food with a good dose of sour cream and cheese, so I was a little skeptical to try this dish. I thought I was going to miss my beloved dairy products. But surprisingly, this quinoa bowl with vegan cashew queso sauce (aka cheese sauce) is equally delicious.
The slightly salty and umami flavored cashew queso adds a ton of flavor to the bowl and I didn't miss the real cheese at all. Even both the picky eaters of the house loved this vegan quinoa bowl. My son asked if he can have the cashew cheese sauce by itself, which is a big thing coming from a cheese lover.
Other Topping Ideas for Mexican Quinoa Bowl:
Baby Spinach - baby kale would be wonderful too
Guacamole - make it yourself or use store bought
Toasted Pepitas - these add nice crunch
Salsa - store bought or homemade
Corn - Fresh or frozen (thawed)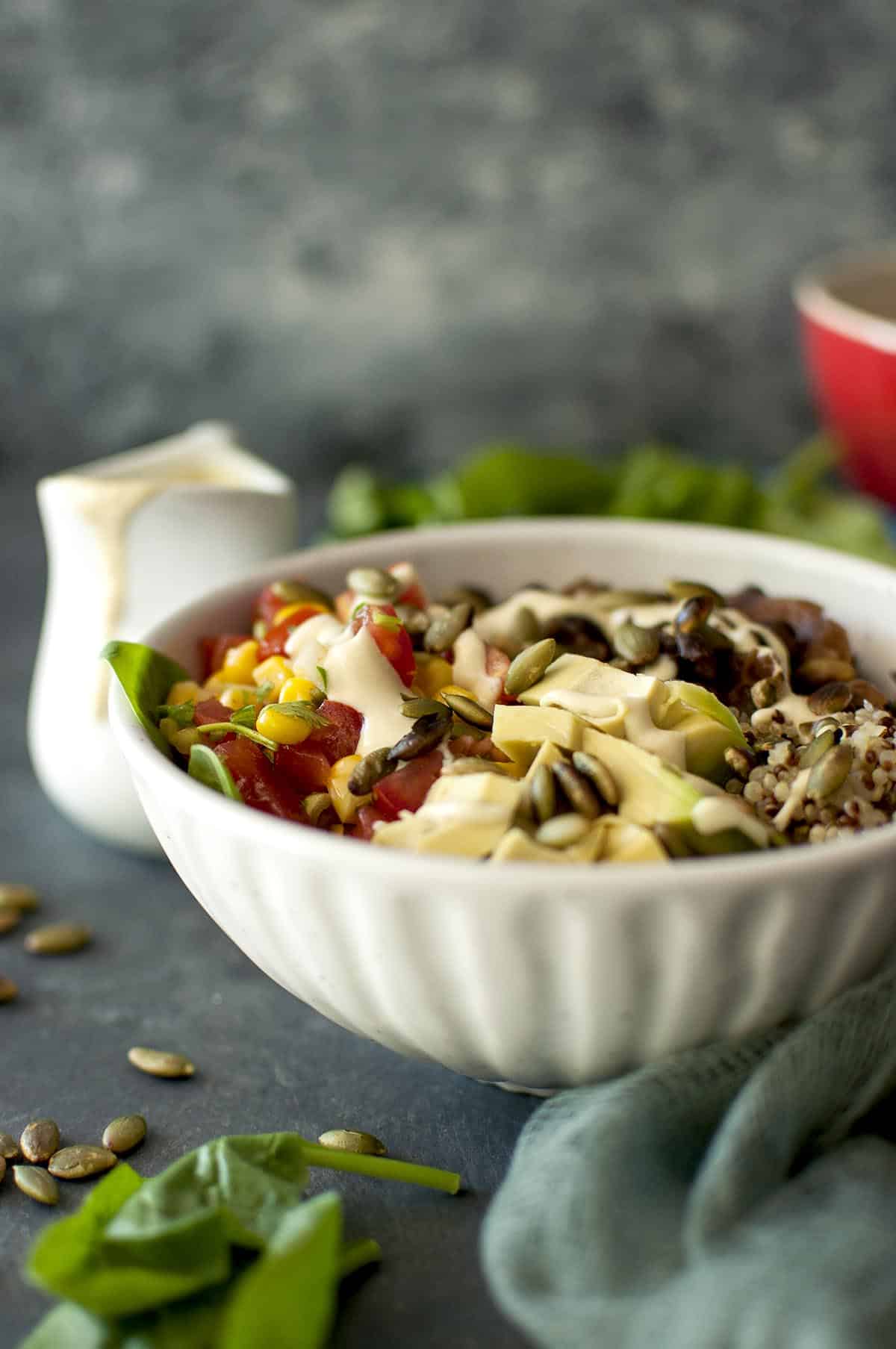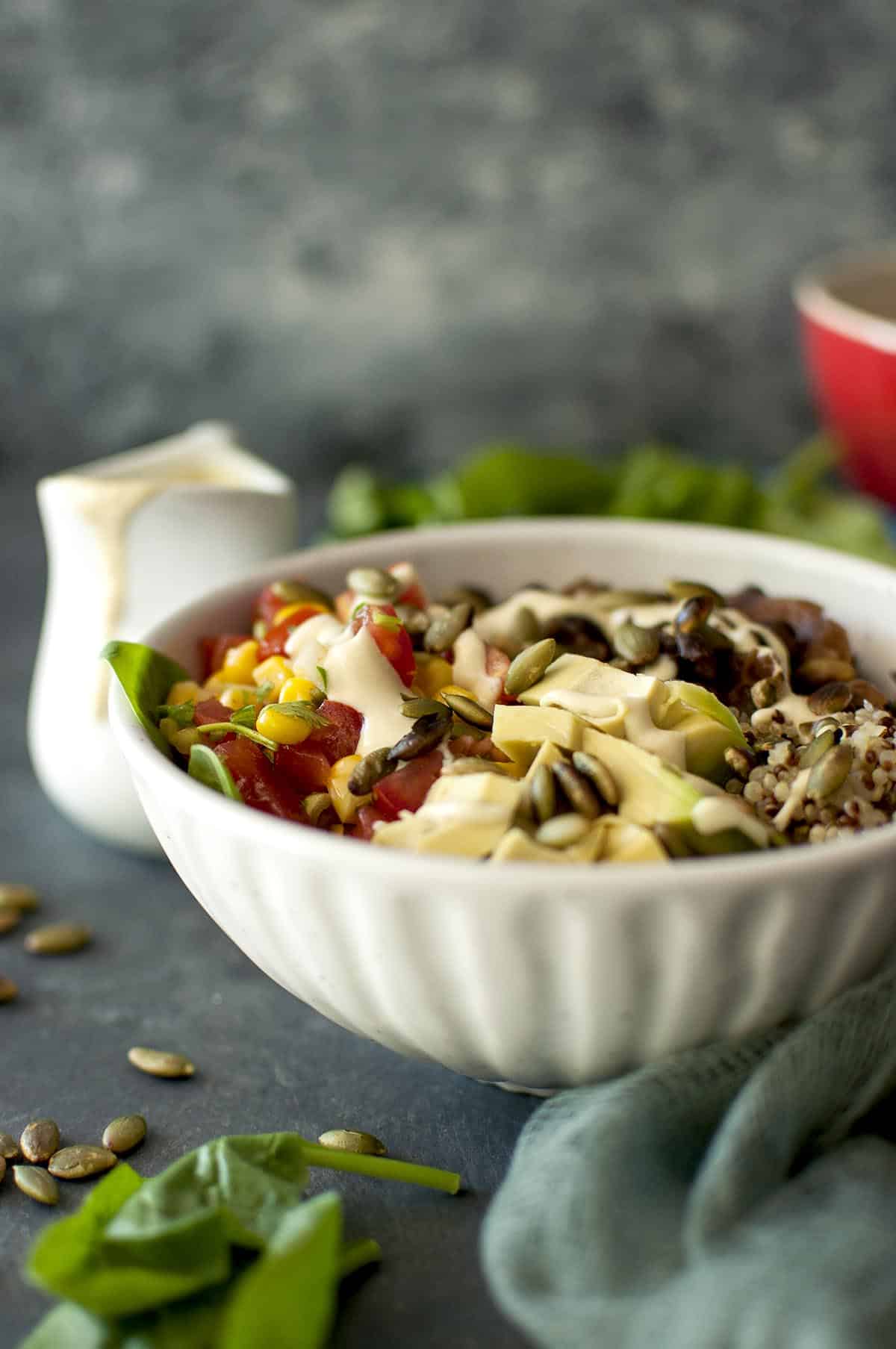 Vegan Mexican Quinoa Bowl
This Vegan Mexican Quinoa and Beans Bowl is packed with healthy ingredients and tons of flavor. The cashew cheese sauce is absolutely amazing and 100% vegan.
Print
Pin
Rate
Ingredients
For the Quinoa:
1½

cups

Quinoa, rinsed and drained

1

tbsp

lime juice

To taste

Salt Pepper
For the Cashew Queso (Cheese Sauce)
½

cup

Cashews, soaked in cold water for 2~3 hours and soaking water reserved

2

tbsp

nutritional yeast

1

tsp

White Miso

1½

tbsp

lime juice

½

tsp

Garlic powder

To taste

salt
For the Beans:
1

tsp

olive oil

1

Small

Red Onion, finely chopped

2

Garlic cloves, finely minced

1½

cup or 15oz.

Cooked Black or Pinto Beans, rinsed and drained

½

tbsp

Liquid Aminos or Soy sauce or Tamari

1

tsp

Ground Cumin

½

tsp

paprika

½

tsp

chili powder

1

tbsp

lime juice

To taste

Salt Pepper
Other Ingredients:
2

cups

Baby Spinach or Baby Kale

As needed

Guacamole (homemade or storebought)

As needed

Toasted Pepitas

As needed

Cilantro, chopped

As needed

Prepared Salsa (homemade or store-bought)

I added some thawed corn along with the salsa.
Instructions
Cook Quinoa:
Combine quinoa and 2½ cups of boiling water, lemon juice, salt & pepper in a medium sauce pan. Let the quinoa boil for 1~2 minutes, then lower the heat and simmer, covered for 10~15 minutes or until all of the water is absorbed and the quinoa is cooked through. Turn off the heat and set aside until ready to use.
Make Cashew Cheese Sauce:
Combine all of the cheese ingredients along with 6tbsp of soaking water in a blender. Process until smooth. Chill in an airtight container until ready to use.
For the Beans:
Heat oil in a pan, add the onions, garlic and cook till the onions are translucent, about 3~4 minutes. Add the beans, ½cup of veggie broth or water, liquid aminos, cumin, paprika, chili powder, salt and pepper. Mix well and cook until the liquid is absorbed, stirring occasionally. Remove from heat and stir in the lime juice.
To Serve:
Divide the greens among the serving bowls; top with quinoa, beans and salsa. Top with generous dollop of guacamole and a drizzle of cashew cheese sauce. Garnish with pepitas and cilantro. Serve immediately and ENJOY!!
Lets check out what my fellow marathoners have cooked today for BM# 97.