Spicy Paneer Filled Dosa is a great dish to serve for breakfast, lunch or dinner.
For the final day of this week's blogging marathon, I have a South and North Indian fusion crepe — Spicy Paneer filled Dosa. I have always seen these dosa on restaurant menus but never tried making them at home. So I am glad I finally did, because I can see myself making these many more times in the future.
I remember my MIL ordering paneer dosa in one of the Indian restaurants in New Jersey. That was probably the worst mistake she ever made. They over-stuffed the dosa with just plain grated paneer and she couldn't eat more than quarter of that monstrosity. I vowed never to order paneer and dosa together in my life again.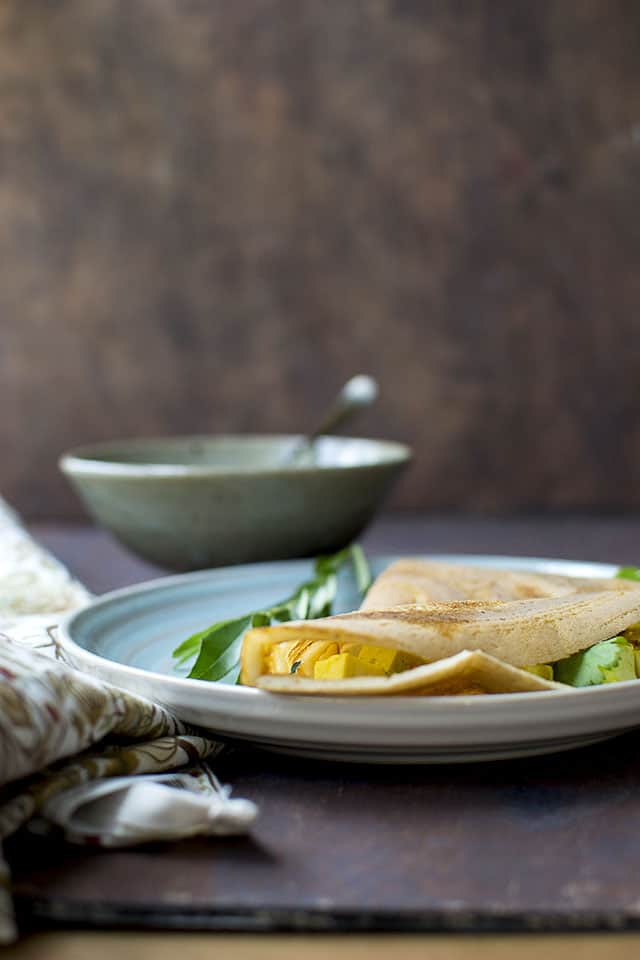 Since eating that combo outside was out of the question, I wanted to make it at home. I used Kannamma's crispy dosa batter and the dosa turned out crispy, golden and delicious. My husband loves them exactly like that. Allowing the batter to ferment for at least 12 hours is a must. Since it is cold in our neck of woods, I let it ferment for about 15~18 hours until it was almost doubled in volume.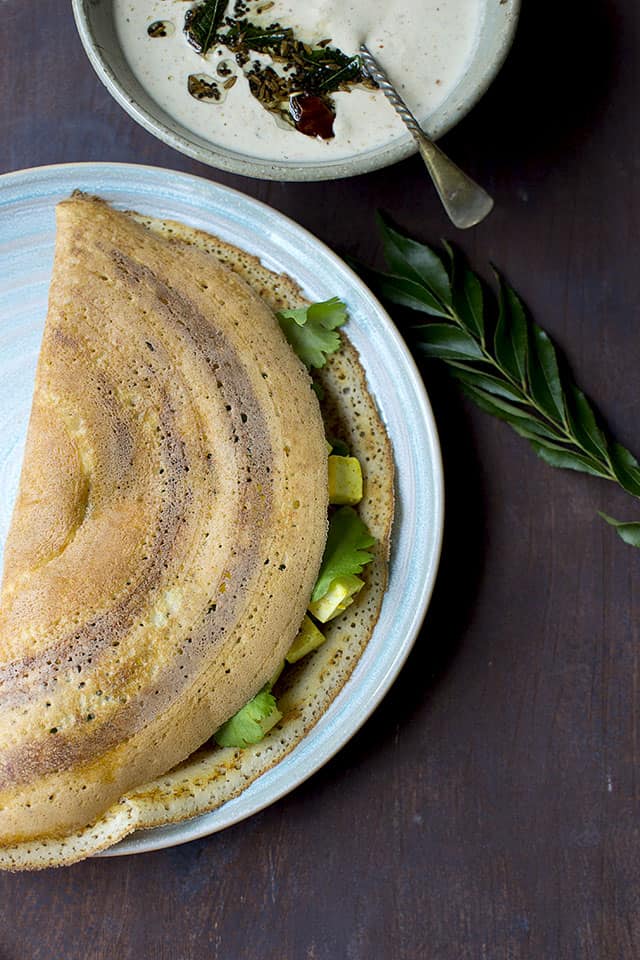 The paneer, tomato and pea filling is slightly spicy and light. This dish gives you double dose of protein with the dosa and the paneer filling. Try this dish and I'm sure you will want to make this at home and never order at a restaurant 🙂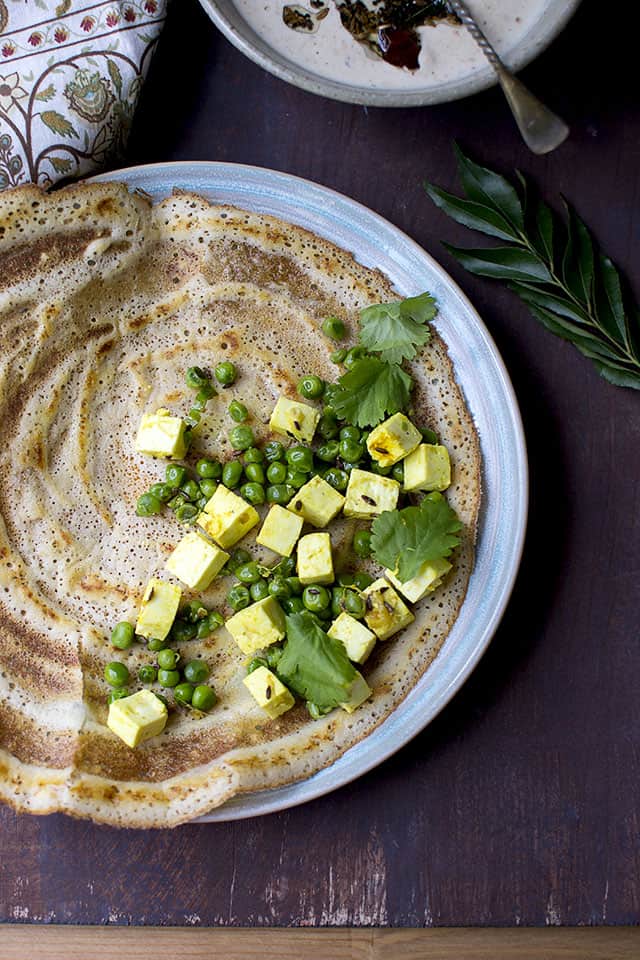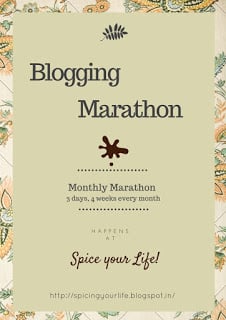 Lets check out what my fellow marathoners have cooked today for BM# 82.
Spicy Paneer filled Dosa
Crispy dosa filled with delicious paneer and pea filling is a yummy meal for any time of the day. Spicy Paneer Filled Dosa is a great dish to serve for breakfast, lunch or dinner.
Print
Pin
Rate
Ingredients
For the Dosa Batter:
½

cup

urad dal

1

cup

Idli Rice (Par boiled rice)

1

cup

Sona masoori Rice (or other short or long grain rice)

2

tbsp

toor dal

¼

cup

Poha (flattened rice flakes)

¼

tsp

Methi/ Fenugreek seeds

To taste

salt
For the Spicy Paneer Filling:
1

tbsp + more for making dosa

Oil

2

cups

Paneer, cubed

1

tsp

Cumin seeds

2

Medium Tomatoes, chopped (optional)

1"

Ginger, peeled and finely grated

1~2

Green Chilies, finely minced

½

tsp

turmeric

2

cups

Green Peas, thawed if frozen

To Taste

salt

3

tbsp

Cilantro, finely chopped
Instructions
Make Dosa Batter:
Wash and rinse all the ingredients (except for the salt) for the dosa batter in a large mixing bowl. Pour enough water and soak them for at least 4 hours.

Grind the ingredients into a very fine paste using little water. I use my Ultra Grind mixer for this -- add all the ingredients and enough water, forget it for about 25~30 minutes. If using mixer, then grind in batches to get the required consistency.

Pour the batter into a large bowl, cover and set aside for at least 12 hours. Batter needs to be nicely fermented to get crispy dosa.
Make Paneer Filling:
Heat 1tbsp oil in a pan, add cumin seeds and once they start to splutter, add ginger and green chilies. Cook for 30 seconds.

Next add the tomatoes, turmeric and salt. Stir well and cook till tomatoes are slightly tender, but not mushy about 1~2 minutes.

Stir in paneer cubes and ½cup water. Bring to a boil then lower the heat, cover and simmer for 5 minutes.

Stir in the peas and cilantro and cook for 1~2 minutes. Remove from heat and set aside until ready to use.
Make Dosa:
Heat a large nonstick or cast iron tawa or griddle on high heat. Ladle ½~¾cup dosa batter in the middle of the pan and spread it out in a circular motion using the back of the ladle. Make the batter as thin as you can for the most crispy dosa. Drizzle with oil on top.

Cook on medium-high heat until dosa is golden brown and starts to peel off from the pan, takes about 1~2 minutes. Use a spatula to flip it over and cook for another 1 minute.

Place some of the paneer filling on one half of the dosa and cover it with the other half. Remove from pan and serve right away. Repeat with the remaining batter.
Notes
Store the leftover batter in an airtight container in the fridge for 3~4 days. Let it come to room temperature before making the dosa.